Katsushika Jinja Shrine and Katsumata Park in Nishi Funabashi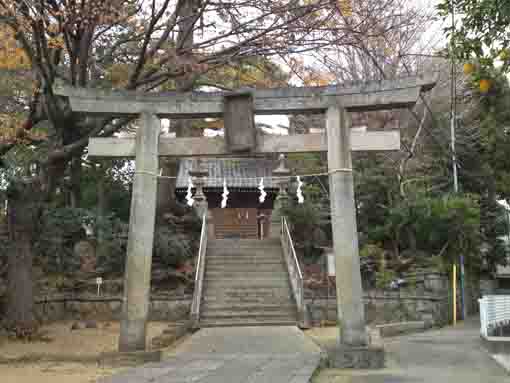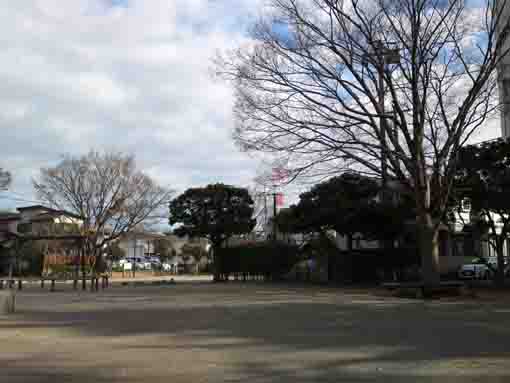 ---
Katsumata Jinja
and
Katsumata Park
are important landmarks to tell the history of Katsushika county. They are a small shrine and a small park on along
the Route 14th or Chiba Kaido
in Nishifunabashi
Funabashi city
, but they were very famous noted spots appeared on guide books published in
Edo period
such as '
Edo Meisho Zue
', 'Kasushika Shiryaku' and 'Shimousa Jinjako'. Moreover, Katsushika Jinaja had been called Katsushika Myojin that was the guardian deity of this area. And Katsumata Park is on the remains of Katsumata no Ike pond that was writen in some poems since
the Myriad of Leaves
edited. They are good places to see the history of Katsushika. Why don't you visit them?
---
Katsushika Jinja Shrine in Nishi Funabashi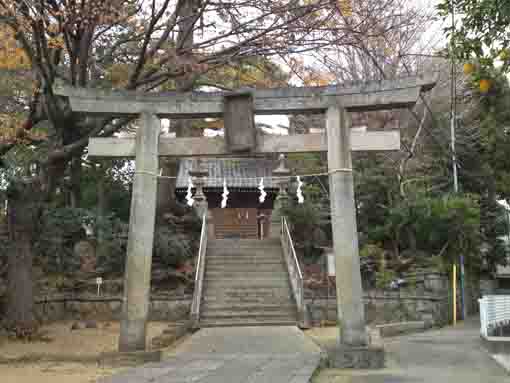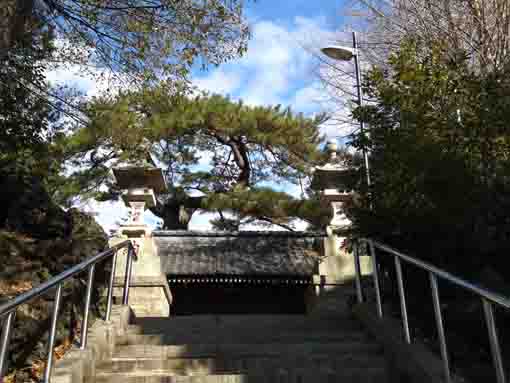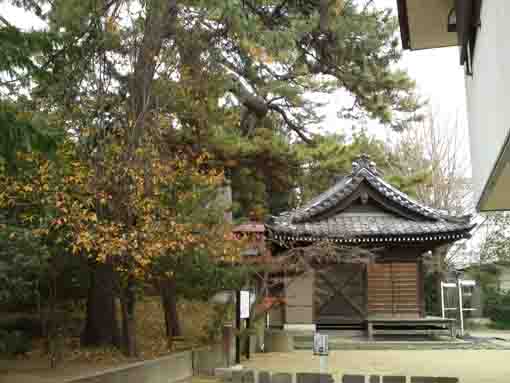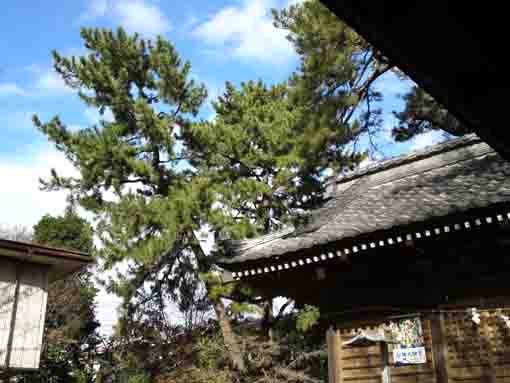 ---
Katsushika Jinja
This shrine is the main shrine of Katsushika County called Katsushika Jinja Shrine.
Ninigi no Mikoto, Hiko Hohodemi no Mikoto and Kumano Oogami are dedicated in.
The History
Katsushika Jinja, the principle shrine of Katsushika county standing on a small hill beside the beautiful scenic spots in Edo period called Katsumata no Ike pond (now Katsumata Park) was moved here in January 13th of 1916. Before moving, there was a Kumano Gongen Jinja standing and the gods have been dedicated together. Katushika Jinja was originally called Katsushika Myojin when it stood beside Kazura no I well in 6 chome Nishifuna.
People living near this shrine deeply believed in it.
The Festivals are held in October 14th and 15th.
By the chair parson of this shrine in October of 1985
Donated by the supporters of Katsushika Jinja Shrine
葛飾神社鳥居前案内板より
---
The Black Pine Tree registered as Municiple Natural Assets by Funabashi City in March 3rd of 2012
The owner of them are Katsushika Jinja Shrine
The black pine tree standing in front of the main hall of this shrine. This tree has two large blanches and they glow higher like an umbrella covering on the hall. It looks like a part of the hall, so they create the beautiful view. The black pine tree is about 13 meters tall, 3.42 meters long around the trunk, and the blanches spread 16.5 meters wide so it has the thickest trunk in the city (measured in March of 2011). Black pine trees spread throughout the main, shikoku and kyushu island in general. Sometimes it is called 'omatsu'.
Katsushika Jinja Shrine stands the west side of Katsumata park (there was a pond called Katsumata no Ike several decades ago.) The pond had been named after Katsumata no Ike pond near Toshodaiji and Yakushiji Temple in Nara, so it was written in Myriad of Leaves and some tanka poems. It was introduced in Katsushikaki, a guide book describing Katsushika county published in 1749, so the pond was one of the famous scenic landmarks in Shimousa. By a picture of Katsumata no Ike Pond by Settan Hasegawa on Edo Meishozue, a guide book describing noted spots in Edo published in 1836, there was Kumano Jinja Shrine and some pine trees. Katsushika Jinja was on the west of Kazura noI well, but the god of the shrine came to be dedicated with the god of Kumano Jinja in 1914 and it moved here in 1916, then it became the guardian deity of Katsushika village and it was named Katushika Jinja.
Anyway, black pine trees in Katsushika Jinja Shrine have been known to people since Edo period.
Now Katsumata no Ike Pond was filled up in 1940's and Katsumata Park was opened.
Funabashishi Board of Education
葛飾神社社殿脇案内板より
引用、抜粋並び参考文献
葛飾神社鳥居前案内板
葛飾神社社殿脇案内板
房総叢書 : 紀元二千六百年記念. 第1卷下総式社考
房総叢書 : 紀元二千六百年記念. 第6卷葛飾誌略
江戸名所図会6 ちくま学芸文庫
---
Katsumata Park in Nishi Funabashi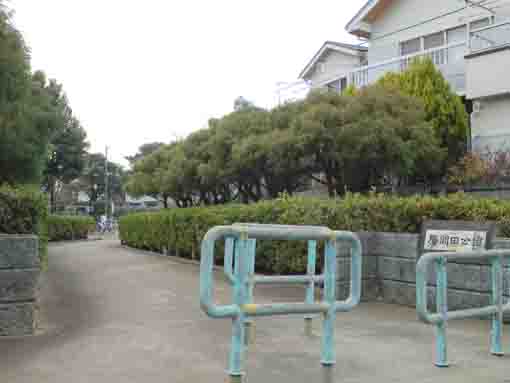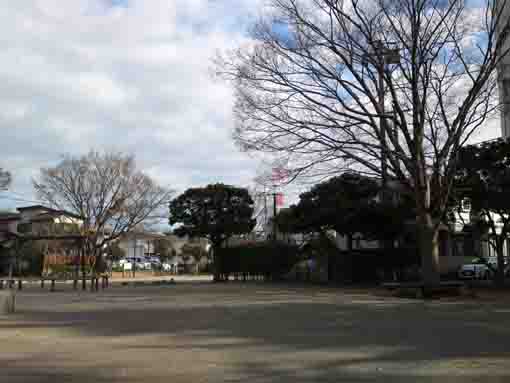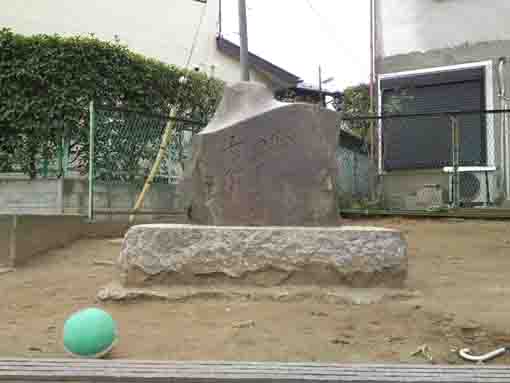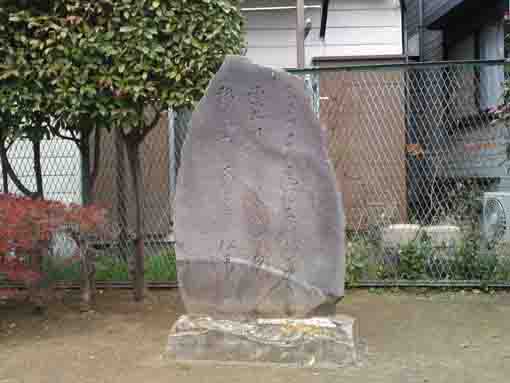 ---
Katsumata Park
Katsumata Park is opend on the remains of Katsumata no Ike Pond that was one of the most famous noted spots in Katsushika had been written in many poems since the Myriad of Leaves had edited. According to the signboard in Katsushika Jinja Shrine standing on the west of the park, the pond was named after Katsumata no Ike pond near Toshodaiji and Yakushiji Temple in Nara Prefecture. Katsushika Shiryaku (a short history book of Katsushika county) tells ' this pond has been an old noted spot in Shomousa Province but the pond that was written in the Myriad of Leaves was not this pond.' Morover, Edo Meisho Zue (the noted spots in Edo) tells that the poems in Yakumo Misho, Norikanekyo Godaishu and Ruiji Meisho Wakashu could write this pond here. And it also says that there were Katsumata no Ike ponds in Okayama prefecture.
Many poems have written Katsumata no Ike pond, now it becomes a park that children plays in. However, there are two stone tablets in it and tanka poems are scribed on each of them.
The peoms belows are telling of Katsumata no Ike.
The Prince Nittabe in the Myriad of Leaves
Katsumata no Ike wa ware shiru hasu nashi shika iu kimi ga hige naki ga goto
かつまたの池は我しる蓮なししかいふ君がひげ無きがごと
The Mother of the Emperor Nijo, Higo in Senzaishu
Ike mo furi tsutsumi kuzurete mizu mo nashi ube katsumata ni tori mo izaran
池もふり堤崩れて水もなしうべかつまたに鳥もゐざらん
Norinaga Fujiwara in Goshui Wakashu
tori mo ite ikuyo henuran Katsumata no Ike niwa ihin no atodani mo nashi
鳥もゐて幾世経ぬらん勝間田の池にはいひんの跡だにもなし
Jakunen in Shin Shui Wakashu
Katsumata no Ike no kokoro wa munasikute koori mo mizu mo na nomi narikeri
かつまたの池の心はむなしくて氷も水も名のみなりけり
Akinaka Minamoto in Fuboku Wakasho
Katsumata no Ike mo midori ni miyuru kana kishi no yanagi no iro ni makasete
かつまたの池も緑にみゆるかな岸の柳の色に任せて
Tamesuke Reizei in Fuboku Wakasho
tazunekite katu miru mamani Katumata no hana no kage koso tachiu kari kere
尋ね来てかつみるままに勝間田の花の陰こそ立ちうかりけれ
Tango no Jo, Yoshitada Sone
Katsumata no Ike no koori mo tokeshi yori yasu no ura tozo niotori mo naku
勝間田の池の氷もとけしよりやすの浦とぞ鳰鳥もなく
Jichin (Jien) in Jugyokushu in Rokkashu
Katsumata no Ike niwa ikani kakitsubata mizu nashi toteya niowazaru ran
かつまたの池にはいかに杜若水なしとてやにほはざるらん
Katsumata no Ike ni ukine no toko taete yosoni zo suguru kamo no guncho
勝間田の池に浮寝の床絶えてよそにぞすぐる鴨の群鳥
Takaie Fujiwara in Minishu in Rokkashu
Shimo wa yomo koori mo araji furitumoru yuki nomi fukaki Katsumata no Ike
下はよも氷もあらじ降りつもる雪のみ深きかつまたの池
Saigyo Hoshi in Sankashu in Rokkashu
Mizu nashi to kikite furinishi Katsumata no Ike aratamaru samidare no koro
水なしと聞きてふりにしかつまたの池あらたまる五月雨の頃
Tomoie Fujiwara in Shinsen Rokujodai Wakashu
Katsumata no Ike niwa nanzo tsurenasi no kusa no satesimo oikeru miyo
かつまたのいけには何ぞつれなしの草のさてしもおひにける身よ
引用、抜粋並び参考文献
葛飾神社鳥居前案内板
葛飾神社社殿脇案内板
房総叢書 : 紀元二千六百年記念. 第1卷下総式社考
房総叢書 : 紀元二千六百年記念. 第6卷葛飾誌略
江戸名所図会6 ちくま学芸文庫
大辞林
---
---
---
Katsushika Jinja Shrine and Katsumata Park
Katsushika Jinaja Shrine and Katsumata Park have great accessibilities from both Narita and Haneda International Airport.
From Narita International Airport, take Keisei-line bound to Ueno and get off Keisei Nishifuna, take minimally 45 minutes from Narita Airport. And also take JR Sobu-express line, transfer the line at Funabashi to Sobu line bound to Nakano or Mitaka, get off at Nishi Funabashi Sta.
From Haneda International Airport, take Keikyu-line bound to Narita, and get off Keisei Nishifuna Sta.
Take 4 minutes walks from Keisei Nishifuna Sta, take 5 minutes walk from Nishi Funabasi Sta.
Katsushika Jinja Shrine: 5-3-8 Nishifuna Funabashi-shi Chiba-ken
Katsumata Park: 5-2 Nishifuna Funabashi-shi Chiba-ken
The Noted Spots along Moto Sakura Micho Road
---
---
---
---
---
---
---
---
---
---
---
---
---
---