Takaishigami Jinja Shrine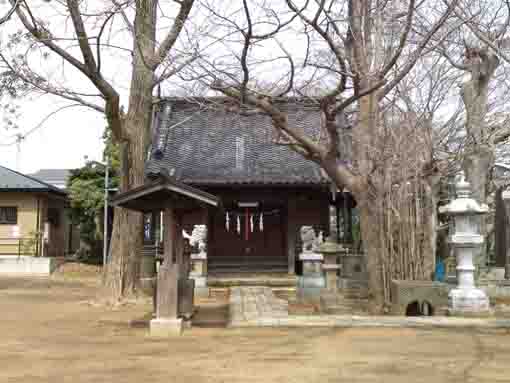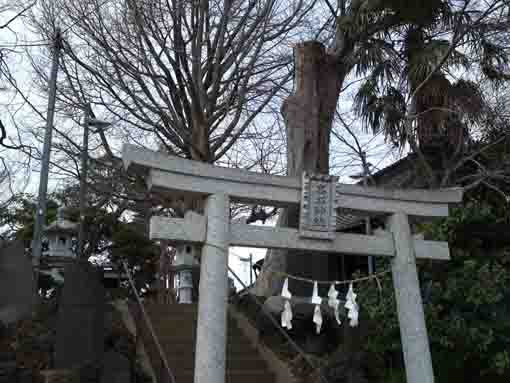 ---
Takaishigami Jinja Shrine in
Ichikawa City
is on the north-east corner of the Route 14th called Chiba Kaido Highway and Kioroshi Kaido Highway. This shrine dedicates
Jingu Kogo, the Empress Jingu
. This shrine in residential area was introduced in
Edo Meisho Zue
(a travel guide book of Edo in Edo Period) and Katsushikaki (the local guide book of this area in Edo period).
According to Edo Meisho Zue, the principle image dedicated at the shrine was a statue of a god of war riding on a horse. Takaishigami Jinja Shrine was managed by Taifukuji Temple belonging to
Nichiren Shu Sect
near
Nakayama Hokekyoji Temple
. The annual festival is held in September 9th. The book also tells that a retainer of Satomi, Tokifusa Masaki fought furiously at
the 2nd battle of Konoda
i in 1564 was buried dignity.。
Moreover,
Tanesada Chiba
, a powerful daimyo of
Shimousa
in
Kamakura period
, donated some pieces of lands in Takaishigami to the venerable Nichiyu, the 3rd abbot of Nakayama Hokekyoji Temple and his son, so the area was called Takaishigami at that time and the shrine had been there before because it was said that the district name Takaishigami named after the shrine's name.
Anyway, there is no name of Tokifusa in the family tree of Masaki Family in Shimousa. Maybe the busho buried in the shrine could be Nobushige that some said that he went to Konodai and fought hard, and he lost his lives at the battle.
Takaishigami Jinja Shrine has the long history and some stories related to the beginning of Nakayama Hokekyoji Temple and the battles in Sengoku Period struggling for the supremacy of Kanto Region.
Why don't you visit Takaishigami Jinja Shrine?
出典・抜粋・引用および参考
市川市ホームページ
里見公園内案内板
江戸川区ホームページ
江戸名所図会6 ちくま学芸文庫
房総叢書 : 紀元二千六百年記念. 第8卷葛飾紀
房総叢書 : 紀元二千六百年記念. 第6卷葛飾誌略
戦略戦術兵器辞典 学研
クロニック戦国全史 講談社
新編 市川歴史探訪 崙書房
ウィッキペディア
Takaishigami Jinja Shrine
---
Takaishigami Jinja Shrine has a great accessibility from both Narita and Haneda International Airport.
From Narita International Airport, take Keisei-line and get off Keisei-Nakayama Sta, take minimally 40 minutes from Narita Airport.. And also take JR Sobu-express line, transfer the line at Funabashi to Sobu-Local line, get off Shimousa-Nakayama Sta.
From Haneda International Airport, take Keikyu-line bound to Narita, and get off Keisei-Nakayama Sta or Onigoe Sta.
From Tokyo Sta, take Sobu-Express line bound to Chiba or Narita, transfer the line to Sobu-Local line bound to Chiba, Tsudanuma, or Nishi-Funabashi at Ichikawa Sta, get off Shimousa-Nakayama Sta.
From Akihabara Sta, take Sobu line bound to Chiba, get off Shimousa-Nakayama Sta.
Take 6 minute walk from Keisei-Nakayama Sta and Onigoe Sta, and take 7 minutes walk from Shimousa-Nakayama Sta.
1-10 Takaishigami, Ichikawa-shi, Chiba-ken
---
The Landmarks Neighbor Of Takaishigami Jinja Shrine
---
---
---
---
---
---
---
---
---