Hojusan Tamonji Temple and Futago Fuji no Ike Pond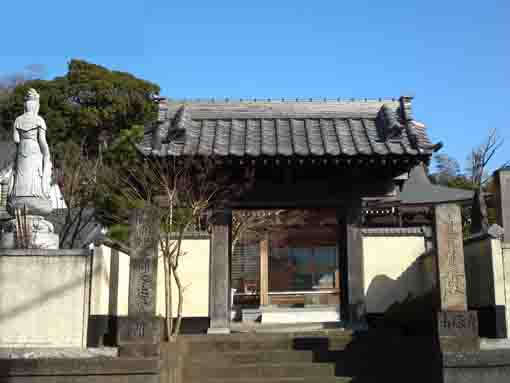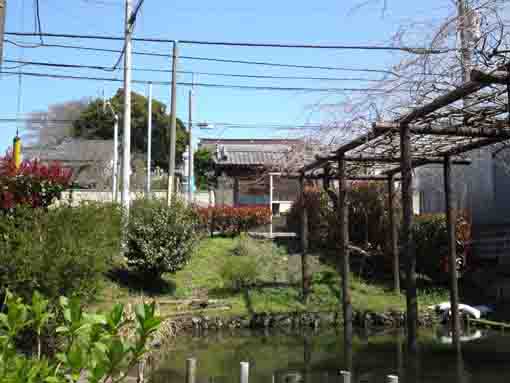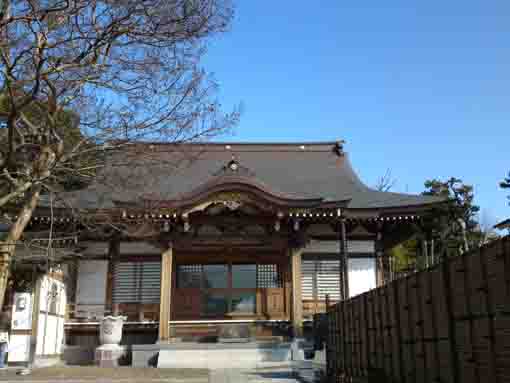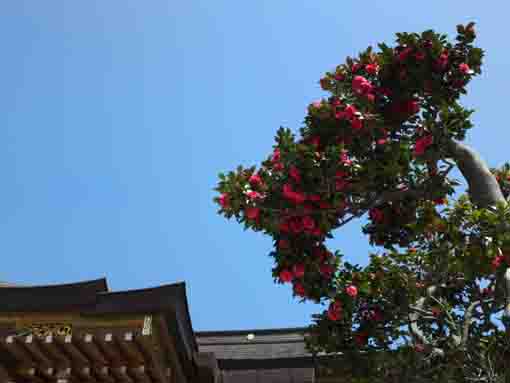 ---
Hojusan Tamonji Temple is along the Route 14 called Chiba Kaido Highway (old name was Sakura Kaido Highway) near
Nakayama Hokekyoji Temple
. This temple has the statue of
Bishamonten
carved by the Founder
Nichiren
, and it is standing at the land where a ferry called Futagoura that Nichiren had shipped to
Kamakura
had been, so some say that there had been a seashore on the south of the Route 14 in
Kamakura period
or before. And there are many springs in this area, Futago Fuji no Ike Pond on the south of Tamonji Temple is one of these springs preserved to show the landscape of the area had used be. Moreover, there are many underdrains flowing on between Shimousa Nakayam and Nishi Funabashi Station that show the area has rich water.
Hojusan Tamonji Temple and Futago Fuji no Ike are wonderful landmarks they tell the history and the nature of this area. Why don't you visit them?
---
Hojusan Tamonji Temple
Hojusan Tamonji Temple (Bishamonten)
Hojusan Tamonji Temple was built by the venerable Nichiden in 1298. Nichiden was one of the nine great priests in
Nichiren Sect
. He believed the Founder Nichiren and he was given the statue of Bishamonten carved by Nichiren to propagate. Then he built this temple.
The statue of Nichiren in this temple was carved in Kyoho Era (1716-36).
This area was called 'Fugagoura' in Kamakura Era and before, it was a ferry that the Founder Nichiren got on a ship to go to Kamakura to propagate. Moreover, there is a statue of Jibo Kanzeonbosatsu dedicated in the temple.
寶珠山多聞寺山門脇案内板より
出典・抜粋・引用および参考
寶珠山多聞寺山門脇案内板
二子藤の池前案内板
二子池前案内板
船橋市ホームページ
房総叢書 : 紀元二千六百年記念. 第6卷葛飾誌略
Hojusan Tamonji Temple and Futago Fuji no Ike Pond
---
Hojusan Tamonji Temple and Futago Fuji no Ike Pond have great accessibilities from both Narita and Haneda International Airport.
From Narita International Airport, take Keisei-line and get off Keisei Nakayama Sta, take minimally 40 minutes from Narita Airport. And also take JR Sobu express line, transfer the line at Funabashi to Sobu Local line, get off Shimousa Nakayama Sta.
From Haneda International Airport, take Keikyu-line bound to Narita, and get off Keisei Nakayama Sta or Higashi Nakayama Sta.
From Tokyo Sta, take Sobu Express line bound to Chiba or Narita, transfer the line to Sobu-Local line bound to Chiba, Tsudanuma, or Nishi Funabashi at Ichikawa Sta, get off Shimousa-Nakayama Sta.
From Akihabara Sta, take Sobu line bound to Chiba, get off Shimousa Nakayama Sta.
Take 6 minute walk from Keisei Nakayama Sta and Higashi Nakayama Sta, and take 7 minutes walk from Shimousa Nakayama Sta.
1-15-13 Higashi Nakayama, Funabashi-shi, Chiba-ken
---
Hojusan Tamonji Temple
1-15-13 Higashi Nakayama, Funabashi-shi, Chiba-ken
The Landmarks Neighbor Of Tamonji and Futago Fuji no Ike
---
---
---
---
---
---
---
---
---