The Artists, Writers, Poets Related To Nakayama Hokekyo-ji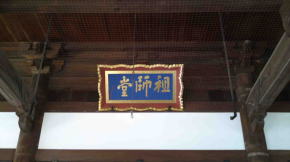 The Artists, Writers, Poets Related To Nakayama Hokekyo-ji
Many poeple has visited Nakayama Hokekyo-ji Temple since it was built. On this page, some of them are introduced; Koetsu Honami the artist in early
Edo Period
, Socho the Renga-shi (linked-verse poet), Shiki Masaoka the haiku poet in Meiji era, Kafu Nagai living in
Ichikawa
and so on. In their works, Hokekyo-ji in the ages are drawn in their words.
Koets Honami; His Framed Letters, The Hall For His Tomb In Hokekyo-ji
Nakayama Hokekyo-ji has four framed letters written by Koetsu Honami, the famous calligrapher and artist in early Edo period. They are hanged on
the Soshi-do hall
,
the Hokke-do hall
,
the Nio-mon hall
and
the Taikyaku-den (the main hall)
. And there is the hall for his family's tombs and his tomb. They are all designated by Ichikawa city as the tangible cultural property.
And
the Goju-no-to
(the five-story pagoda is designated as the important cultural property by Japan) was built by the order of Koshitsu Honam nephew of Koets (the son of his elder sister) to dedicate his parents with the financial support by Toshimitsu Maeda the lord of Kaga (Ishikawa prefecture)
Koetsu Honami was an well-talented artist lived in Kyoto from Azuchi-Momoyama to Edo Period.
Koetsu was born in a branch familly of the distinguished sword appraiser of Honami Family. He is the first son of Koji Honami. His popular name is Jirosaburo, later he was named Koetsu, and his pseudonym was Jitokusai, Tokuyusai and Taikyoan
He worke on his family business of sharpening and appraising swords, and he also had some deep knowledge and distinguished skills of the calligraphy, the ceramic art, the gold sprinkled lacquer ware and the tea ceremony. He created the his own school to teach the calligraphy, so he wrote a lot of tankas on the writing paper which Sotatsu Tawaraya and some artists had painted on, so they took the symphony in color. Therefore he was entitled 'Kanei-no-sanhitsu' (the great calligrapher in Kanei period ) along with Tadanobu Konoe and Akinori Shokado. 'Kingindeishitaesikishi' possessed in Yamatobunkakan in Nara city is famous. Two ceramic tea bowls 'Fujisan' and 'Amekumo' were the masterpieces of his works, and they are the National Treasures. On the gold sprinkled lacquer ware, he adopted the classics a lot, he used leads, tin and blue shells on 'Funabashi-makie-suzuri-bako' (the national treasure in Tokyo Metropolitan Museum). He created his school on the ceramic arts called 'Koetsu-rakuyaki' and japan arts called 'Koetsu-makie'. And he published 'Sagabon-Isemonogatari' printed by magnificent kana letters with Soan Sumikura. He learned 'the tea ceremony' by Oribe Furuta, then he was devoted to Jou Takeno's school.
Koetsu was given the land in Takagamine in north Kyoto in 1615 by Ieyasu Tokugawa, the first Shogun of Edo Shogunate, then he created the art village there with his family and his followers together.
参考
ブリタニカ国際大百科事典
デジタル大辞林
クトニック戦国全史
---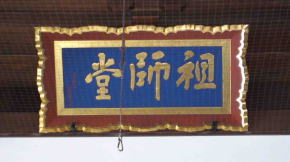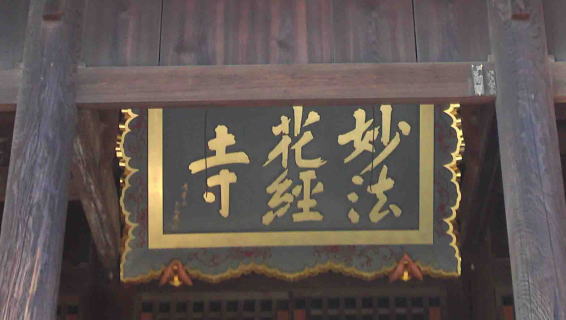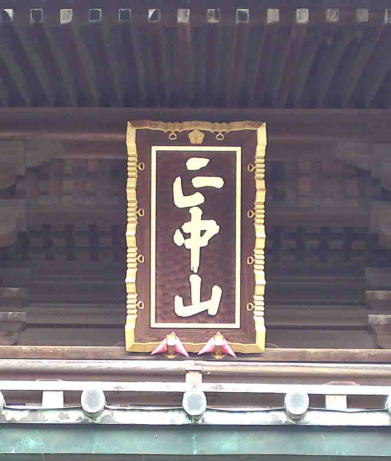 ---
Kiyonobu Honami, the grandfather of Koetsu served
the sixth Shogun of Muramachi Bakufu (Shogunate)
as the distinguished sword appraiser. When he was put in jail as he had follen into disgrace with the Shogun, he met
the venerable Nisshin
there. Kiyonobu was powerfully impressed with his teaching, and he became a faithful believer of
Nichiren Sect
. After he had been freed, Kiyonobu took tonsure and was given his Buddhist name 'Honko' by Nisshin, and he became the influential supporter of Honpouji Temple in Kyoto.
参考
日蓮宗本山叡昌山本法寺(京都府京都市)ホームページより
Socho the Renga-shi (the linked-verse poet)
Socho, the renga-shi (the linked-verse poet or
renga
poet) talked about Nakayama Hokekyo-ji Temple in his book 'Azuma-ji no tsuto', he wrote, 'I went across the Mama-no-tsugihashi bridge, and I stayed Hokekyo-ji Temple for a night. On next morning, they wanted me to compose a poem, then I composed a hakku (the start verse of a linked-verse poem).
'Sugi-no-ha-ya, arashi-no-ato-no-yahan-no-tuki'
(A leaf of a ceder tree, the moon at midnight after the storm)
The storm was strong last night, but it is very mild weather today, it feels like the creek in Katsushika in spring.
Socho was a renga-shi (a linked-verse poet) from
Shimada
in
Suruga-no-kuni
(Shimada city in
Sizuoka prefecture
) in Muromachi period. He was a son of a blacksmith, his name was Choroku in his childhood. First he named 'Sokan' by himself, and his pseudonym was Choa, Saiokuken.
He entered the school of Sogi, one of the greatest rengashi in Muramachi period, and served him for forty years, and he often went on trips with his master.
Socho wrote 'Minase Sangin Hyakuin' with his master Sogi and Shohaku (a fomous rengashi) is very famous. When Sogi was sick in bed on his journey to Echigo (Niigata prefecture), Socho visited him from his home Suruga and went to Hakone (Kanagawa prefecture). He attended his master's deathbed, and wrote 'Sogi Shuen ki' (The Record Of Sogi's End; 1502). Later he lived in seclusion at Saiokuken in Maruko in Suruga-no-kuni, he went on trips to Western, eastern, and northern regions, and he wrote 'Azuma-ji no tsuto' in 1509. He remained his diaries 'Socho Nikki' (1530-1531) and 'Socho Shuki' (1523-1528).
He had visited Ikkyu, the abbot of Daitoku-ji Temple in Kyoto who was one of the famous and popular priest in Japan, he enjoyed making witty and polished Kyokas (satrical poems) and haikai poetry with him.
His works are 'Ameyo-no-ki' (1519), 'Renga-hikyo-syu', 'Kabe-kusa' of poems (1512), 'Nachikago' (1517), 'Oimimi' (1522-26)., etc.
参考
ブリタニカ国際大百科事典
デジタル大辞林
Shiki Masaoka
One day in fall in 1896, Shiki Masaoka visited Nakayama Hokekyo-ji Temple when he suffered spinal caries. And he remained several poems in his books.
正岡子規全集2巻p320 
「中山をひとりこえたる二月哉
「命なり小夜の中山秋の蝶」
全集2巻p524 中山寺
「気違ひの並びし秋の夕かな」
全集2巻p538 中山の蕎麦屋にて
「新酒酌むは中山寺の僧どもか」
全集2巻p538 中山寺にて
「釣鐘の寄進につくや葉鶏頭」
Shiki Masaoka is a poet in Meiji era from Matsuyama city in Ehime prefecture. His name is Tsunenori, so Shiki was his pseudonym. His aother pseudonym is Takeno Satobito, Dassai Shoya Shujin (the owner of Dassai Book Store).
He dropped out the facility of letters in the University Of Tokyo in 1892 and he started working at the newspaper 'Nippon'. During working at 'Nippon', he begun the movement of
haiku poetry
innovation campaign, and 'Dassai Shoya Haiwa' started to be serialized. He wrote 'Bunkai Yatsuatari' (1893) and '
Haikai
Taiyo' (1895). After he wrote 'Utayomi-ni Atauru Sho'(1898), he founded 'Negishi-Tanka-Kai' (the group of writing poem at Negishi Tokyo) to try his best to innovate
Tanka poetry
. He expressed that Haiku and Tanka should be the literature based on the reality. He raised many poets, Meisetsu Naito, Koroku Sato, Hekigoto Kawahigasi and
Kyoshi Takahama
were Haiku poets, Hotsuma Katori, Fumoto Oka,
Sachiyo Ito
and Takashi Nagatsuka were Tanka poets. He published 'Hototogisu' to renew Haiku, it later became the Hototogisu group, so he built up the basic movement of the group and another one 'Araragi' group. His works were a book of haikku poems 'Kanzan-Rakuboku', a book of tanka poems 'Takenosatouta', his essay 'Bokuju Itteki' (1902),'Byosho Rokusyaku' (1902), his diary 'Gyoga Manroku' (1902) etc,.
参考
ブリタニカ国際大百科事典
デジタル大辞林
In an essay 'Nakayama Dera' written by Kyoshi Takahama, a famous writer from Meiji to Showa, describes a lot about Nakayama, Yawata and Ichikawa in 1897. At that time he was 24 years old, and he was not interested in much about Nakayama Hokekyoji Temple. But he went to the temple since he might be urged by
Shiki Masaoka
who was his teacher and a great poet in his age, so Kyoshi wrote in the essay that Shiki had loved Nichiren.
Kyoshi Takahama got on Sobu Tetsudo Line (now called Sobu Line) had opened in 1893 at Honjo Station in Tokyo and got off at Nakayama Station (now Shimousa Nakayama Station), then he visited Nakayama Hokekyoji Temple.
At the temple, Kyoshi sat at Soshido Hall and he was lost in thought. He wrote that his ideal residence could be not in urban area but not far from it. He thought it at Nakayama, it supposed to be that Kyoshi would praise Nakayama could have a comfortable environment to live.
After that Kyoshi walked to Yawata and saw
Yawata no Yabushirazu
and
Senbon Icho
in
Katsushika Hachimangu Shrine
. It is very interesting that the trees lined along the approach road of the shrine had changed, he wrote they were pine trees, but now they are gingko trees. And he misunderstood that the symbolic tree in the shrine would be a huge hackberry, but it is the huge gingko tree in real. Moreover, young writer Kyoshi decided to walk to home in Tokyo instead of waiting for the next train for a half and an hour at Ichikawa Station, he called Edogawa River 'Tonegawa River' while he was crossing it.
Kyoshi Takahama 1874-1959
Kyoshi Takahama was a haiku poet and writer from Meiji to Showa. His name was Kiyoshi Takahama. His home town was Ehime prefecture the same as his teacher Shiki Masaoka.
Kyoshi became a leading haiku poet of 'Hototogisu' after the death of Shiki. He valued form, seasonal words and objective sketching of subjective feelings on his writing, and he insisted that the ideology of making haiku poems could be pure and natural without any preconceptions. He contributed diffusing haiku poems and training young haiku poets. He wrote many essays and novels, 'Keito (cockscomb)', 'Haikaishi (haikai creators)', and 'Kaki Futatsu (the two persimmons) ' are his novels. Dakotsu Iida, Kusatao Nakamura,
Shuoushi Mizuhara
, Teijo Nakamura and so forth were his disciples.
In 1937, Kyoshi Takahama was appointed to the member of Japan Art Academy and in 1954 he was awarded The Order of Culture.
Anyway, in the volume 8th in the complete works of Kyoshi Takahama, his essay 'Nakayamadera' describes his visit in Nakayama Hokekyoji Temple.
参考
引用・抜粋および参考
市川市ホームページ
市川市立図書館ホームページ
定本高浜虚子全集第8巻写生文集1「中山寺」 毎日新聞社
大辞林
日本世界人名辞典
新制版 日本史辞典
美術人名辞典
デジタル大辞泉
デジタル版 日本人名大辞典
ブリタニカ国際大百科事典
ウィッキペディア
Ryokuu Saito
明治文学全集28巻 p312 "・・・天麩羅のむきみとは一對なり。中山なる法華経寺の會式に參りたる時、?の丸揚かき揚の何れを取るもすさまじきを、山門の傍にて見たり。・・・"
(...it's a pair in shucked tenpura. When I visited at the ceremony for the founder Nichiren at Nakayama Hokekyo-ji Temple, both ? and mixed tempuras were great, I had looked at them beside the Akamon Gate.
Rokuu Saito lived in Ichikawa city Ciba prefecture as he escaped from dunning.
Ryokuu Saito was a story writer, reviewer and a esseyist from Kanbe in Ise-no-kuni (Mie prefecture). His name was Ken Saito, and other pseudonyms were Midori Koto and Shotaro Shojiki (Goodman of Honesty).
First he studied law, later he studied under Robun Kanagaki and he studied literature. He was famous for his polished critics, especially his reviews 'Shosetsu Hsshu' criticized Shoyo Tsubouchi, Simei Futabatei, Koyo Ozaki and so on in the literary satirically circles at that time came into the spotlight. Thereafter he discovered and established his own style of writing with severe satires.
He was the story writer who stood on the line between Edo and Modern literacy, his works were the novel 'Abura Jigoku' (1891), 'Kakurenbo'(1891; Hide And SEEK), and the essay 'Seigan Hakuto' (1900), etc,.
参考
ブリタニカ国際大百科事典
デジタル大辞林
Kafu Nagai
Kafu Nagai moved to Ichikawa city in January 1946, and he walked on Ichikawa almost everyday. According to his diary 'Danchotei Nichijo', there are many lines he talked about the specific views in the city at that time. In those lines, he talked about Nakayam area several times when he frequentely went to Kaijin in Funabashi city where next to Nakayama. He of course wrote Hokekyo-ji. There are several words 'walk on Nakayam' in the diary.
October 31 1946, Kafu walked to Nakayama at noon.
December 4 1946, he passed through the site in Hokekyo-ji and went along the road to the Oku-no-in...
October 16, 17 1947, he visited Nakayama Hokekyo-ji to see the ceremony for the founder Nichiren's anniversary, those days, many visitors came, so it was very crowded.
Kafu Nagai was a novelist born in Tokyo and died at Icikawa city. His name was Sokichi, another pseudonym was the owner of Danchotei, therefore his diary entitled 'Danchotei Nichijo'.
He dropped out Tokyo-Kosho Huzoku-Gakko (the Hitotsubashi University and Tokyo University Of Foreign Study), and he studied under Ryuro Hirotsu. He had got influenced by the French novelist Emile Zola, he published 'Jigoku-no-hana' (1902; the flowers in hell) to attempt introducing Zola-ism to Japan.
Kafu went to the United States in 1903, then went to France 1908. After he was back, he won fame by his work 'America Monogatari' (1908; the story of America). Next, he issued 'France Monogatari' (1909; the story of France), 'Fukagawa-no-uta' (the songs of Fukagawa), 'Sumida-gawa' (Sumida river), 'Reisho' (smiling with cold feelings). He played the important role of the anti-naturalism with his unique critics and his esthetic epicurean style of writing. He hated the mere shell of the culture at Tokyo, and 'Taigyaku-jiken' (1910-11) gave him shocked, so he emphasized to turn back to the Edo culture; he wrote 'Udekurabe' (1916-17; the competition) that he drew the life in Karyukai (the world of Geisha), and 'Okame-sasa' (1918). His works 'Tsuki-no-ato-saki' (1931) showed his special to describe the life in common.
During the world war second, he had not worked, but he wrote some stories of 'Fuchin' (rise and fall), 'Odoriko' (the dancer), 'Kunsho' (the decoration) and 'Raihousha' (the visitor) secretly, and he published them. 'Danchotei Nichijo' his diary he wrote since 1942 also published.
Kafu moved to Ichikawa city in 1946. He was awarded Bunka Kunsho (the order of culture) in 1952.
参考
「新版 断腸亭日乗 第六巻」 岩波書店
ブリタニカ国際大百科事典
デジタル大辞林
---
The Location and Access to Nakayama Hokekyoji Temple
Nakayama Hokekyouji Temple
---
---
Nakayama Hokekyouji Temple has a great accessibility from both Narita and Haneda International Airport.
From Narita International Airport, take Keisei-line and get off Keisei-Nakayama Sta, take minimally 40 minutes from Narita Airport. And also take JR Sobu-exoress line, transfer the line at Funabashi to Sobu-Local line, get off Shimousa-Nakayama Sta.
From Haneda International Airport, take Keikyu-line bound to Narita, and get off Keisei-Nakayama Sta.
From Tokyo Sta, take Sobu-Express line bound to Chiba or Narita, transfer the line to Sobu-Local line bound to Chiba, Tsudanuma, or Nishi-Funabashi at Ichikawa Sta, get off Shimousa-Nakayama Sta.
From Akihabara Sta, take Sobu line bound to Chiba, get off Shimousa-Nakayama Sta.
Take 1 minute walk from Keisei-Nakayama Sta, and take 5 minutes walk from Shimousa-Nakayama Sta.
2-10-1 Nakayama, Ichikawa-shi, Chiba-pref, Japan
---
The Landmarks in Nakayama Hokekyouji Temple
---
---
---
---
---
---
---
---
---
---
---
---