The Autamnal Leaves in Mamasan Ghuhoji Temple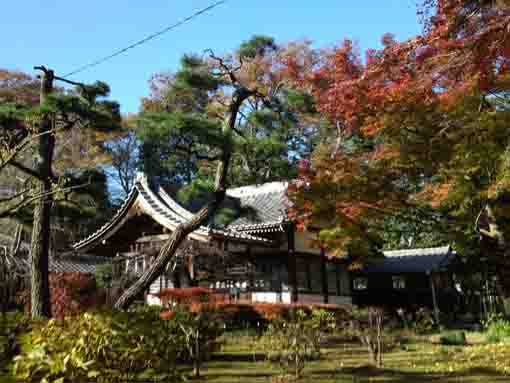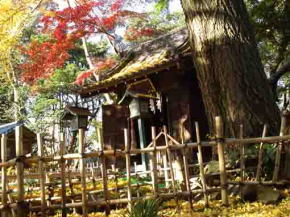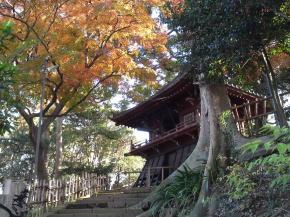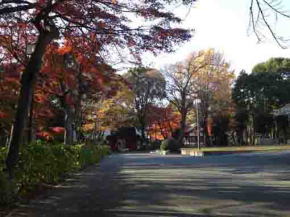 ---
Hiroshige drew the fall in Mamasan Guhoji Temple and this temple was also introduced in
Edo Meisho Zue
, a guide book introducing landmarks in Edo. It is a very popular place among the people.
Mitokomon
,
Issa Kobayashi
and thousands of people in
Edo
visited to enjoy seeing flamingly colored autumnal leaves in it. And also many poets such as Shiki Masaoka, Hakushu Kitahara and so on has been visited and written some poems describing the temple.
Why don't you visit Mamasan Guhoji Temple in fall?
---
Flamingly colored autumnal leaves in Mamasan Guhoji Temple were loved by people living in
Edo
during
Edo period
. The excellent autumnal leaves still exist. Autumn comes modestly now.
The Niomon Gate and the bell tower are covered with the colored leaves, and the garuden behind the Akamon Gate, buildings and leaves harmonize and create an autumnal wonderland. Satomi Ryujindo and Daikokudo Hall are lit up with splendid colored autumnal leaves.
---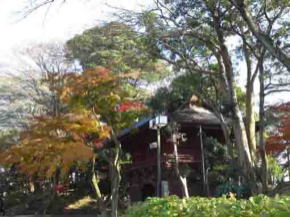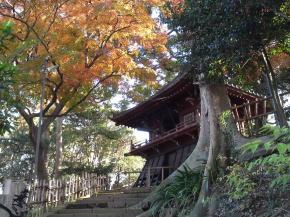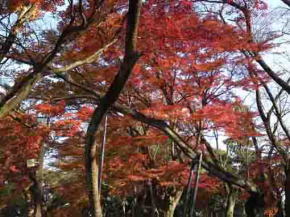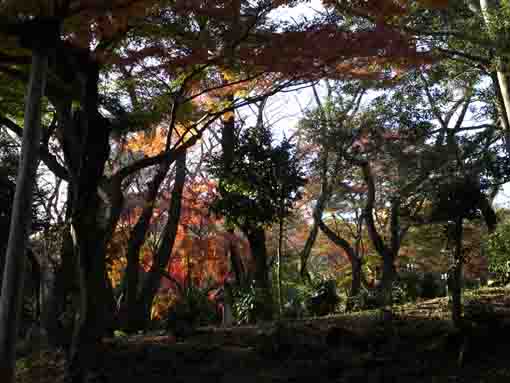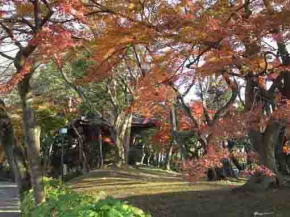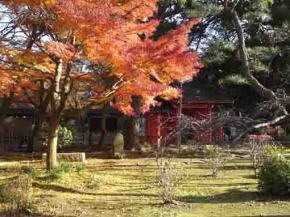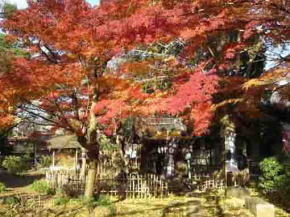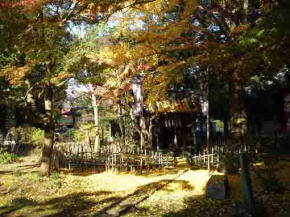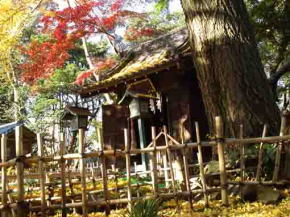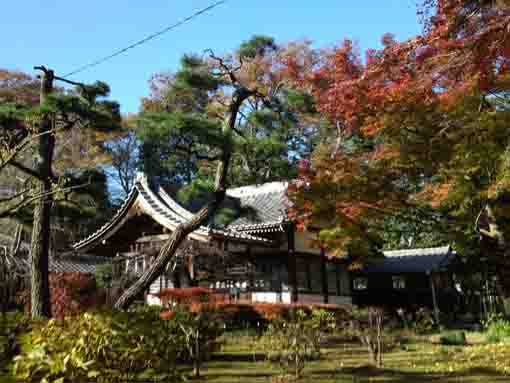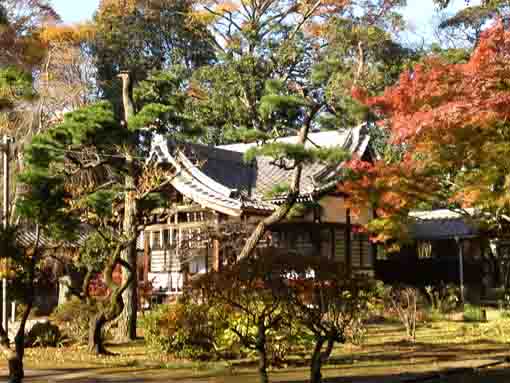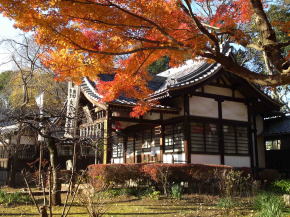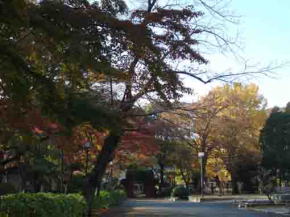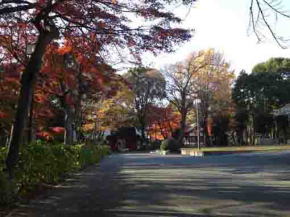 ---
Poets and Mamasan Guhoji Temple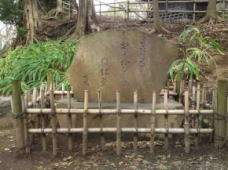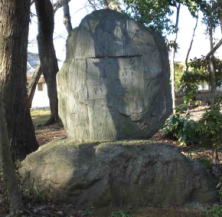 ---
Mamasan Guhoji Temple stands on the central part of the area of
Myriad Leaves
. Many poets have sang Mama since the age of Myriad Leaves. There are three tablets with haikus written by Issa Kobayashi, Shuoshi Mizuhara and Fusei Tomiyasu on them.
真間寺で 斯う拾いしよ 散紅葉     小林一茶
Mamadera de ko hiroi shiyo chiri momiji - Issa Kobayashi
梨咲くと 葛飾の野はとのぐもり     水原秋櫻子
Nashi saku to Katsushika no no wa tonogumori - Shuoshi Mizuhara
まさをなる 空よりしだれざくらかな   富安風生
Masa wo naru sora yori sidarezakura kana - Fusei Tomiyasu
Shiki Masaoka, Hakushu Kitahara who once lived in Mama and Sachio Ito wrote some poems sang Mamasan Guhoji Temple.
Shiki Masaoka
真間寺や枯木の中の仁王門     全集2巻p381
Mamadera ya kareki no naka no niomon
冬枯やはるかに見ゆる真間の寺   全集13巻p606
Fuyugare ya haruka ni miyuru mama no tera
Hakushu Kitahara
蓮の池埋めてまま食ふ真間の寺南無妙法蓮華経今の日蓮   全集32巻p3~51
Hasu no ike umete mama kuu mama no tera nanmyohorengekyo ima no Nichiren
山かげの真間の庵の白つつじにほへる妹と夜を楽しめり   全集7巻p153
Yamakage no mama no iori no shirotsutsuji nioeru imo to yoru wo tanoshimeri
Sachio Itoh
古寺の庫裏くれ近く庭を寒みかくろき土に梅の花咲く     全集1巻p543
Koji no kuri kure chikaku niwa wo samika kuroki tsuchini ume no hana saku
参考文献
講談社「子規全集」
岩波書店「白秋全集」
岩波書店「左千夫全集」
真間山弘法寺内石碑
市川市図書館ホームページ
The View from Mamasan Guhoji Temple
According to Edo Meisho Zue, Edojo Castle could be seen from Mamasan Guhoji Temple, and also
Rohan Koda
wrote 'it is good to see from under the stone steps of Mamasan to the Niomon Gate, it is better to see from the top of the steps…'. Now there are many tall buildings near the temple, it is enough to enjoy seeing around near it such in
Ichikawa City
. Cherry blossoms in
Suwada Park
in Spring seen from Mamasan is very beautiful.
---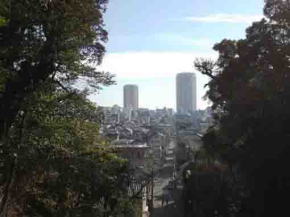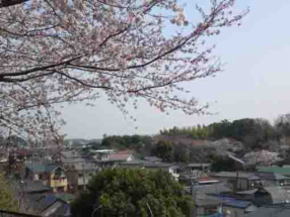 ---
参考
真間山弘法寺ホームページ
市川市ホームページ
真間山弘法寺内案内板
改訂新版「市川のむかし話」
新訂「江戸名所図会6」ちくま学芸文庫
ウィッキペディア
The Poets on The Stone Tablets in Mamasan Guhoji Temple
Isssa Kobyashi was a haiku poet in late Edo period, and his name was Nobuyuki, and commonly known as Yataro, he was a son of a farmer in Shinano province.
When he was 3 years old, he lost his mother, and he was on bad terms with his stepmother who came to his house when he was 8 years old. He went to Edo (Tokyo) in spring at the age of 14,and he learned haiku poetry at Nirokuan Chikua in Katsushikaha group. Later he traveled to many parts of Japna. And finally he settled in his home town. In 1801, his father passed at hi sage 39, he had a dispute about an inheritance with his stepmother. In 1827, he suffered a fire so he lived in a storehouse and he died with palsy. He had been in adversity since his childhood, 'Ware to kite asobeya oya no nai suzume', he wrote this poem remembering his childhood. He created his style to using colloquial words and dialects based on his warped feelings in his miserable life.
めでたさも中くらいなりおらが春
Medetasa mo naka kurai nari ora ga haru
やせ蛙まけるな一茶これにあり
Yase gaeru makeruna Issa kore ni ari
雀の子そこのけそこのけお馬が通る
Suzume no ko soko noke soko noke ouma ga toru
Works: 旅拾遺 Tabi Shui(1795), 父の終焉日記 Chichi no suen nikki / The Diary fo the Death of My Father(1801), 三韓人 San Kan Jin(1814), 七番日記 Shichi ban nikki / The Seventh Diary(1810~1818), おらが春 Ora ga haru / My Spring, etc.
---
Shuoshi Mizuhara was a haiku poet and a doctor graduated from the facility of medicine at University of Tokyo from Kanda in Tokyo. His real name is Yutaka Mizuhara. He managed his own obsterican clinic and worked at Showa University as a professor in 1928, and worked at Imperial Household Agency as a doctore in 1932.
In 1922, he supported to revive the Haiku Association of Tokyo University with Fusei Tomiyasu. He studied under Kyoshi Takahama and he distinguished himself so he built up the golden age called '4 S Jidai (Ages) of Hototogisu (Cuckoo)' with Seiho Awano, Seishi Yamaguchi, Suju Takano. However, he left the school as he was opposed to Kyoshi's sketchy expression band Suju's detailed expression. He edited a haiku magazine 'Ashibi (andromeda)' to promote new trend of haiku poetry and he trained several splendid poets like Hakyo Ishida and Shuson Kato. He won the Japan Art Academy Prize in 1964, and he appointed the member of the Japan Art Academy in 1966.
Now Shuoshi Mizuhara used to visit Mama and Konodai in Ichikawa city several times in his school days.
Works: 「葛飾 Katsushika(1930)」「新樹 Shinju(1933)」「秋苑 Shuen(1935)」「磐梯 Bandai(1943)」「霜林 Sorin(1950)」「残鐘 Zansho(1952)」
---
Fusei Tomiyasu is a haiku poet from Aichi prefecture. His real name is Kenji Tomiyasu. He was graduated from the school of law and worked at Ministry of Communications and Transportation and he finally became the vice minister of it.
Fusei Tomiyasu wrote some poems with Zenjido Yoshioka, and he supported to revive the Haiku Association of Tokyo University with Shuoshi Mizuhara in 1922. e studied under Kyoshi Takahama and joined to Hototogisu (Kukoo). He won the Japan Art Academy Prize in 1971, and he appointed the member of the Japan Art Academy in 1975.
He edited a haiku magazine 'Wakaba' and trained young poets.
Fusei Tomiyasu often visit Mamasan Guhoji Temple to write haiku poems.
Works: 「草の花 Kusa no Hana / Flowers on grass(1933)」「松籟 Shorai / Winds on top of pine tress(1940)」「晩涼 Banryo (1955)」「古稀春風 Koki Shunpu(1957)」「喜寿以後 Kiju igo(1965)」「齢愛し Yowaioshi(1978)」
参考
市川市ホームページ
市川市図書館ホームページ
デジタル大辞泉
ブリタニカ国際大百科
デジタル版 日本人名大辞典
美術人名辞典
百科事典マイペディア
日本大百科全書(ニッポニカ)
ウィッキペディア
---
The Location and Access to Mamasan Guhoji Temple
Mamasan Guhoji Temple
---
---
4- 9-1 Mama, Ichikawa-shi, Chiba prefectuer, Japan
Mamasan Guhoji Temple has great accessibilities from both Narita and Haneda International Airport.
From Narita International Airport, take Keisei-line and get off Ichikawamama Sta or Konodai Sta, take minimally 45 minutes from Narita Airport. And also take JR Sobu-express line, transfer the line at Funabashi to Keisei-line, get off Ichikawamama Sta or Konodai Sta.
From Haneda International Airport, take Keikyu-line bound to Narita, and get off Ichikawamama Sta or Konodai Sta.
Take 10 minute walk from both Ichikawamama Sta or Konodai Sta.
Landmarks near Mamasan Guhoji Temple
---
---
---
---