The Dai-Jingido Hall Dedicates Kiyomasa Kato
For Wish Fulfillment In Hokekyo-ji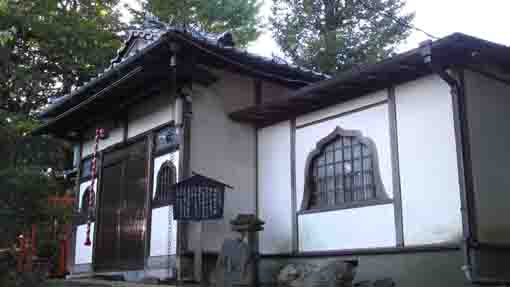 The Dai-Jingido Hall Dedicates Kiyomasa Kato For Wish Fulfillment In Hokekyo-ji
Kiyomasa Kato
was one of the most famous and popular Bushos or Daimyos (lords and commanders) in
Sengoku (Warring States) Period
, and he was also an influential suppoter of
Nichiren Sect
.
The Dai-jingi-do hall for wishes fulfillment dedicates Kiyomasa Kato the comander in Sengoku Period to avoid some troubles, to be in good fortune, to pass examinations, to win and so on. It has been very popular and called 'Kiyomasa-sama', thousands of visitors has been worshipping for a long time ago.
It has been believes that anyone who believes deeply and prey honestly might avoid troubles, gets good luck and becomes happy, so his/her wishes might be fulfillment.
参考
法華経寺掲示板による。
Kiyomasa Kato, One of the most popular samurai worrier
Kiyomasa Kato was born iat Nakamura, Owari-no-kuni (Nakamura-ku, Nagoya city, Aichi prefecture) Eiroku 5th(1562) and passed at Kumamoto city, Kumamoto prefecture in June 14th of Keicho 16th (1611). He had lived 49 years.
His popular name was Toranosuke, so his family, relatives and his friends called him Toranosuke.
He was one of the Sengoku Busho (the lord and the commanders in the Warring States Period) living from Azuchi-Momoyama to early Edo period. He started to serve Hideyoshi Toyotomi as an aggressive page, and he always worked at him. And he joined the army to combat at war in Korea.
In Tensho 9th (1581), Kiyomasa won fame of Ichban-yari (the spearmen who beat enemy first in the battle) at the battle at Tottori-jo in Inaba-no-kuni (Tottori city, Tottri prefecture) and the battle at Bicchu Kanmuri-jo. And next year, he joined the army to combat against Mitsuhide Akechi at the battle of Yamazaki and Tanba-kameyame (Yamazaki-cho and Kameyama city in Kyoto). In April of Tensho 11th (1583), he fought against Katsuie Shibata at Shizugatake (Nagahama city, Shiga prefecture) and he won the honor of 'Shizukagake Shichi-hon-yari' (the best 7 spearmen who greatly succeeded in the battle at Shizugatake).In Tensho13th (1585), he was appointed Kazue-no-kami of Jugoinoge (the Head of Budget bureau of Junior Fifth Rank, Lower Grade) and was given the post of the lord of Higo-Kumamoto.Kiyomasa fought aggressively in the War in Korea, so Korean people feared him and called 'Oni-jokan' (Angry Superior Officer), especially he won fame at the battle of Urusan. He had taken side against Mitusnari Ishida, so Kiyomasa joined 'Budan-ha' (a group consists of the lord having succeeded at the battle fields. Opposite side is called `Bunchi-ha', a group consists of the lord working like bureaucrats). He belonged to Tokugawa's army called 'To-gun' (Eastern Military) at the battle at Sekigahara. Actually, he had fought at Kyushu, but he was given the right to govern the land doubled. Keicho 10th, he was appointed Jugoijo Jiju ken Higo-no-kami (the chamberlain and the governor of Higo (Kumamoto prefecture) of Junior Fifth Rank, Higher Grade).
Kiyomasa was good at building castle and bank and civil engineering, so Kumamoto-jo in Kumamoto prefecture, Nagoya-jo in Aichi prefecture and some dozens of other famous castles built in the ages form Azuchi-Momoyama to early
Edo period
were his architectural works.
Kiyomasa Kato is active and strong-willed man, he loved reading `The Analects of Confucius'. In addition, he had well honestly served Hideyoshi and his son Hideyori, so this shows his faithful personality, so he is very popular and loved by common people throughout Edo Period. His works was written in some novels, plots and so on
参考
ブリタニカ国際大百科事典
新制版 日本史辞典 研数出版 参考
Kiyomasa Kato and Nichiren Sect
Kiyomasa Kato was a devout believer of Nichren Sect. So he was influenced by her mother, so she was also eagerly believe Nichiren Sect. His mother, Itome, had a believer in her childhood, thus Kiyomasa had got much influence before he was born. In his poor childhood, he learned how mother believed Nichren Sect, Kiyomasa deeply believed it as he grew up. Moreover he learned a lot from Nichijun, the chief priest of Myoen-ji Temple in Tsushima (near Nagoya), and he was also influenced by Nichiju greatly, so his personality was making by him. When he was in the battle fields, he was chanting a sutra 'Nam-myo-ho-ren-ge-kyo' in his heart. Kiyomasa was unsophisticated and innocent man, so he never scared anybody in the battle fields, and he believed that he could got great success by help of Hokekyo (Lotus Sutra).
When he was 25 years old, Kiyomasa built Honmyo-ji Temple at Naniwa (Osaka prefecture) for his father, so he moved his father's remains to the temple. Later he became the governor of Higo Kumamoto (Kumamoto prefecture), he also moved it to Kumamoto.
Kiyomasa built 5 temples including Honmyo-ji, these temples had a letter from one of those 5 Chinese characters `Myo, Ho, Ren, Ge, Kyo' in each temle's name. They were Hokke-ji in Niigata Prefecture, Hoshin-ji in Oita prefecture, Honren-ji in Nagasaki prefecture and Hongyo-ji in Saga prefecture. He supported and donated to build 'Sanju-san-ban-shin-do' in Honkoku-ji in Kyoto, Shikyonanji-saka in Ikegami-Honmon-ji in
Tokyo
and Chinko-mon (had fired) in Atsuta-jingu in Nagoya.
Kiyomasa Kato has been dedicated as a great supporter of Hokekyo (Lotus Sutra) Sect, and he is worshipped by not only the supporters of Nichren Sect, but also common people as his innocent personality.
参考
正悦山妙行寺(愛知県名古屋市中村区)ホームページより
The Access to The Dai-Jingi-do Hall Dedicates Kiyomasa Kato
The Dai-Jingi-do Hall Dedicates Kiyomasa Kato
---
---
The Dai-Jingi-do Hall Dedicates Kiyomasa Kato in Nakayama Hokekyouji Temple has great accessibilities from both Narita and Haneda International Airport.
From Narita International Airport, take Keisei-line and get off Keisei-Nakayama Sta, take minimally 40 minutes from Narita Airport.. And also take JR Sobu-express line, transfer the line at Funabashi to Sobu-Local line, get off Shimousa-Nakayama Sta.
From Haneda International Airport, take Keikyu-line bound to Narita, and get off Keisei-Nakayama Sta.
From Tokyo Sta, take Sobu-Express line bound to Chiba or Narita, transfer the line to Sobu-Local line bound to Chiba, Tsudanuma, or Nishi-Funabashi at Ichikawa Sta, get off Shimousa-Nakayama Sta.
From Akihabara Sta, take Sobu line bound to Chiba, get off Shimousa-Nakayama Sta.
Take 5 minute walk from Keisei-Nakayama Sta, and take 8 minutes walk from Shimousa-Nakayama Sta.
2-10-1 Nakayama, Ichikawa-shi, Chiba-pref, Japan
The Landmarks in Nakayama Hokekyouji Temple
---
---
---
---
---
---
---
---
---
---
---
---