The Shogyo-den in Nakayama Hokekyoji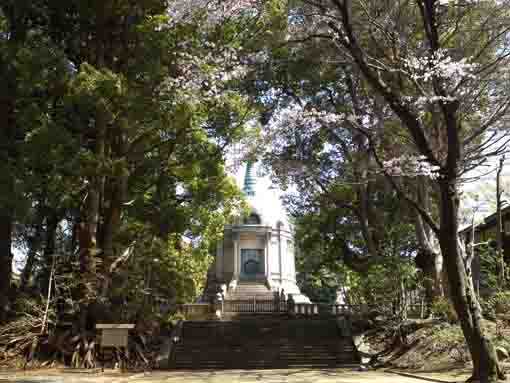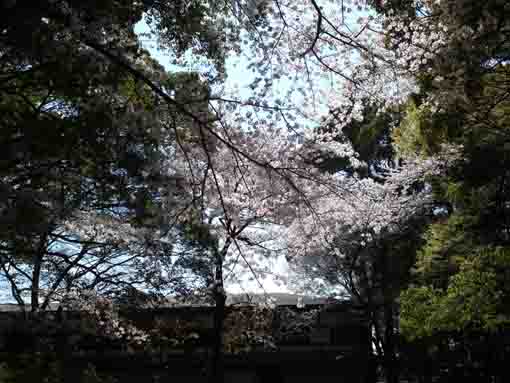 ---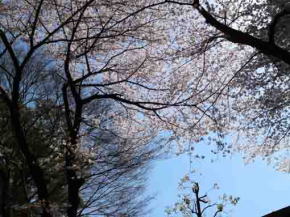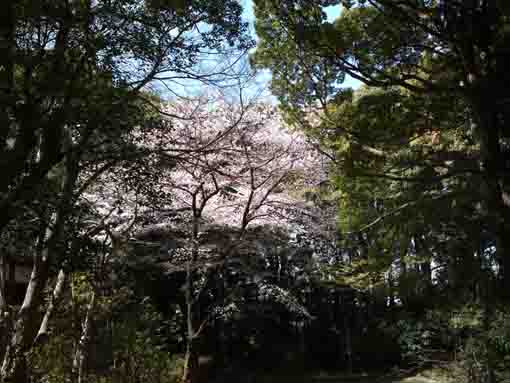 ---
Passing through Hodenmon Gate standing behind Soshido Hall of Nakayama Hokekyoji Temple, there is a path between tall trees like woods, and the end of path, a unique shaped white tower is standing. It is called Shogyoden Hall designed by Chuta Ito, a famous architect from Meiji to Showa era in Japan. On the left side of this building, a small wooden gate called Zuimon that the gate of the incantation of Nichiren Sect is standing. In spring, cherry blossoms paint on the green woods with sakura color.
Why don't you visit Shogyoden Hall in Nakayama Hokekyoji Temple?
Shogyoden Hall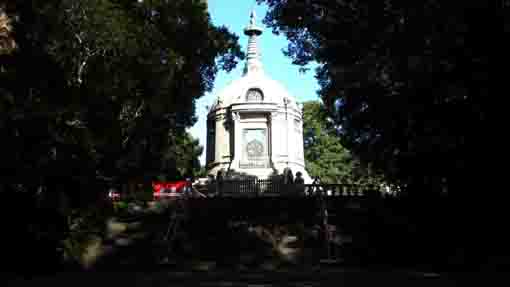 The Shogyo-den
1. This building is called 'Shogyo-den'.
Nakayama Hokekyo-ji carefully keeps the two national treasures written by
the founder Nichiren
(
Risho-ankoku-ron
and
Kanjin-honzon-sho
) and the 64 important cultural properties. Shogyo-den was built by combining the best modern technology to keep them completely safe and long time, and to avoid thiefs, fires, blight and harm of the moisture.
1. This building was built in Showa 6th. The plan to build it started 7 years before, Professor Mitsuyoshi Yamada, the professor of law in Tokyo University and the chairman of Hokke-kai led the plan, Hokekyo-ji and the business office of Nichiren Sect had got much support, then it had completed. The designer was
Chuta Ito
, the professor of engineering in Tokyo University.
1. 'The foundation To Keep the Shogyo' was established at the same time as Shogyo-den was built. It tries to keep the properties for long now.
参考
法華経寺聖教殿前掲示板より
The Architect Chuta Ito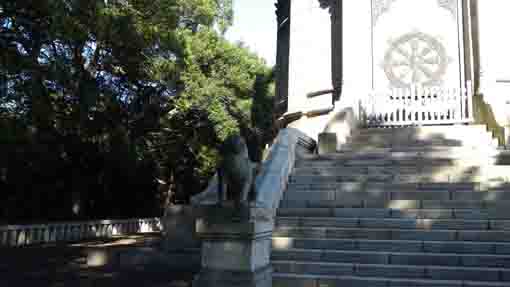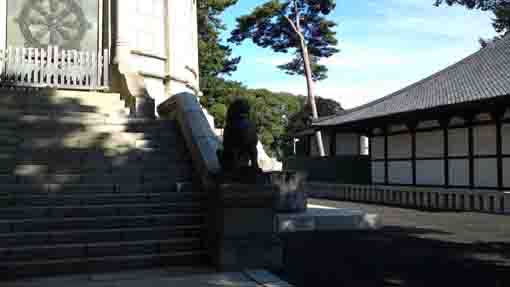 Chuta Ito was an architect, a scholar and a historian studying architecture and a professor at Tokyo University.
Chuta Ito was born in October 26th of 1867 in Yonezawa, Yamagata-ken. He went to Tokyo in 1873 since his father became an army surgeon and he moved to Sakura in
Chiba-ken
in 1878. In 1879, Chuta entered Shikayama Junior High School (now Sakura High School) and he started studying German at Tokyo Foreign Language School in 1881. However, the school was closed, then he entered Daiichi Koto Chugakko in 1885. He graduated from Tokyo University in 1892. Chuta continued studying the architecture at the university. Next year, he presented his famous work 'Horyuji Kenchikuron' (the architecture theory on Horyu-ji Temple), he discussed to comparison between Horyuji Temple and Parthenon in Greece in his report. Later, he taught at the university. He had researched classic or ancient buildings and remains among Asia (Japan, China and India) and he formulated the system of studying the history of the architecture in Japan and Asia. He became a member of the Committee of the Preserving National Property and he worked hard to keep them. Later He was elected as a member of Japan Academy and Japan Art Academy. In addition, he was the first architect awarded the Order of Culture. He was awarded as the First Honorary Citizen in Yonezawa City in Yamagata-ken in 1954. He was passed away in April 7th in 1954.
---
---
The List Of Chuta Ito's Architectural Works
Kashihara Jingu in Kashihara City, Nara Prefecture (1890, The Important Cultural Property)
Heian Jingu in Kyoto(1895, The Important Cultural Property)
Houkokubyo in Kyoto(1898)
The Pedestal of the Statue of Toshinaga Nanbu in Morioka City, Iwate Prefecure (1908)
Miyazaki Jingu in Miyazaki City, Miyazaki Prefecture(1907The Important Cultural Property)
Kasuisai Gokokuto in Fukuroi City, Shizuoka Prefecture(1910)
The Pedestal of the statue of Sutezo Nishimura in Minatoku, Osaka (1910)
Honganji Dendoin in Kyoto(1912, The Important Cultural Property)
The Main Gate of Tokyo Universitiy in Tokyo (1912, Registered Cultural Property)
Kannondo and Soan in Nanpian Kannonji inTondabayashi City, Osaka(1914)
Yahiko Jinja in Nishikanbara-gun, Niigata Prefecture(1916, the Registered Cultural Property)
The Three-story Pagoda in Gifu Park in Gifu City, Gifu Prefecture (1916, The Registered Cultural Property)
Hoantoin Nittaiji in Nagoya City in Aichi Prefecture(1918, The Registered Cultral Property)
Meiji Jingu in Tokyo(1920)
The Pedestal of the Statue of Hokokannon in Sojiji in Yokohama City (1923, The Registered Cultural Property)
Kanematsukodo in Hitotsubashi University in Tokyo(1927, the Registered Cultural Property)
Okura Shukokan in Tokyo(1927, The Registered Cultural Property)
Gionkaku in Kyoto(1927)
Tokyoto Ireido Hondo iin Tokyo(1930)
General Yamagata Memorial Museum in Yasaka City, Tochigi Prefecture(1929)
Yushukan of Yasukuni Jinja Shrine in Tokyo(1930, the Registered Cultural Property)
Nakayama Hokekyo-ji Shogyo-den in Ichikawa City, Chiba Prefectuer(1931)
Jinmon in Yasukuni Jinja in Tokyo(1933)
Ishitorii (Stone-gate) in Yasukuni Jjinja in Tokyo(1934)
Tsukiji Honganji in Tokyo(1934, The Important Cultural Property)
Hondo (the main hall) in Saijoji in Minamiashigara City, Knagawa Prefecture(1934)
Yushimaseido in Tokyo(1934)
Koma Jjinja in Hidaka City, Saitama Prefecture(1935)
Ozaki Jjinja in Kamaishi City, Iwate Prefecture(1935)
Kaizando and Taishido in Shinshoji in Narita City, Chiba Prefecture(1936)
Bishamondo in Fukoji in Minamiuonuma City, Niigata Pregecture(1937)
Daisodo in Sojiji in Yokohama City, Kanagawa Prefecture(1937, The Registered Cultural Property)
Hondo (the main hall) in Myozenji in Yamagata City, Yamagata Prefecture(1937, The Registered Cultural Property)
Haiseiden in Iga City, Mie Prefecture(1941: The Important Cultural Property)
Uesgi Jjinja Shaden in Yonezawa City, Yamagata Prefecture(1941)
抜粋・引用および参考
法華経寺聖教殿前掲示板
INAX REPORT 特集1 生き続ける建築2 伊東忠太 挑戦する建築家
大辞林
ブリタニカ国際大百科事典
大辞泉
ウィッキペデイァ
The Location and Access to Shogyoden In Nakayama Hokekyoji
Shogoden In Nakayama Hokekyoji Temple
---
---
Shogyoden in Nakayama Hokekyouji Temple has great accessibilities from both Narita and Haneda International Airport.
From Narita International Airport, take Keisei-line and get off Keisei-Nakayama Sta, take minimally 40 minutes from Narita Airport.. And also take JR Sobu-express line, transfer the line at Funabashi to Sobu-Local line, get off Shimousa-Nakayama Sta.
From Haneda International Airport, take Keikyu-line bound to Narita, and get off Keisei-Nakayama Sta.
From Tokyo Sta, take Sobu-Express line bound to Chiba or Narita, transfer the line to Sobu-Local line bound to Chiba, Tsudanuma, or Nishi-Funabashi at Ichikawa Sta, get off Shimousa-Nakayama Sta.
From Akihabara Sta, take Sobu line bound to Chiba, get off Shimousa-Nakayama Sta.
Take 5 minute walk from Keisei-Nakayama Sta, and take 8 minutes walk from Shimousa-Nakayama Sta.
2-10-1 Nakayama, Ichikawa-shi, Chiba-pref, Japan
The Landmarks in Nakayama Hokekyouji Temple
---
---
---
---
---
---
---
---
---
---
---
---