The National Natural Treasure Senbon Icho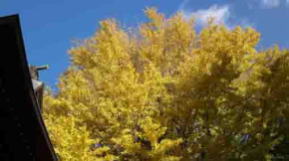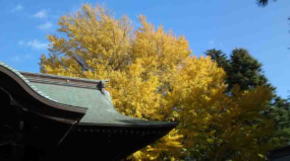 ---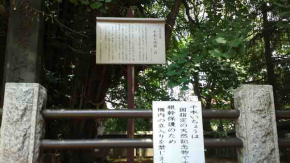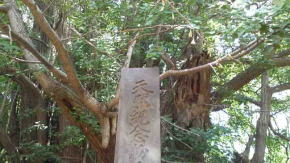 ---
Passing through the approach where several gingko trees lining along to the main hall of
Katsushika Hachimangu Shrine
, a huge gingko tree that is twice as tall as the hall stands right side of it. It is the National Natural Treasure 'Senbon Icho (the gingko tree with thousands trunks)'. Senbon Icho tree has very strong and different impressions from other gingko trees lining along the approach.
Sachio Ito
, the famous writer wrote Nogiku no Haka, created several
tanka poem
s describing Senbon Icho tree and Katsushika Hachimangu Shrine. And Senbon Icho is appeared on a detective story written by Shizuko Natsuki, the famous novelist. It was also introduced in
Edo Meisho Zue
(a guide book describing
Edo
published in
Edo period
), it tells 'There is a huge gingko tree on the right side of the main hall, it was the sacred tree of the shrine. So Senbon Icho tree has been a famous landmark in Yawata in
Ichikawa city
since Edo period.
Why don't you visit and see Senbon Icho tree?
* Some pictures on this page are taken before the renovation.
---
The National Natural Treasure Senbon Icho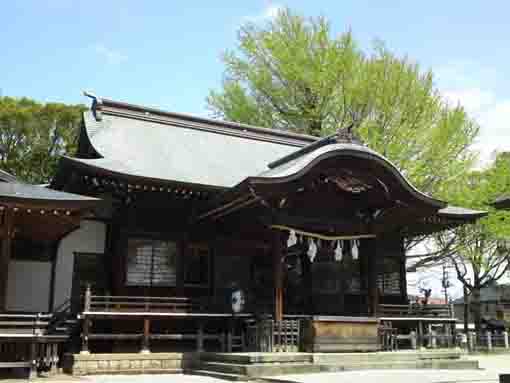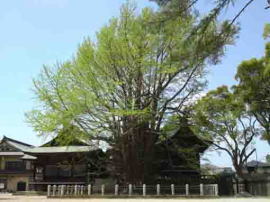 ---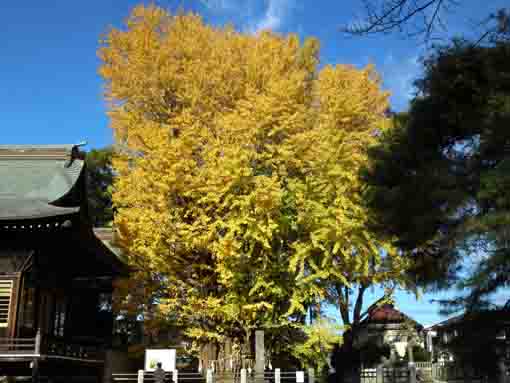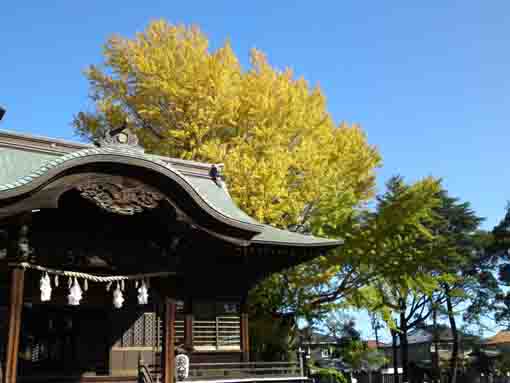 ---
The National Natural Treasure Senbon Icho designated Feb 20th 1931
The huge gingko tree is named 'Senbon Icho tree (the gingko tree having thousands tranks) since it looks like hundreds of trunks gathered and united to be a tree glowing up from a root. It has stood there for about over 1200 years.
It is about 23 meters tall, 10.2 meters long around the trunk at the grand level and 10.8 meters long around it at the level of human eyes, so it is a feature that the wide oat the eye level is wider than that of grand level. It might be struck by lightning and after that many trunks and branches grew long and supported each other, then, this Senbon Icho tree could had been formed.
Edo Meisho Zue introduces it that there were some small snakes living in the caves in Senbon Icho tree and people said it had been exciting when they had seen several thousands of snakes had appeared on the branches during the music being played at the festival held in August 15. Some other books in Edo period also introduced Senbon Icho tree on them. In modern ages, Kyoshi Takahama, Sachio Ito and some writers visit Katsushika Hachimangu Shrine and described Senbon Icho tree outstandingly.
According to legends since ancient time, one who could see white snake living in Senbon Icho tree could get good fortune and good health.
* Now it is preserved carefully, don't step over the fences around it.
引用
千本公孫樹前市川市教育委員会案内板より
Tanka Poems Describing Senbon Icho Tree by Sachio Ito
一本ゆ五百千幹立つ銀杏木のゆゆしたふとし神の御社
Ippon yu imochi miki tatsu ichoboku no yuyushita futoshi kami no miyashiro
神代木のいづの銀杏木しかに春のさみどりもえにける鴨
Shindaiboku no izu no ichoboku sika ni haru no samidori moe ni keru
夕空のかきらふ色を面白み八幡の市の森さしてゆく
Yuzora no karkirau iro wo omoshiromi Yawata no ichi no mori sashite yuku
宮をかこふ大き銀杏は夕空の明りに映ておほにかがよふ
Miya wo kakofu oki icho wa yuzora no akarini haete ohoni kagayofu
かつしかや市川あたり松を多み松の林の中に寺あり
Katsushika ya Ichikawa atari matsu wo oomi matsu no hayashi no naka ni tera ari
かつしかの田中にいつく神の森の松をすくなみ宮居さぶしも
Katsushika no tanaka ni itsuku kami no mori matsu wo sukunami miyai sabushimo
Anyway, Senbon Icho Gingko Tree,
Yawata no Yabushirazu
, and
the Stone Yoritomo's Horse Held
were counted as three mysterious spots in Yawata.
抜粋および参考
葛飾八幡宮内御由緒書
市川市ホームページ
市川市市立図書館ホームページ
佐千夫全集 岩波書店
江戸名所図会6 ちくま学芸文庫
房総叢書 紀元二千六百年記念 第8卷葛飾紀
房総叢書 紀元二千六百年記念 第6卷葛飾誌略
房総叢書 紀元二千六百年記念 第1卷下総式社考
ウィッキペディア
Senbon Icho Gingko Tree in Katsushika Hachimangu Shrine
---
---
Senbon Icho Gingko Tree in Katsushika Hachimangu Shrine has great accessibilities from both Narita and Haneda International Airport.
From Narita International Airport, take Keisei-line and get off Keisei Yawata Sta, take minimally 45 minutes from Narita Airport. And also take JR Sobu-express line, transfer the line at Funabashi to Keisei-line, get off Keisei Yawata Sta.
From Haneda International Airport, take Keikyu-line bound to Narita, and get off Keisei Yawata Sta.
Take 5 minute walk from Keisei Yawata Sta.
4-2-1 Yawata, Ichikawa-shi, Chiba-ken
Huge Gingko Trees on Legends
There are some huge gingko trees having some legends and stories in Ichikawa city. The National Natural Treasure Senbon Icho (the gingko tree having thousands trunks) in Katsushika Hachimangu Shrine in Yawata, Naki Icho (The Crying Gingko Tree) in Hokekyoji Temple in Nakayama and the gingko tree where Oguri Hangan stopped his horse in Shinmeiji Temple in Onigoe. Each tree has interesting story.
Why don't you visit and see those huge gingko trees?
---
---
The Scenaries in Katsushika Hachimangu Shirne
---
---
---
---