A Walk on the Places Described by Kafu Nagai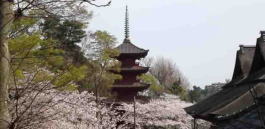 ---
Soon after the WWII had ended,
Kafu Nagai
moved to Sugano in
Ichikawa city
in January 1946, and he described some landmarks around Yawata and Nakayama area in the city several times in his diary named Danchotei Nichijo. Kafu visited Nakayama Hokekyoji Temple, Shirahata Tenjinsha Shrine, Katsushika Hachimangu Shrine, Kaguraden Hall, Yawata no Yabushirazu Shrine, Mamasan Guhoji Temple, and Myogyoji Temple and he specifically wrote them. Shirahata Tenjinsha Shrine near his house and Nakayama Hokekyoji Temple were especially described in many pages, Kafu might visited them several times. And also he visited other places in the city. For example, Kafu wrote in his diary that he left his umbrella in Shimousa Nakayama Station, and some old people talked that they saw him walking along Mamagawa River with his umbrella.
On this page, some wonderful noted spots where Kafu Nagai described in his diary called Danchotei Nichijo would be introduced. It is very good for you to visit them in each part, Mama, Yawata, Nakayama and Baraki. You could see excitingly beautiful seasonal sights when you visit them.
Why don't you visit the places described on the diary called Danchotei Nichijo written by Kafu Nagai?
参考文献
「新版 断腸亭日乗 第六巻」 岩波書店
The Noted Places on the Diary Written by Nagai Kafu
---
---
---
---
---
---
---
---
---
---
---
---
---
---
The Location of the Places on the Diary Written by Nagai Kafu
---
---