Kiuchi Gallery | the Western Style House in Woods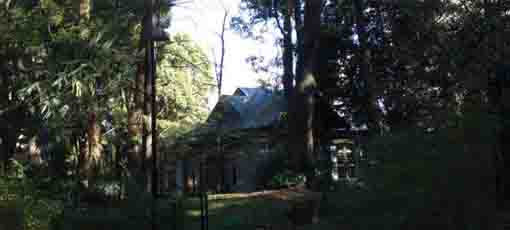 ---
Kiuchi Gallery standing next to Mamasan Guhoji Temple on Konodai Plateau is a Western-style housing like a hat in fairy tales. It is very kawaii building built in woods and it seems like that some characters on some fairy tales will come out from the door of the gallery. Kiuchi Gallery was fixed and rebuilt a second residence of
Jushiro Kiuchi
a politician played active parts from Meiji to Taisho era. This building remains the Meiji Taisho Style of architecture gives much romantic impression. Visitors must feel on the living room, library and verandah now used as the exhibition rooms and the entrance and its porch with nostalgia.
Why don't you visit Kiuchi Gallery?
Kiuchi Gallery
Ichikawashi Kiuchi Gallery
Ichikawashi Kiuchi Gallery is the second residence of a politician Jushiro Kiuchi who played active parts from Meiji to Taisho era spent the rest of his life in it, so it was fixed and rebuilt a part of its Western style house.
Kiuchi residence is very valuable since it was built in the modern architecture from late Meiji to early Taisho era called half foreign style - across between Japanese and foreign by a representative of the House of Peers Jushiro Kiuchi, it also had a Japanese style house in over 30000 square meters wide land at Konodai plateu in 1914. Though it was too old to preserve, Kiuchi residence was restored with some of old structural members and was given to Ichikawa city in 2004. The tower was first built in woods, but now it was constructed of concrete.
In accordance with the contributors wishes, Ichikawashi Kiuchi Gallery shows its modern style of architecture and opens as a cultural facility.
The area around Ichikawashi Yoshizawa Gallery in Mama Ichikawa-shi, there are many historical and cultural sites such as
Guo Moruo Memorial Park
,
Yoshizawa Garden Gallery
,
Tekona Reishindo Shrine
,
Mama no I well in Kameiin Temple
,
Mamasan Guhoji Temple
and
Kokubunsan Kokubunji Temple
, visitors could enjoy walking on
参考および抜粋
市川市木内ギャラリーパンフレットより
ウィッキペデディア
Jushiro Kiuchi (1865-1925)
Jushiro Kiuchi was a bureaucrat and a politician from Meiji to Taisho era in Japan. He was born in Chiyoda-mura Sanmu-gun Chiba-ken in December 10 1865, and he was graduated from Chiba Junior High School at the top of the school (now Chiba High School) and he studied political science at Tokyo University, so he aspired to a politician.
In 1880, he was appointed as a probationary councilor of the Cabinet Legislation Bureau, then he successively held various important posts such as the councilor and the commissioner at the Ministry of Agriculture and Commerce. In 1911, he became a representative in the House of Peers in recognition of his achievements. In 1916, he was appointed as the governor of Kyoto prefecture. But he was involved in a graft scandal called 'Butabako Jiken' (suspicion of bribing to the members of the prefectural assembly) and he resigned the post of the governor in 1918. Though he was found innocent in 1920, Jushiro was compelled to quit his political activity.
In January 9th of 1925, Jushiro Kiuchi passed away at his age of 61 in his second residence in Konodai Ichikawa-shi Chiba-ken.
参考および抜粋
市川市木内ギャラリーパンフレットより
デジタル版 日本人名大辞典
ウィッキペデディア
Kiuchi Gallery
---
---
4-11-4 Mama Ichikawa-shi Chiba-ken
Kiuchi Gallery has great accessibilities from both Narita and Haneda International Airport.
From Narita International Airport, take Keisei-line and get off Ichikawamama Sta or Konodai Sta, take minimally 45 minutes from Narita Airport. And also take JR Sobu-express line, transfer the line at Funabashi to Keisei-line, get off Konodai Sta.
From Haneda International Airport, take Keikyu-line bound to Narita, and get off Konodai Sta.
Take 6 minute walk from Konodai Sta.
Landmarks near Kiuchi Gallery
---
---
---
---
---
---