Awa Jinja Shrine in Nakayama and Hirotsugu Satomi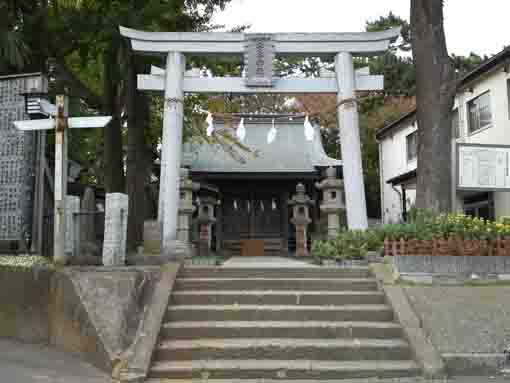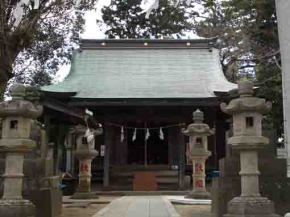 ---
Awa Jinja Shrine is a small shrine in the end of the road turning to the left at
the Deva Gate
of
Nakayama Hokekyoji Temple
. This small shrine is known as dedicating a 15 years old young samurai worrier,
Hirotsugu Satomi
died at
the 2nd battle of Konodai
in January 1564. People in
Edo
would feel very sad that Hirotsugu died as a teenager, so
Edo Meisho Zue
(a guide book introducing noted landmarks in Edo in
Edo perio
) introduced it. According to Katsushkaki, Awa Jinja Shrine is a grave of Hirotsugu Satomi and it was called Awa no Su Daimyojin since he was from
Awa province
and its name was after Suzaki Jinja Shirine there. And Katsushika Shiryaku introduced a saying of an old man lived in Nakayama, he said that the battle at Konodai was so ghastly that there were several small shrines dedicating the bushos and the samurais died at the battle in the areas between Konodai and Nakayama.
Besides,
Hina Matsuri
is held in Awa Jinja Shrine. There are many Hina Ningyo Dalls beautifully decorated in the main hall, it is not what you see every day.
Why don't you Awa Jinja Shrine in Nakayama?
Awa Jinja Shrine
The Information of Awa Jinja Shrine
Place of the shrine: 4-3-25 Nakayama, Ichikawa-shi
Gods dedicated:  Kunitokotachi no Mikoto
          Satomi Awa no Kam
          Oomiya Daigongen
          Sanno Daigongen
The History of Awa Jinaj Shrine
This shrine was called 'Awa no Su Myojin' or 'Awa no Su Shi' in some book published in Edo period.
Edo Meisho Zue introduced with a drawing, it tells that it was called Awa Su Myojinsha Shrine on a hill called Ikeda in the north of Nakayama.
First, Awa Jinja Shrine was built in Sunahara in Nakayama (now Nakayama Elementary School standing), and it was moved to the Myokensha Srine dedicating Kunitokotachi no Mikoto to enshrine in the same land and in January 12th, 1909. In 1915, Oomiya Daigongen and Sanno Daigongen in Nakayama areas were moved to enshrined the Shrine by the government ordinance. And Awa Jinja Shrine was finally reconstructed at the present place.
The Feature of Awa Jinja Shrine
Awa Jinja Shrine is believed as the god of bringing good fortune, bringing up children and match making.
The Annual Festivals
1. New Year's Ceremony
1. The Ceremony for Good Crops in Jan 20th
1. The Grand Festival held in October 19th every 5 years
1. The Festival for Children of Three, Five and Seven Year Age in Nov 15th
1. Otakiage in Dec 29th (lighting up old amulet and charm for purifying)
By Awa Jinja Shrine in January 1997
安房神社門前案内板内縁起書より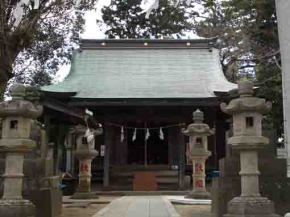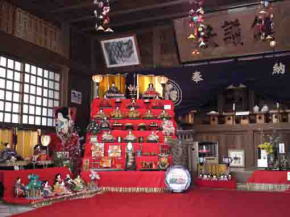 ---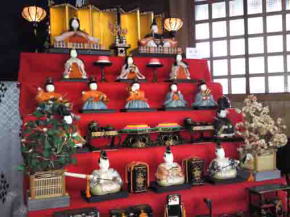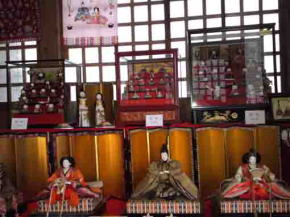 ---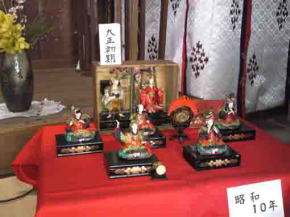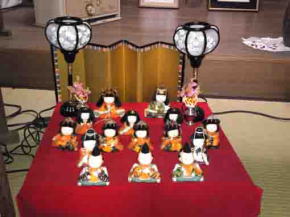 ---
From Febraury 15th to March 3rd, Hina Matsuri Festival is held in Nakayama area annually, several landmarks in this area putting many Hina Ningyo dalls in them. There are many hina ningyo dalls in the main hall of Awa Jinja Shrine. Some are very old, and some are made by a very skillful creator. It gives you a chance to see those dalls. If you have some spare time, please come and see them.
Hirotsugu Satomi (1550?~1564)
Hirotsugu Satomi was a samurai worrier belonged to
Satomi Family
in
Awa province
. He was a son of Tadahiro Satomi.
Hirotsugu Satomi was fighting at the battles between the Satomi and
Hojo Clan
in
Odawara
in
Sengoku Period
struggling for the supremacy of Kanto Region, it is called
the 2nd Battle of Konodai
in Januray 1564. It was his first campaign and he was 15 years old at that time.
The first battle of the 2nd Battle broke out in January 7th and the Satomi won it. However, they were intoxicated by the victory, the Hojo surprisingly attacked to the Satomi in next morning while they were off the guards. As the result, the Hojo won the battles and gained the power.
Several samurai worriers of the Satomi fled to Awa. Hirotsugu also rode on his horse to go homeland. But he was killed by Yasuyoshi Matsuda of the Hojo. According to
Edo Meisho Zue
, Yasuyoshi first hesitated to that since Hirotsugu was a childish young man. However, he did because thousands of the soldiers of the Hojo ran after him. After the battle, Yasuyoshi became a priest named Fusei for the repose of the young soldier soul.
Moreover, Edo Meisho Zue introduced a story of the beginning of Awa Jinja Shrine in the local history book 'Katsushikaki'. Several decades had passed after the Battle of Konodai, a salt dealer living in Katsushika county came to the place where Awa Jinja Shrine stood in Meiji Era and found a skull caught in vines. He removed them from the skull. At that time, a man appeared in front of the dealer and he thanked him for removing the veins and invited him to his home in Awa. It was about the Bon Festival in July. The dealer was treated to all kinds of delicacies at the man's house. But the man was unsatisfied at the treatment since he was the ancestor of the family then he got angry with them. The dealer told him to go back to Katsushika. After he went back, he buried the skull for the repose of the man's soul. The man from Awa, then the shrine was called Awa Su Myojinsha Shrine. Moreover, it was said that the skull was Hirotsugu Satomi's.
Anyway, Satomi Park in Konodai Ichikawa-shi stands on the remains of Konodaijo Castle. And Yonakiishi (the stone crying at night) related to a daughter of Hirotsugu Satomi and the Momorial Stone Tablets for Hirotsugu Satomi and the Samurais are preserved in the park.
出典・抜粋・引用および参考
安房神社門前案内板内縁起書
市川市ホームページ
里見公園内「夜泣き石」案内板
里見公園内「里見広次並びに里見軍将士亡霊の碑」案内板
じゅん菜池緑地公園前案内板
江戸川区ホームページ
江戸名所図会6 ちくま学芸文庫
房総叢書 紀元二千六百年記念 第8卷葛飾紀
房総叢書 紀元二千六百年記念 第6卷葛飾誌略
戦略戦術兵器辞典 学研
クロニック戦国全史 講談社
新編 市川歴史探訪 崙書房
ウィッキペディア
Awa Jinja Shrine
---
4-3-25 Nakayama, Ichikawa-shi, Chiba-ken
Awa Jinja Shrine has a great accessibility from both Narita and Haneda International Airport.
From Narita International Airport, take Keisei-line and get off Keisei-Nakayama Sta, take minimally 40 minutes from Narita Airport.. And also take JR Sobu-express line, transfer the line at Funabashi to Sobu-Local line, get off Shimousa-Nakayama Sta.
From Haneda International Airport, take Keikyu-line bound to Narita, and get off Keisei-Nakayama Sta or Onigoe Sta.
From Tokyo Sta, take Sobu-Express line bound to Chiba or Narita, transfer the line to Sobu-Local line bound to Chiba, Tsudanuma, or Nishi-Funabashi at Ichikawa Sta, get off Shimousa-Nakayama Sta.
From Akihabara Sta, take Sobu line bound to Chiba, get off Shimousa-Nakayama Sta.
Take 4 minute walk from Keisei-Nakayama Sta, and take 6 minutes walk from Shimousa-Nakayama Sta.
---
The Landmarks Neighbor Of Awa Jinja Shrine
---
---
---
---
---
---
---
---
---