Seikaen a peaceful garden near Hokekyo-ji Temple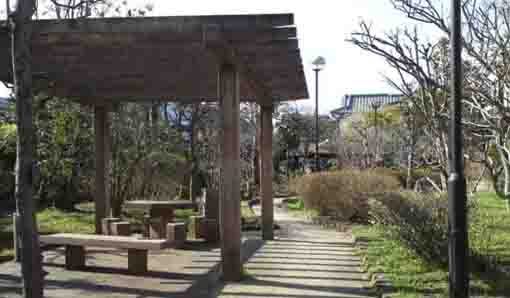 ---
Passing through the
Kuromon Gate
of and climbing up the approach to
Nakayama Hokekyo-ji Temple
, you could find a small tiled-roofed gate, it is the gate of Seikaen, a small silent space in the residential area in Nakayama. You could look into the garden through the gate and pass through it, you could find a peaceful place to rest and enjoy your time. Near the gate, there is a Japanese style garden, and the behind the garden, its style is changed, it is like an European style.
The land of Seikaen garden was donated by Hana Ishii in April 9th of 1992. The Ishii's family had lived in Nakayama from Kyoho era (1716~36) in the middle of
Edo period
, and the family opened a shop named Seikado to sell stationaries and second hand books, so they contributed to the development of Nakayama. In 2001, Seikaen was opened as a cultural center. And also it is a branch office of the City Hall of Ichikawa City.
市川市ホームページ
---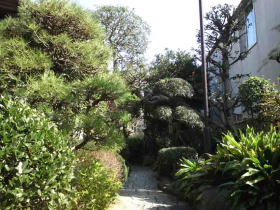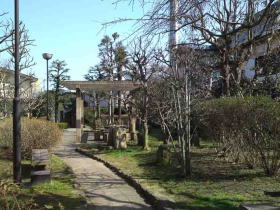 Seikaen Garden in Nakayama
---
Seikaen has a great accessibility from both Narita and Haneda International Airport.
From Narita International Airport, take Keisei-line and get off Keisei-Nakayama Sta, take minimally 40 minutes from Narita Airport.. And also take JR Sobu-express line, transfer the line at Funabashi to Sobu-Local line, get off Shimousa-Nakayama Sta.
From Haneda International Airport, take Keikyu-line bound to Narita, and get off Keisei-Nakayama Sta.
From Tokyo Sta, take Sobu-Express line bound to Chiba or Narita, transfer the line to Sobu-Local line bound to Chiba, Tsudanuma, or Nishi-Funabashi at Ichikawa Sta, get off Shimousa-Nakayama Sta.
From Akihabara Sta, take Sobu line bound to Chiba, get off Shimousa-Nakayama Sta.
Take 1 minute walk from Keisei-Nakayama Sta, and take 5 minutes walk from Shimousa-Nakayama Sta.
4-14-1 Nakayama, Ichikawa-shi, Chiba-ken
The Landmarks Neighbor Of Seikaen Garden
---
---
---
---
---
---
---
---
---