Ubayama Shell Mound Park(the National Historic Site)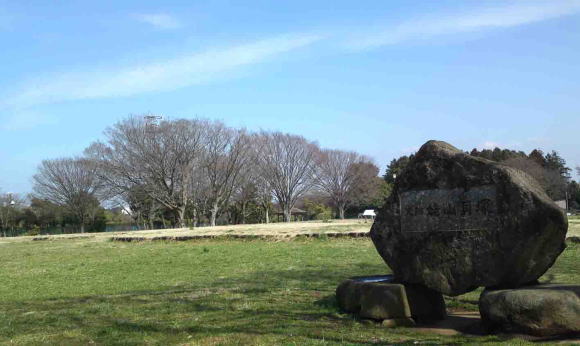 ---
Ubayama Shell Mound Park was designed on the shell mound formed from Middle to Late Jomon period is very large plain field park in Ichikawa City. And Ubayama Shell Mound is famous for discovering the first complete remains of the pit house in Jomon period and it is a National Historic Site registered by the National Government. Some signs for explaining the mound stand for vistors to know what excavation found and how large the shell mound was. Ubayama Shell Mound Park is very wide open space to enjoy confortable feelings from the nature. It is a good place to drop on during your walking.
Ubayama Shell Mound(the National Historic Site)
Ubayama Shell Mound was formed between the Middle and Late Jomon period (5,000 - 3,000 years ago) on the plateau on the left bank of Ogashiwa river. This is a horseshoe-shaped shell mound, the site looks like the letter C layout. The length of the mound from east to west is about 130 meters and it is 120 meters from north to south. Like Horinouch Shell Mound also in Ichikawa city, the Ubayama Shell Mound also consists of more than thirty shell heaps, mainly comprising hamaguri clamshell (Meretrix lusoria) as well as Japanese littleneck (Ruditapes philippinarum) and shiofuki clamshell (Mactra veneriformis)
Ubayama Shell Mound has been surveyed many times since 1893, and among these studies the excavation excursion staged by the Tokyo Anthropological Society in 1926 has the foremost importance. The research uncovered human remains, artifacts, and the remains of a fire hearth and a pit house. This was the first time in Japan that the horizontal projection of the pit house had been entirely depicted. As for human remains, skeletons of five people were unearthed in total; one child, two female adults and two male adults. These are seen as valuable samples. The skeletons were folded into each other on the floor of a single pit house as if there had been some kind of accident. During the following excavations, many pottery vessels were unearthed. These fall into the Otamadai, Kasori EI, Horinouch I, and Kasori BI types, among others ranging from Middle to Late Jomon period. Furthermore, many skeletons as well as accessories and pottery of unusual designs have attracted attention in what seem to have been a cemetery. To date, 39 sites of Jomon pit houses and 143 skeletons have been unearthed.
The excavation from Ubayama Shell Mound are preserved at the University of Tokyo, Nanzan University, Meiji University and Museum Of Antiques in Ichikawa City on the next to Horinouchi Shell Mound. Ubayama Shell Mound was registered as a National Historic Site by the National Government in August 17th of 1967.
市川市ホームページ
市川観光協会ホームページ
千葉県ホームページ
ウィッキペディア
Dedarabo is a giant in Japanese mythology also called 'Daidarabocchi', 'Daidaranbo', 'Dairabo', 'Daidarabo', 'Dedarabocchi 'and 'Deirabocchi'. Dedarabo is a mythological giant which is handed down in many parts of Japan is introduced in Fudoki edited in Nara period.
People living in the ancient ages wandered and imagined the existence of the giant when they saw the shell mound on the plateau farther away from the sea.
There are many spring ponds on the plateau around Ubayama Shell Mound, and it might be said that they would be footprints left by the giants, so the legend tells that the footprints of Dedarabo became ponds when they was moving on foot. The legend of giants has been handed down in Chiba prefecture and prefectures next to .
According to 'Daidarabo no Sokuseki' (The Footprints Of Daidarabo) written by Kunio Yanagida the founder of Japanese folklore, Kunio Yanagida stated in the book that Daidarabocchi comes from 'Daitarohoshi,' which is the combination of 'Daitaro' (ohito or a giant) and hoshi (man), and Daidarabocchi is the counterpart of Issunboshi (The Inch-High Samurai).
市川市ホームページ
---
Ubayama Shell Mound Park
1-1212 Kashiwai-cho, Ichikawa-shi, Chiba-ken
Ubayama Shell Mound Park has a great accessibility from both Narita and Haneda International Airport.
From Narita International Airport, take JR Sobu-express line, transfer the line at Nishi-funabashi to Musashino Line bound to Fuchuhoncho or Higashi Tokorozawa, get off Funabashi Hoten Sta. And also take Hokuso Line, transfer the line at Higashimatsudo to Musashino Lline, get off Funabashi Hoten Sta. It takes minimally 50 minutes from Narita Airport.
From Haneda International Airport, take Keikyu-line bound to Narita, transfer the line at Takasago Sta to Hokuso Line, and transfer the line at Higashi Matsudo Sta to Musashino Line, get off Funabashi Hoten Sta. It takes almost 1 hour from Haneda Airport.
From Tokyo Sta, take Musashino Line bound to Fuchuhoncho or Higashi Tokorozawa, get off Hunabashi Hoten Sta. It takes about 25 minutes from Tokyo Sta.
From Akihabara Sta, take Sobu line bound to Chiba, Tsudanuma or Nishi Funabashi, Ttransfer the line at Nishi Funabashi to Musashino Line bound to Fuchu Honcho or Higashi Tokorozawa, get off Funabashi Hoten Sta.
Take 15 minute walk from Funabashi Hoten Sta.
The Landmarks Neighbor Of Ubayama Shell Mound
---
---
---
---
---
---
---
---
---