Shinodabori Shinsui Ryokudo | A Water Park with Sakura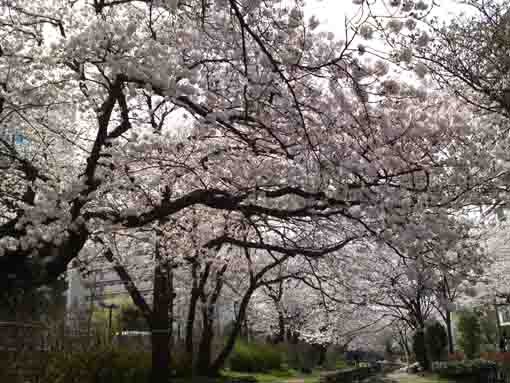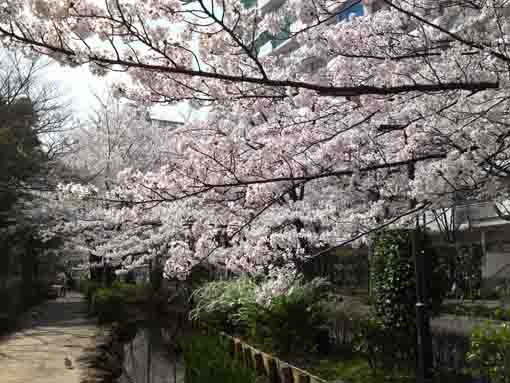 ---
Shinodabori Shinsui Ryokudo is a 1,600 meters long water park with green woods on between Edogawaku Sports Land along Edogawa River and Higashiibori Shinsui Ryokudo, it is a park built along a small river running in betweem some huge apartments and a large factory. During the urbanization after WWII, it became dirt and some parts of the river became underdrains since sewage ran into it. After the sewage disposal plant and drains was built in Edogawaku, Shinodabori Shinsui Ryokudo rebuilt and opened in 1996 as a green water park with beautiful cherry trees. It is a noted spot of viewing Sakurain Edogawaku. Why don't you visit the park?
---
Cherry Blossoms along Shinodabori Shinsui Ryokudo
Sakura along Shinodabori Shinsui Ryokudo
In spring, the cherry blossoms along Shinodabori Shinsui Ryokudo is of course beautiful, they are in between the wall of the factory and the tall buildings, it looks like a valley, therefore, visitors could enjoy only seeing sakura blossoms and spiraeas along the small river. In summer, since the green leaves block off the strong sunlight, people enjoy walking along it.
---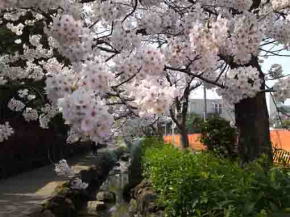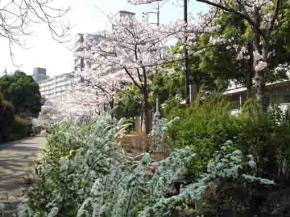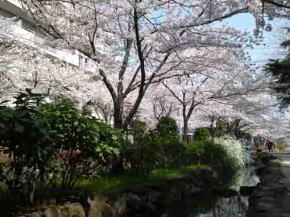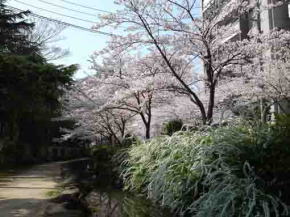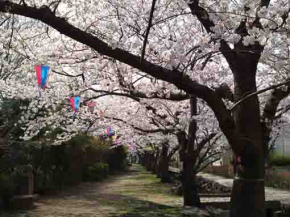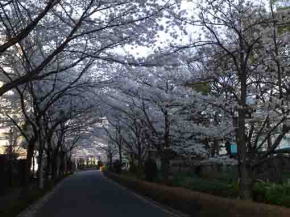 ---
引用、抜粋並びに参考
江戸川区ホームページ
---
Shinodabori Shinsui Ryokudo
Shinodabori Shinsui Ryokudo has great accessibilities from both Narita and Haneda International Airport.
From Narita International Airport, take Sobu Express Line bound to Tokyo or Yokosuka and get off at Funabashi Sta, then transfer the line to Sobu line bound to Nakano or Mitaka ang get off at Motoyawata Sta. Or take Keisei-line bound to Ueno and get off Keisei Yawata Sta. Both from Motoyawata Sta and Keisei Yawata Sta, transfer the line to Toei Shinjuku line and get off at Shinozaki or Mizue Sta.
From Haneda International Airport, take Keikyu-line bound to Narita, and get off Shinagawa Sta and transfer the line to Sobu Express line bound to Narita International Airport or Chiba, and transfer the line at Ichikawa Sta to Sob line bound to Nishi Funabashi, Tsudanuma or Chiba and get off at Motoyawata Sta. Or take Keikyu-line bound to Narita, and get off Keisei Yawata Sta. Both from Motoyawata Sta and Keisei Yawata Sta, transfer the line to Toei Shinjuku line and get off at Shinozaki or Mizue Sta.
From Iwamotocho Station at Akihabara, take Toei Shijuku line bound to Motoyawata and get off Shinozaki or Mizue Sta.
Take 19 minute walk from Shinozaki or Mizue Sta.
In 5 Minami Shinozaki-cho or Shimo Shinozaki-cho, Edogawaku, Tokyo
Cherry Blossoms
---
---
---
---
---
---
---
---
---
---
---
---
---
---
---
Kawazu Zakura Cherry Trees
---
---