Cherry Blosssoms Blooming on Edogawa River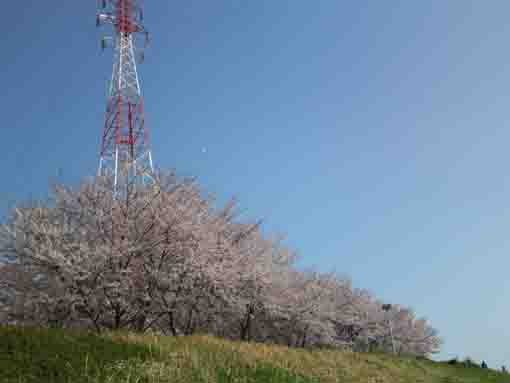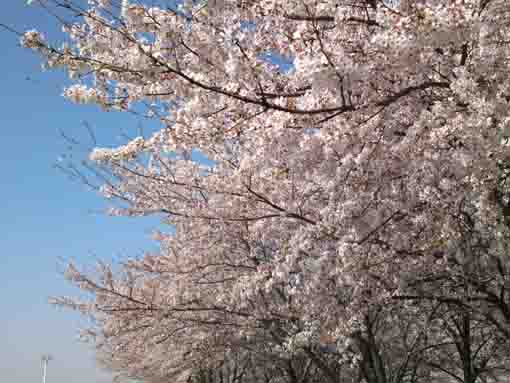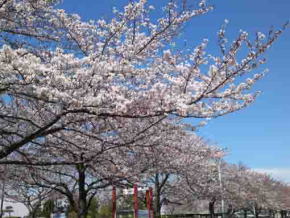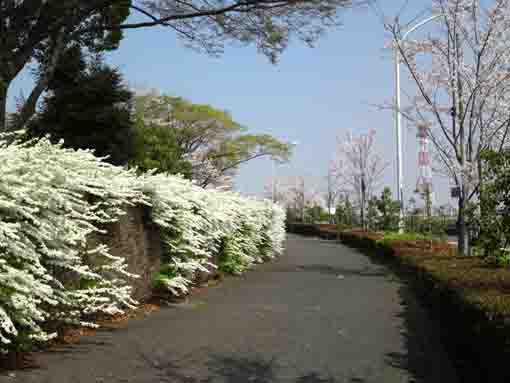 ---
There are many kinds of seasonal flowers seen on the banks and riverbeds along Edogawa River. In spring, millions of cherry blossoms bloom along it. Shibamata Park in Katsushikaku,Sakura Tsutsumi Park in Ichikawashi and the Lock Gate of Edogawa in Edogawaku are popular spots for viewing cherry blossoms. Why don't you visit them?
---
The Lined Cherry Trees along Edogawa River
Shibamata Park is very popular since it has the ferry at Yagiri (Yagiri no Watashi) and a museum of a popular movie. There are millions of cherry blossoms blooming on the bank.
---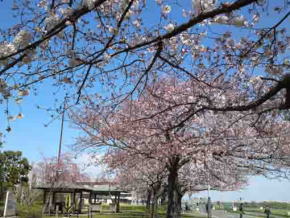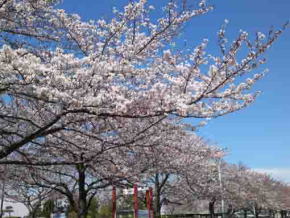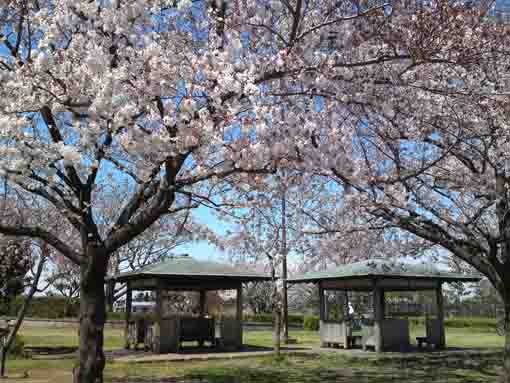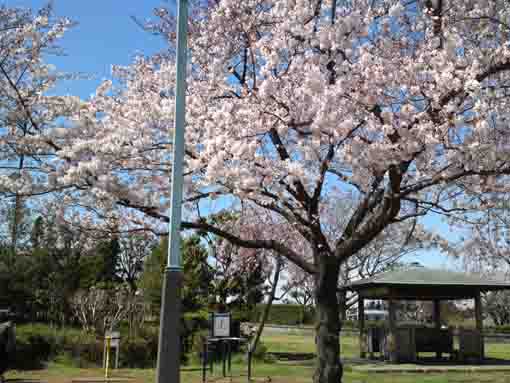 ---
Cherry Blossoms fully blooming on the east bank of Edogawa River seen from trains running on the bridge crossing it are very beautiful. The cherry trees are in Sakura Tsutsumi Koen Park near JR Ichikawa Station and they look like melitng in the blue sky.
---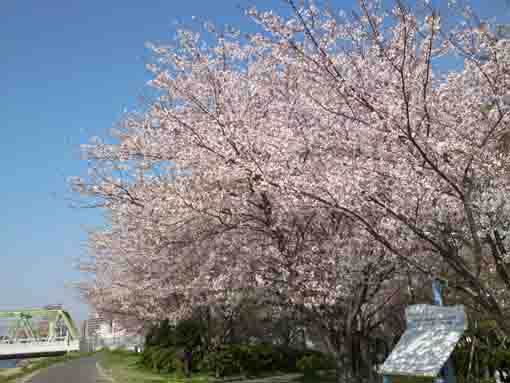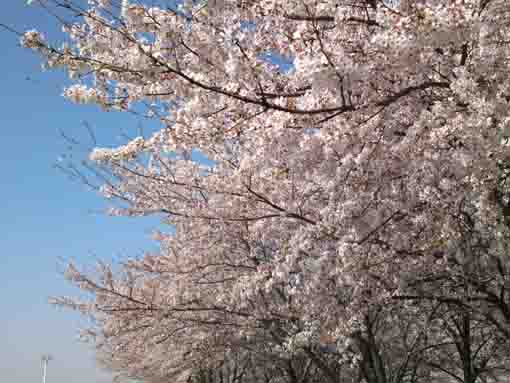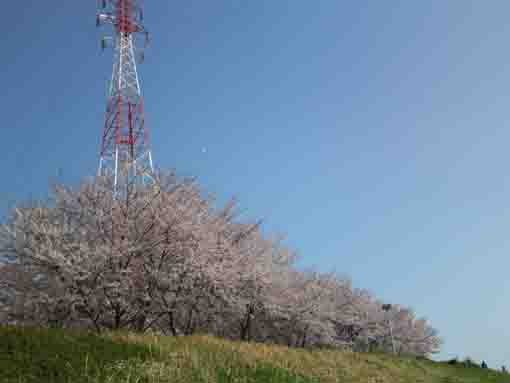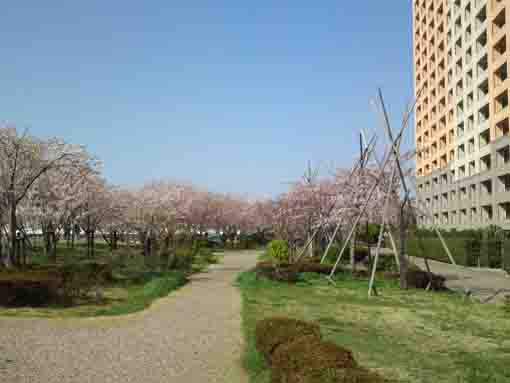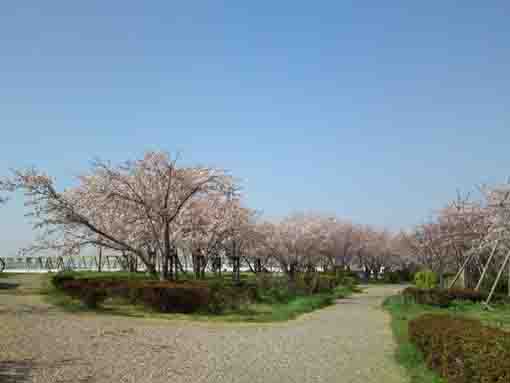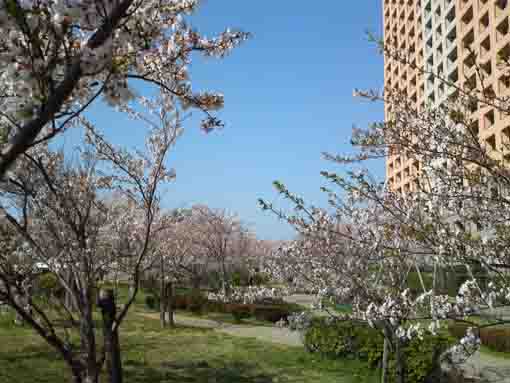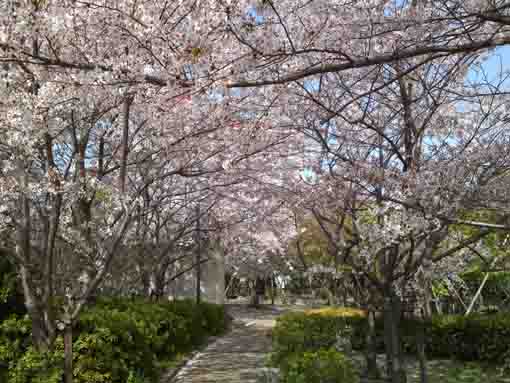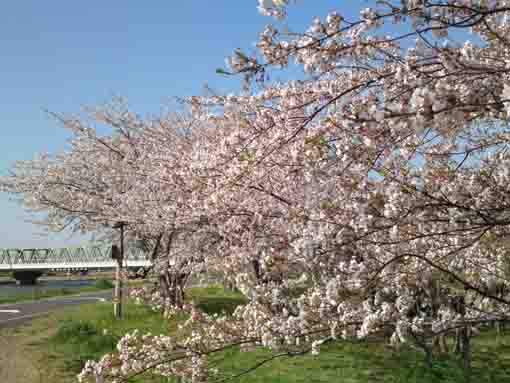 ---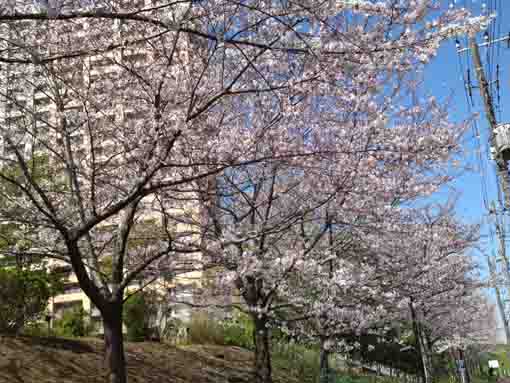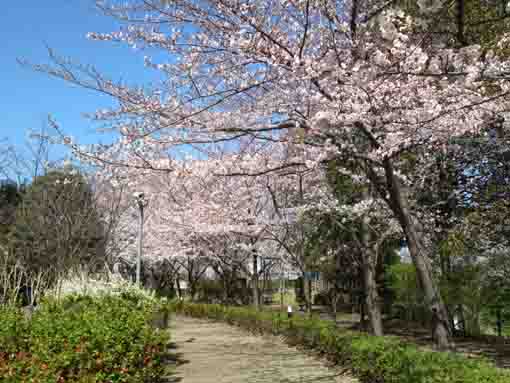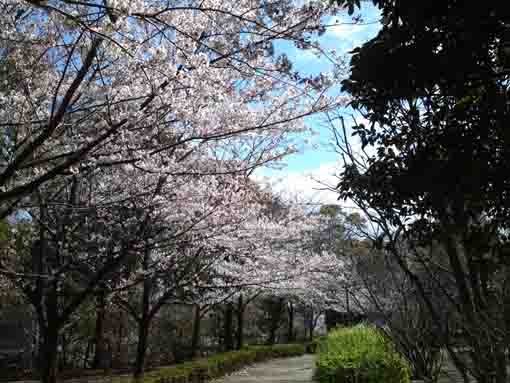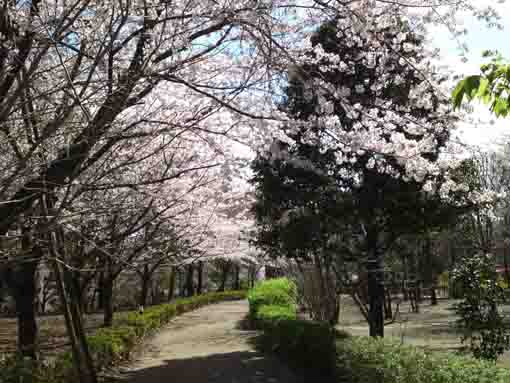 ---
Many Cherry Trees has been planted near the Lock Gate on the west side of the junction point of Kyu Edogawa (old Edogawa) and the drainage channel of Edogawa River and they bloom beautifully in spring.
---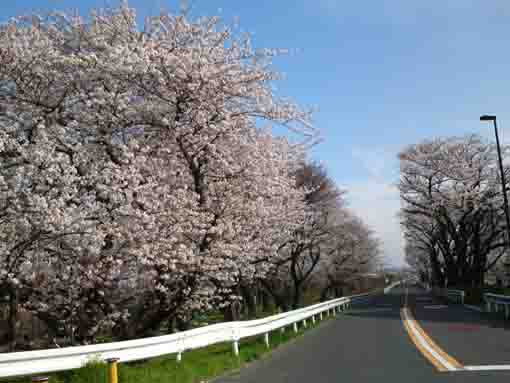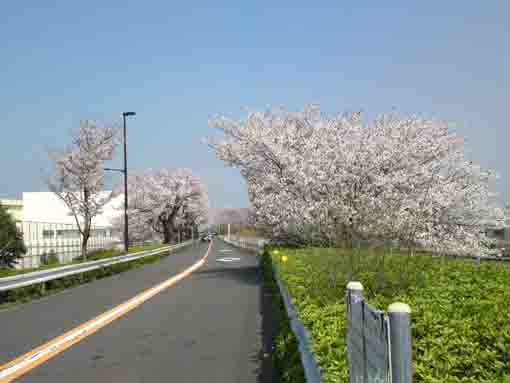 ---
---
Shibamata Park
Shibamata Park has great accessibilities from both Narita and Haneda International Airport.
From Narita International Airport, take Narita Sky Access-line and get off at Shin Shibamata Sta. Take minimally 50 minutes from Narita Airport.
From Haneda International Airport, take Keikyu-line bound to Narita, and get off Aoto or Takasago Sta and transfer the line to Narita Sky Access-Line bound to Narita International Airport, get off Shin Shibamata Sta.
Take 12 minute walk from Shin Shibamata Sta.
On the bank at 6 or 7 chome, Katsushika-ku, Tokyo.
Sakura Tsutsumi Koken Park and Kawazu Sakura Cherry Trees in Ichikawa Minami
Sakura Tsutsumi Koken Park and Kawazu Sakura Cherry Trees in Ichikawa Minami has great accessibilities from both Narita and Haneda International Airport.
From Narita International Airport, take Sobu Express Line bound to Tokyo or Yokosuka and get off at Ichikawa Sta. Or take Keisei-line bound to Ueno and get off Funabashi Sta,transfer the line to JR Sobu line and get off Ichikawa Sta.
From Haneda International Airport, take Keikyu-line bound to Narita, and get off Shinagawa Sta and transfer the line to Sobu Express line bound to Narita International Airport or Chiba, and get off Ichikawa Sta.
From Akihabara Station, take Sobu line bound to Nishi Funabashi, Tsudanuma or Chiba and get off Ichikawa Sta. It takes only 25 minutes.
Take 7 minute walk from Ichikawa Sta.
On the bank of Edogawa River near 4 Ichikwa Minami, Ichikawa-shi, Chiba
The Cherry Trees near the lock gate of Edogawa River
The Cherry Trees near the lock gate of Edogawa River has great accessibilities from both Narita and Haneda International Airport.
From Narita International Airport, take Sobu Express Line bound to Tokyo or Yokosuka and get off at Funabashi Sta, then transfer the line to Sobu line bound to Nakano or Mitaka ang get off at Motoyawata Sta. Or take Keisei-line bound to Ueno and get off Keisei Yawata Sta. Both from Motoyawata Sta and Keisei Yawata Sta, transfer the line to Toei Shinjuku line and get off at Shinozaki Sta.
From Haneda International Airport, take Keikyu-line bound to Narita, and get off Shinagawa Sta and transfer the line to Sobu Express line bound to Narita International Airport or Chiba, and transfer the line at Ichikawa Sta to Sob line bound to Nishi Funabashi, Tsudanuma or Chiba and get off at Motoyawata Sta. Or take Keikyu-line bound to Narita, and get off Keisei Yawata Sta. Both from Motoyawata Sta and Keisei Yawata Sta, transfer the line to Toei Shinjuku line and get off at Shinozaki Sta.
From Akihabara Station, take Sobu line bound to Nishi Funabashi, Tsudanuma or Chiba and get off Motoyawata Sta. Then transfer the line to Toei Shinjuku Line and get off at Shinozaki Sta.
Take 20 minute walk from Shinozaki Sta.
On the west bank of Edogawa River near 1 Higashi Shinozaki, Edogawaku, Tokyo
The Beautiful Blossoms along Edogawa River
---
---
---
The Noted Spots In The Areas Along Edogawa River
---
---
---
---
---
---
---
---
---
---
---
---