Suwada Park is famous for Suwada Ruins in Sakura and Roses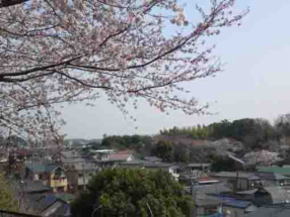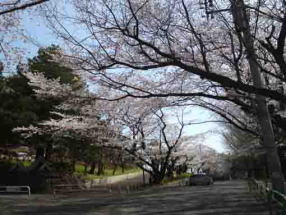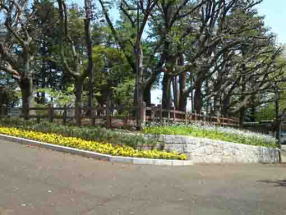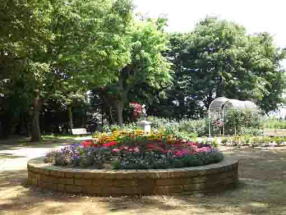 ---
Suwada Park is situated on the highest point of Suwada plateau between
Mamasan Guhoji Temple
and
Kokubunsan Kakubunji Temple
.
Suwada Park was constructed to keep the ruins in good condition. In the center of the park, Suwada Ruins are conserved, a reconstructed hat first built in late Yayoi Period (ca.100 A.D.) had stood there before. Suwada Ruins were conducted the excavation and survey several times from 1933 to 1970 so the ruins of five hats were found, and cloth-patterned and patterned tiles and earthenware with letters with ink were excavated.
There is a stone tablet inscribed a poem 'Suwada no Wakare (Separation at Suwada) written by
Guo Moruo
, a Chinese scholar of literature and history and politician having lived for 10 years from 1928.
Moreover Suwada Park is famous site where many flowers, especially cherry blossoms and roses are sparklingly blooming in spring.
Why don't you visit Suwada Park?
---
Spring in Suwada Park
Cherry Trees at Suwada Park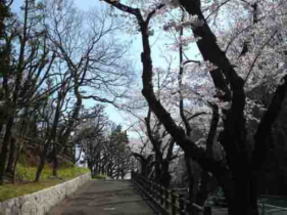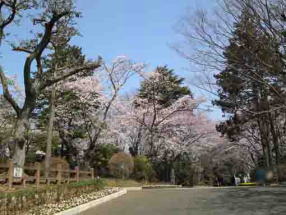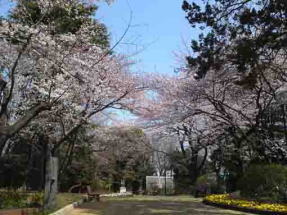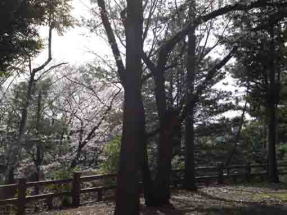 ---
There are many cherry trees planted on the approach road and in Susada Park and they bloom in spring beautifully.
The Rose Gardern at Suwada Park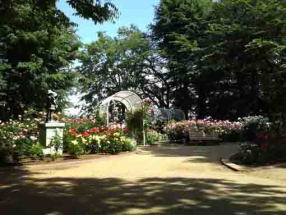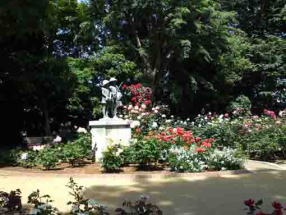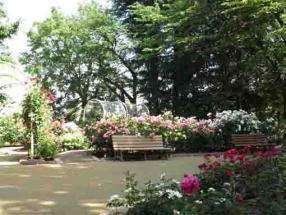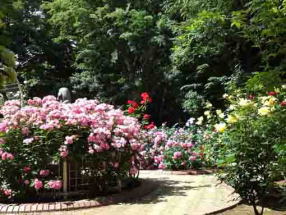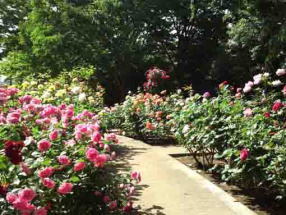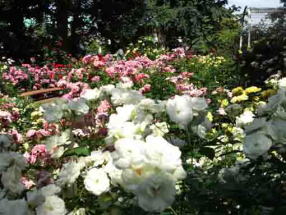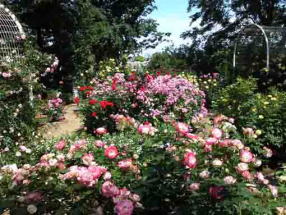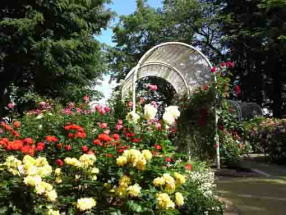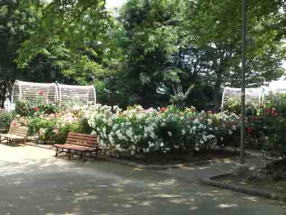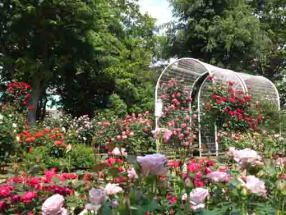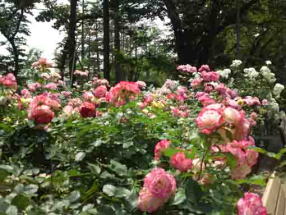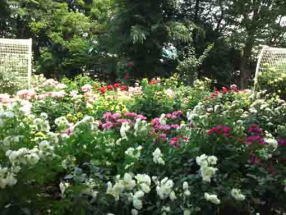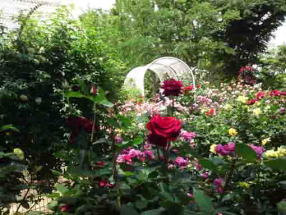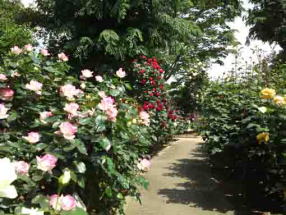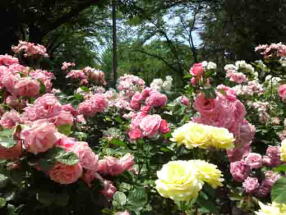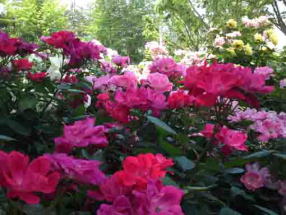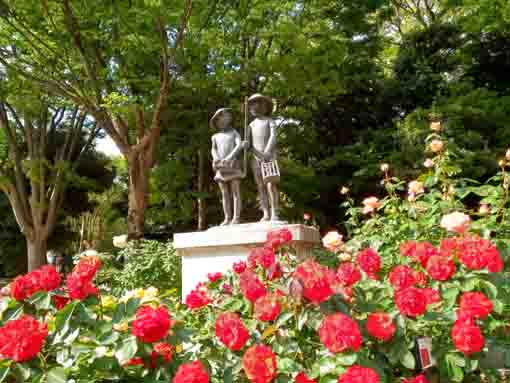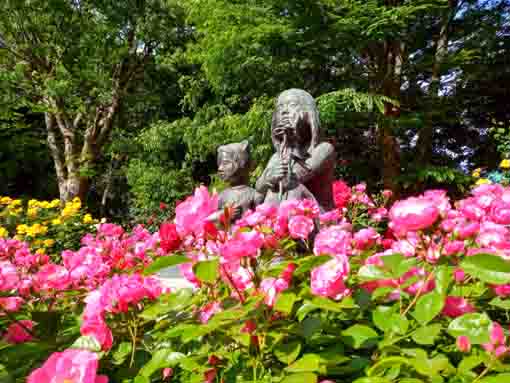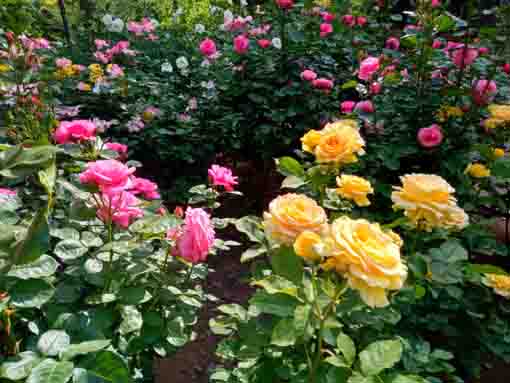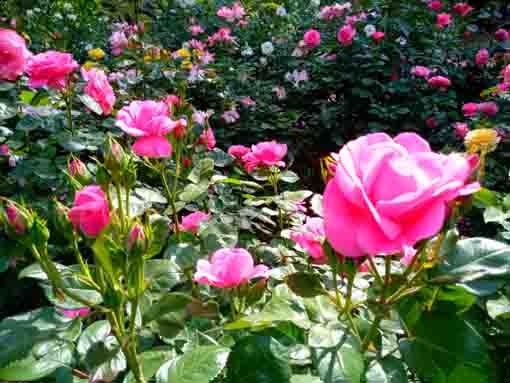 ---
There are several rose gardens in Ichikawa City, the rose garden in Suwada Park is not so large but many kinds of roses bloom in the small garden and it is in the tall woods of the park, so it looks like a secret garden.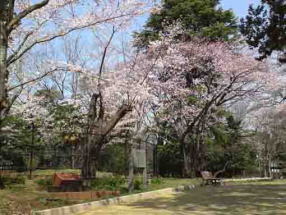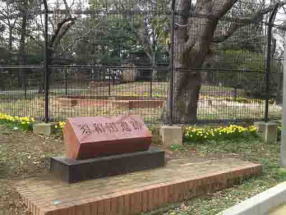 Suwada Ruins
The Suwada Ruins extends over the central part of the Suwada Plateau.
Excavation and survey of this ruins was initially conducted in 1933 by Sousuke Sugihara of Meiji University, Hiroshi Takiguchi of Waseda University and other members.
As a result, the ruins was found out to be that of a village community extending over a period from mid-Yayoi era to early Heian era (ca. 100B.C. -9th century A.D.).
Sousuke Sugihara had played a significant role in the classification of historical periods, by naming those Yayoi-type earthenware excavated 'Suwada-type earthenware', and those Haji-type earthenware excavated 'Mama-type earthenware'.
After the Taika Reform (after 7th century), this ruins was situated in a location where the Shimo'usa province stood at its west, and the Kokubunji-temple stood and its north. Thus it is a significant remains in which to reflect upon the culture and politics of the times.
This is the reconstruction of a housing first built in the beginning of late Yayoi era (ca.100 A.D.) excavated at the Suwada ruins in imitation of the methods and techniques of the times, under the design of Masaru Sekino, director of the Tokyo National Research Institute of Cultural Properties.
January 8th of 1975, Registered by Ichikawa City
Febraury 22nd of 1994, Registered by Chiba Prefecture
平成8年3月28日
千葉県教育委員会
市川市教育委員会
須和田公園内「須和田遺跡」案内板より
The Stone Tablet Inscribed with 'Suwada no Wakare (Separation at Suwada)' by Guo Moruo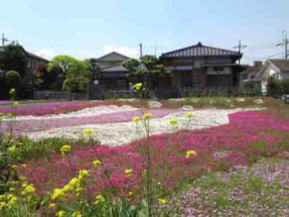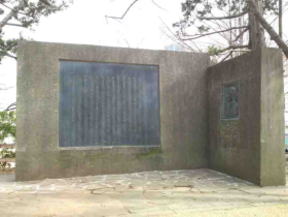 The Stone Tablet Inscribed with 'Suwada no Wakare (Separation at Suwada)' written by Guo Moruo
Guo Moruo was born in Loshan, Szechwan, Chaina in 1892. He could be ranked with Lu Xun as a great modern intellectuals, he was appointed the first Vice Prime Minister of the People's Republic of China in 1949.
Guo Moruo lived in 2 chome Suwada Ichikawa-shi for 10 years from 1928 to 1937. He devoted to study the ancient Chinese history, he researched inscriptions on bones and tortoise carapaces and bronzewares by Yin and Zhou Period so he remained his internationally notable work 'Chugoku Kodai Shakai Kenkyu (the Research of Ancient History of China)'.
During his coming to Japan as the leader of the academic and cultural inspection group of China in 1955, Guo Moruo visited his former residence at Suwada and enjoyed meeting his old friends. He wrote a poem 'Suwada no Wakare (Separation at Suwada)' expressed his deep emotion impressed then. The poem was carved his autographs on the stone tablet standing at Suwada Park.
In 1981, Ichikawa held a signing ceremony to establish a friendship city agreement with Loshan the birth place of Guo Moruo who said Japan as his second home and contributed as a bridge of friendship between China and Japan.
From the Stone Tablet inscribed with 'Suwada no Wakare (Separation at Suwada)' written by Guo Moruo
The picture on the left is
Guo Moruo Memorial Park
a minutes walk from the north gate of Suwada Park.
Suwada Park
---
---
Suwada Park has great accessibilities from both Narita and Haneda International Airport.
From Narita International Airport, take Keisei-line and get off Ichikawamama Sta , take minimally 45 minutes from Narita Airport. And also take JR Sobu-express line, transfer the line at Funabashi to Keisei-line, get off Ichikawamama Sta.
From Haneda International Airport, take Keikyu-line bound to Narita, and get off Ichikawamama Sta.
Take 15 minute walk from Ichikawamama Sta.
2-34 Suwada, Ichikawa-shi, Chiba-ken
Landmarks near Suwada Park
---
---
---
---
---
---