Kaichosan Bononji Temple in Higashi Kasai Edogawaku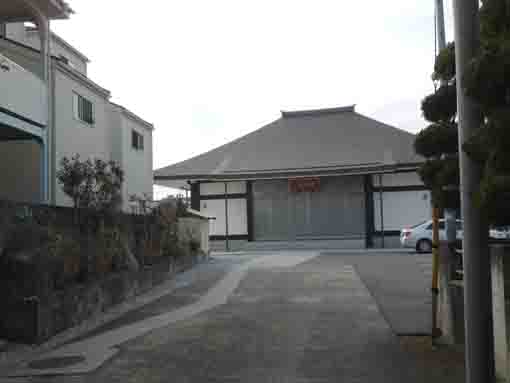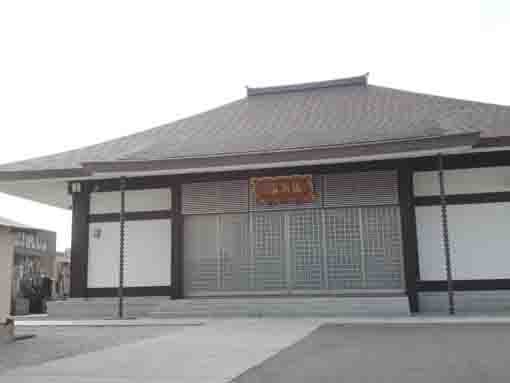 ---
Bononji is a temple in a residential area in Higashi Kasai
Edogawaku
, it is belonging to
Sotoshu
. The main hall is a modern designed but it has a very long history. According to the records of Bononji, its history started in
Heian period
when Jikaku Daishi built it. In this temple, an old stone bar registered as the cultural asset of Edogawaku that might was built in
Kamakura Period
has been dedicated in the main hall of it. And Bononji is one of the temples in
Kasai Daishi Mairi
that is a kind of a pilgrimage to temples dedicating
Kobo Daishi
in Kasai areas started in
Edo period
. A guidebook in Edo period called 'Shinpen Musashi no kuni Fudokiko' tells that Bononji is a branch temple of Kotokuji Temple in Kanasugi village, Katsushika County,
Shimousa provinces
(now Kanasugi,
Funabashishi
,
Chibaken
) and it was named Kaichosan. Bononji is a interesting temple that shows us history and culture in Kasai areas in Heian, Kamakura and Edo period. Why don't you visit Kaichosan Bononji Temple?
---
Kaichosan Bononji Temple
Bononji
Bononji is named Kaichosan that is a temple belonging to Sotoshu, the principle image of it is a statue of Kannon Bosatsu. It is said that it was built by Jikaku Daishi in 847. And Eishitsu Jusei rebuilt it in early Edo period.
According to the records in Bononji, after Jikaku Daishi studied Buddhism in Tang Dynasty of China, he was caught in the storm while going back to Kyoto, and his ship could not wreck since the light from Kanzeon Bosatsu sparkled and the storm stopped, he finally landed on this area.
Then, he carved the statue of Kanzeon Bosatsu on a piece of a chinaberry, this is the beginning of this temple.
■ A Ston Tablet registered as a cultural asset of Edogawaku
This tablet was preserved in the main hall to dedicate for several hundred years ago with the statue of Jizo Bosatsu. It was built in June 1317, it is a precious tablet that tells life in this areas in Kamakura period.
March 2001
Edogawaku Board of Education
海潮山梵音寺門前案内板より
引用、抜粋並びに参考
海潮山梵音寺門前案内板
江戸川区ホームページ
新編武蔵国風土記稿
---
---
Kaichosan Bononji Temple
Fushosan Chikoin Enmaji Temple has great accessibilities from both Narita and Haneda International Airport.
From Narita International Airport, take Sobu Express Line bound to Tokyo or Yokosuka and get off at Funabashi Sta, then transfer the line to Sobu line bound to Nakano or Mitaka ang get off at Motoyawata Sta. Or take Keisei-line bound to Ueno and get off Keisei Yawata Sta. Both from Motoyawata Sta and Keisei Yawata Sta, transfer the line to Toei Shinjuku line and get off at Funabori Sta. Or transfer the line at Nishi-funabashi to Tozai line of Tokyo Metro bound to Nakano or Mitaka, get off Kasai Sta.
From Haneda International Airport, ake Keikyu-line bound to Narita, transfer the line at Nihonbashi to Tozai line of Tokyo Metro bound to Nishifunabashi, Tsudanuma or Katsutadai, get off Kasai Sta.
From Tokyo (Otemachi) Sta, take Tozai line of Tokyo Metro bound to Nishi-funabashi, Tsudanuma or Katsutadai, get off Kasai Sta.
Take 12 minute walk from Kasai Sta.
2-28-16 Higashi Kasai, Edogawaku, Tokyo
The Sacred Places in Nagashima Kuwakawa in Kasai Daishi
---
---
---
---
The Sacred Places in Funabori Ukita Kojima in Kasai Daishi
---
---
The Sacred Places in Nakamachi Shiden in Kasai Daishi
---
The Sacred Places in Ikazuchi in Kasai Daishi
---
The Noted Spots Related to Kasai Daishi Mairi
---
---
---