Myokosan Ryukoji Temple in Kasai Edogawaku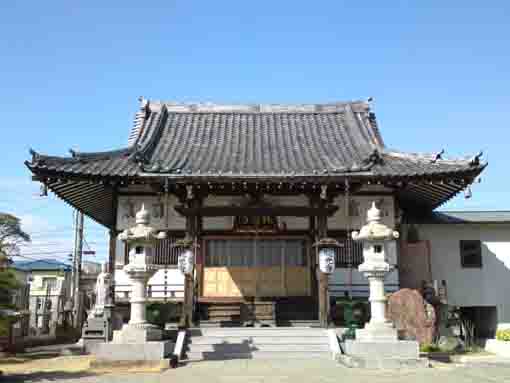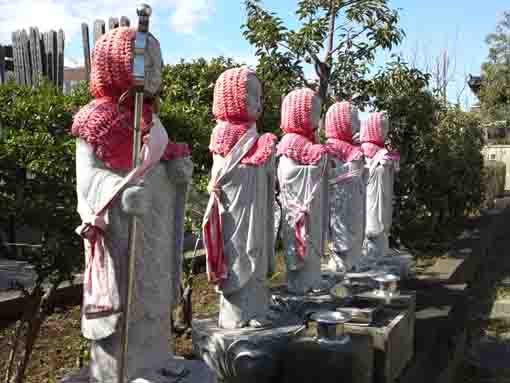 ---
Rukoji is a temple in Kita Kasai in
Edogawaku
belonging to
Shingonshu
Buzanha
. In Shinpen Musashi no Kuni Fudokiko, a geographic guidebook describing
Musashi Province
published in
Edo period
, it was a blanch temple of Zenyoji in Koiwa, it was named Myokosan and it principle image was the statue of Fudo. Viewing from it gate opening to the east, there is a stone white approach road stretching and the end of the road, two white huge stone lantern and the main hall are standing, the stone statues of Jizos are standing on the left of them. The temple looks bright since its name has two letters of light '光' in it. Moreover, Rukoji is a temple belonging to
Kasai Daishi Mairi
(the pilgrimage to Daishi in Kasai) that has kept in this area since Edo period.
Why don't you visit Rukoji Temple?
---
Myokosan Ryukoji Temple
Ryukoji
Ryukoji is a temple belonging to Shingonshu Buzanha and it is named Myokousan. It was built by the venerable Kenyo in 1661. The principle image is the wooden statue of a standing Fudo Myouo.
Ryukoji had managed Inari Jinja Shrine next to it by Meiji Restoration. The main hall was built in 1972.
Kasai Daishi Mairi (the pilgrimage to Daishi in Kadai) registered as a cultural asset of Edogawaku
Kasai Daishi Miri is a pilgrimage to visit some sacred places dedicated Kobo Daishi.
In Edogawaku, it has been held since Edo period. Daishiko, a group of people leading the pilgrimage, is now divided into four, and they visit the sacred places in each in May 21st that
Kobo Daishi
had gone.
The people living in Funabori, Ukita, Kuwakawa, Kojima visit Ryukoji since it is one of the sacred places belonging to the group in Funabori , Kojima and Ukita now.
March 1990
Edogawaku Board of Education
明光山龍光寺門脇案内板より
引用、抜粋並びに参考
明光山龍光寺門脇案内板
江戸川区ホームページ
新編武蔵国風土記稿
---
---
Myokosan Ryukoji Temple
Myokosan Ryukoji Temple has great accessibilities from both Narita and Haneda International Airport.
From Narita International Airport, take Sobu Express Line bound to Tokyo or Yokosuka and get off at Funabashi Sta, then transfer the line to Sobu line bound to Nakano or Mitaka ang get off at Motoyawata Sta. Or take Keisei-line bound to Ueno and get off Keisei Yawata Sta. Both from Motoyawata Sta and Keisei Yawata Sta, transfer the line to Toei Shinjuku line and get off at Funabori Sta. Moreover,from NRT, take Sobu Express Line bound to Tokyo or Yokosuka and get off at Funabashi Sta, then transfer the line to Sobu line bound to Nakano or Mitaka and get off at Nishi Funabashi Sta and transfer to Tozai line of Tokyo Metro bound to Nakano or Mitaka, get off Nishi Kasai Sta.
From Haneda International Airport, ake Keikyu-line bound to Narita, transfer the line at Nihonbashi to Tozai line of Tokyo Metro bound to Nishifunabashi, Tsudanuma or Katsutadai, get off Kasai Sta.
From Tokyo (Otemachi) Sta, take Tozai line of Tokyo Metro bound to Nishi-funabashi, Tsudanuma or Katsutadai, get off Kasai Sta.
Take 15 minute walk from Nishi Kasai Sta.
4-22-9 Kita Kasai, Edogawaku, Tokyo
The Sacred Places in Nagashima Kuwakawa in Kasai Daishi
---
---
---
---
The Sacred Places in Funabori Ukita Kojima in Kasai Daishi
---
---
The Sacred Places in Nakamachi Shiden in Kasai Daishi
---
The Sacred Places in Ikazuchi in Kasai Daishi
---
The Noted Spots Related to Kasai Daishi Mairi
---
---
---