A Walk On The Beautiful Views in Edogawa River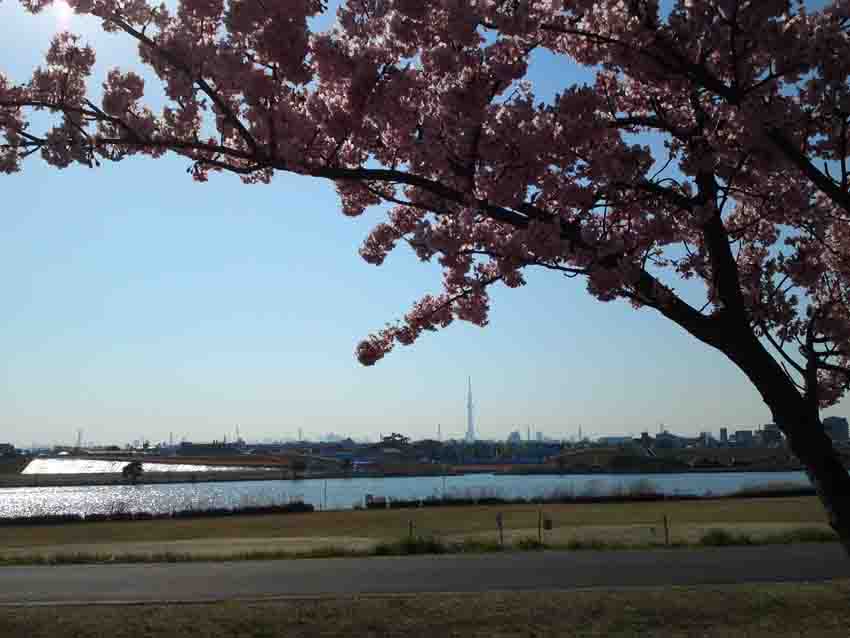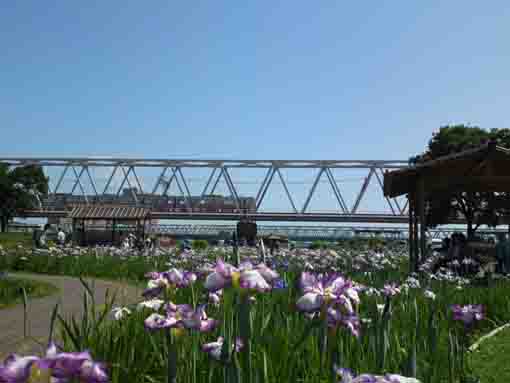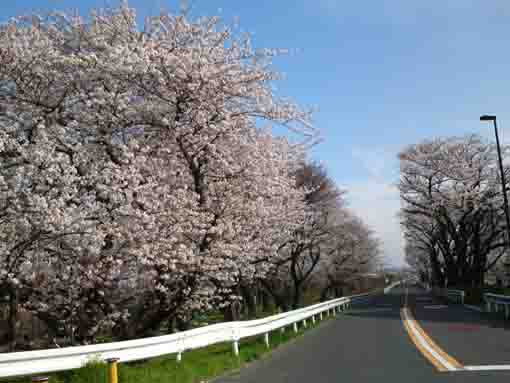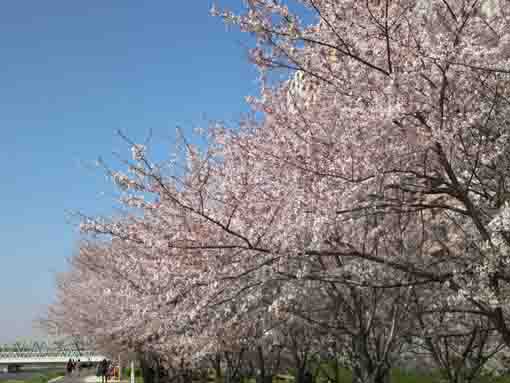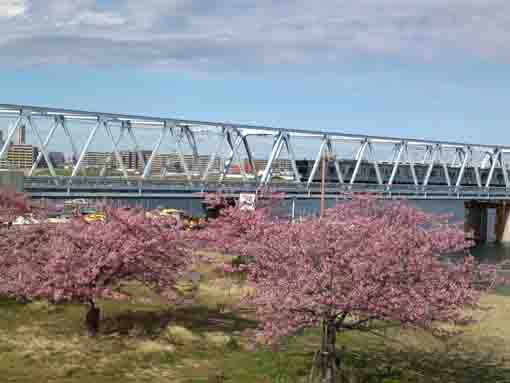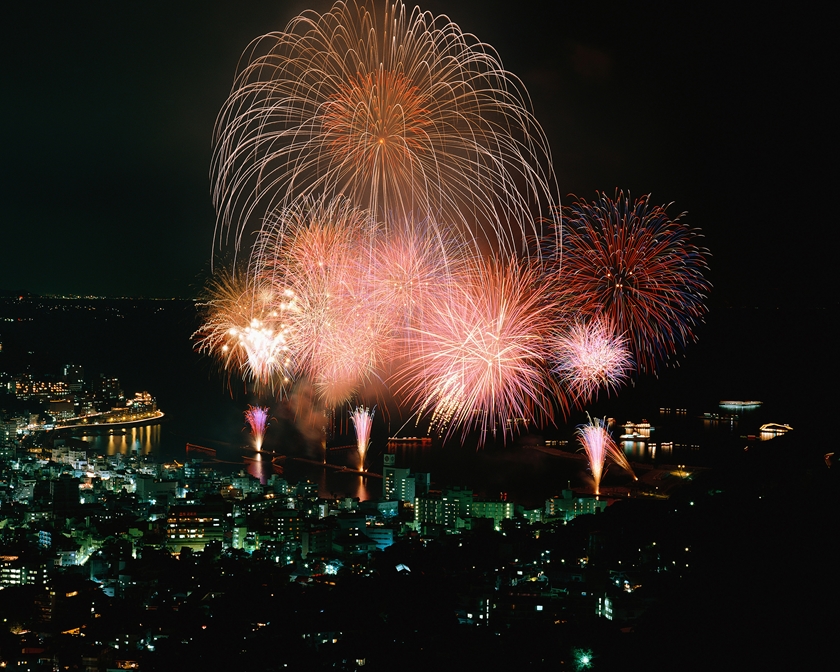 ---
There are many kinds of flowers blooming in every season on banks and flood plains along
Edogawa River
and the flowers give people peaceful time to feel comfortable. In spring,
Kawazu Sakura
on the bank at Myoden and Ichikawa Minami bloom and they tell people spring is coming, then cherry blossoms, dandelions and so forth bloom on the fields along the river. In
Koiwa Iris Garden
, water lilies, hydrangeas and irises bloom from late spring to early summer. In summer, many big flowers called fireworks bloom in the sky. The fireworks festival at Edogawa is held in every first Saturday of August by Ichikawa-shi and Edogawaku, visitors could sit on the large flood plains and the banks to see the
fireworks
, then almost million people come to see then every year.
Visitors could see many flowers along Edogawa River. Why don't you come Edogawa River?
* The picture of fireworks above is not a real image, it is a sample picture.
---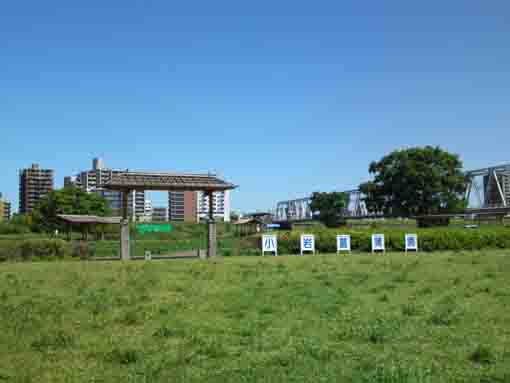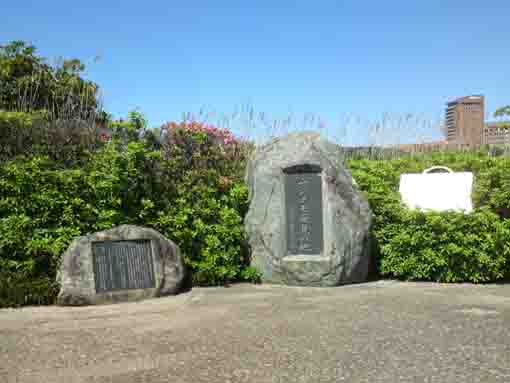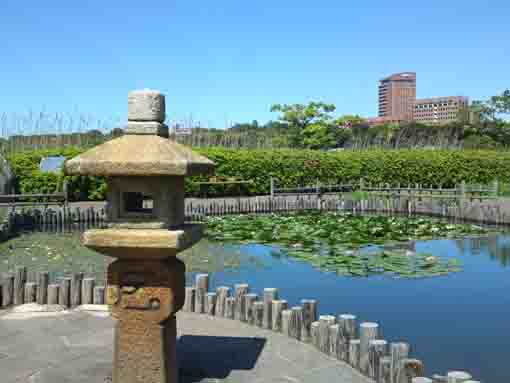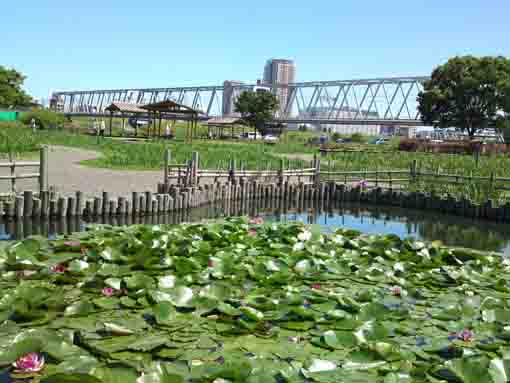 ---
Edogawaku Koiwa Iris Garden
In Edogawaku Koiwa Iris garden, there are 100 kinds of irises, 9,000 roots and 50,000 flowers planted in 4,900 square-meter garden spread in the flood plains of Edogawa River. From late May to early July, many visitors enjoy seeing full blooming irises.
In 1889, Dr. Tomitaro Makino found MUJINA MO (waterwheel plants) in this flood plain now Koiwa Iris Garden opening. Mujina Mo is a kind of a water plant once had been designated as a National Natural Treasure. There are a stone signboard and a stone monument of the 100 anniversaries for finding Mujina Mo standing in Koiwa Iris Garden.
In early summer, visitors could enjoy seeing not only irises but also water lilies and hydrangeas blooming in Edogawaku Koiwa Iris Garden.
抜粋・引用および参考
江戸川区小岩菖蒲園案内板
ムジナモ発見百周年記念碑建立の趣旨石碑
---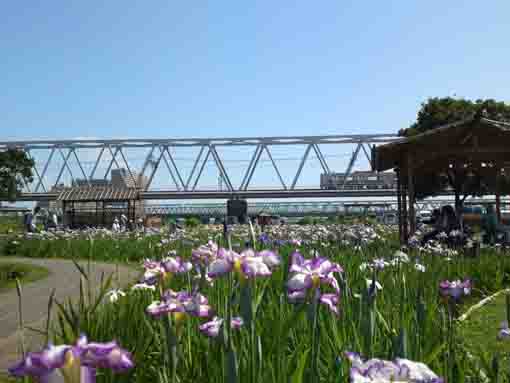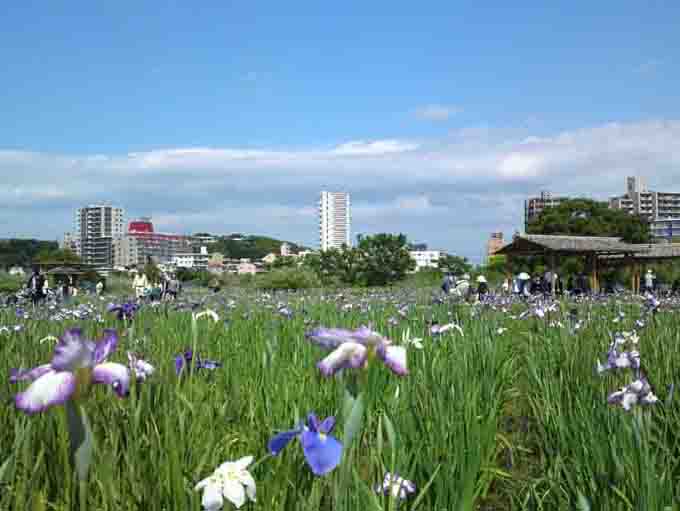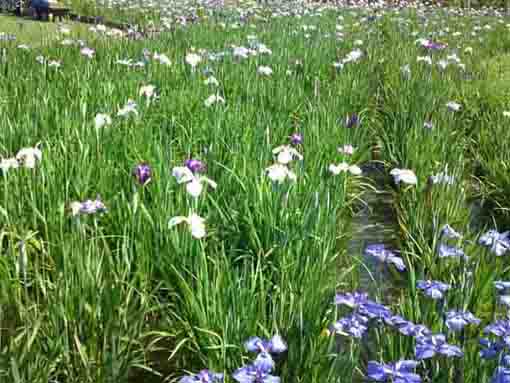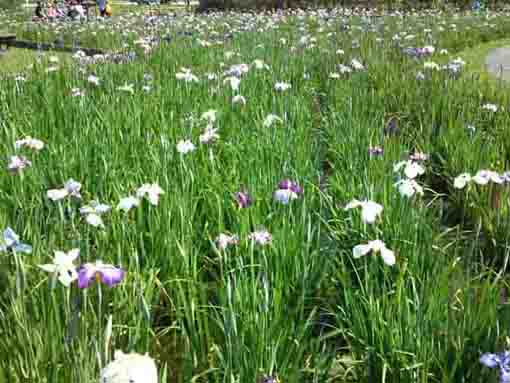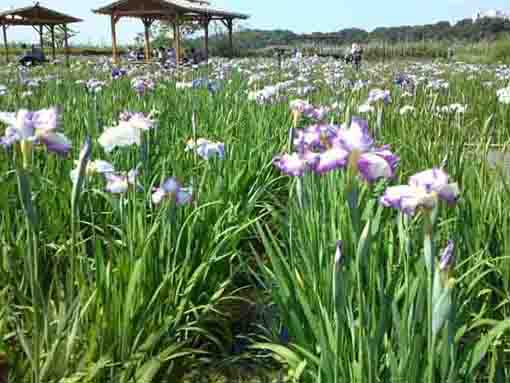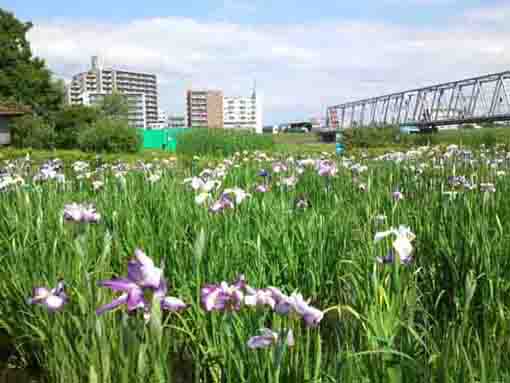 ---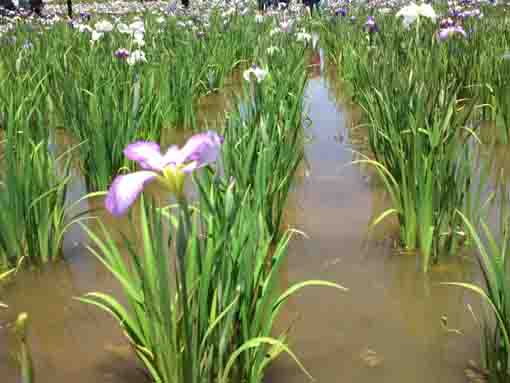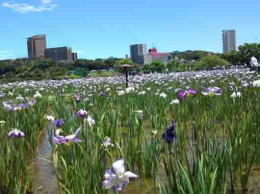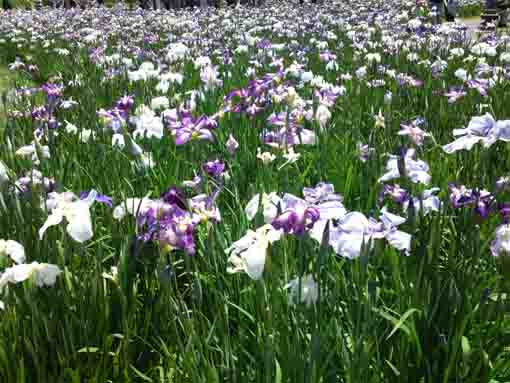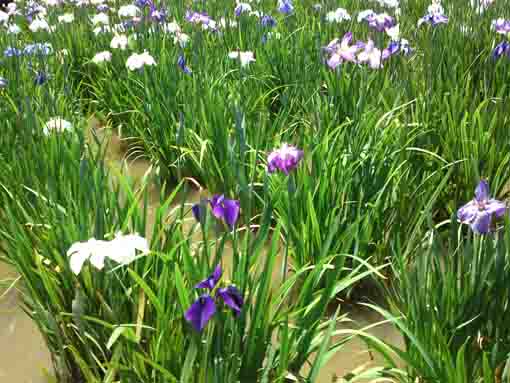 ---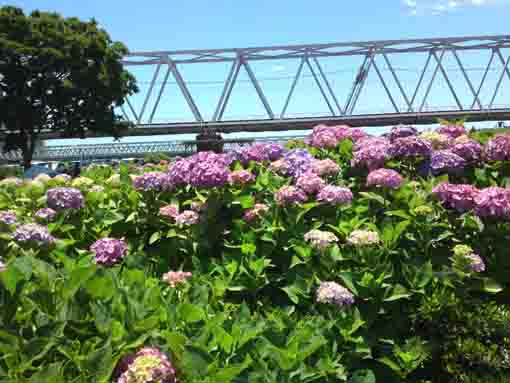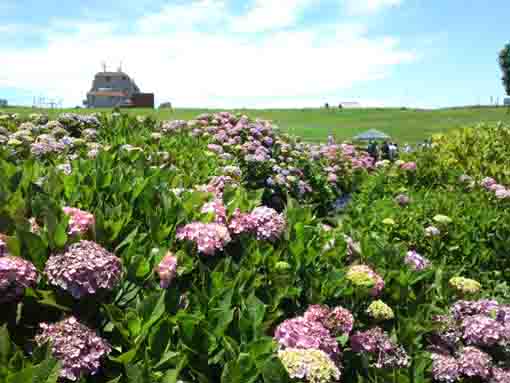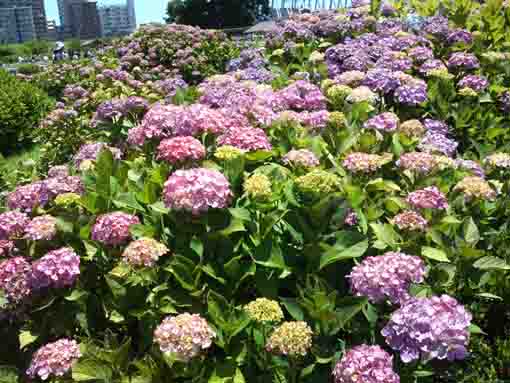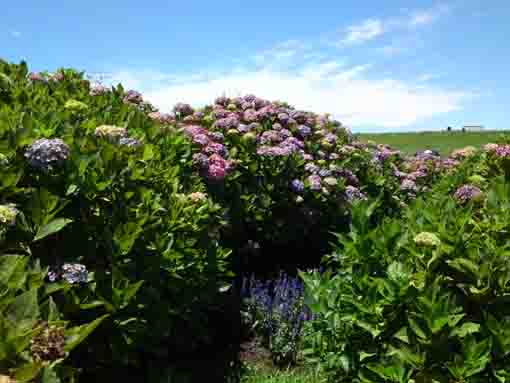 ---
The Lined Cherry Trees along Edogawa River
Cherry Blossoms fully blooming on the east bank of Edogawa River seen from trains running on the bridge crossing it are very beautiful. The cherry trees are in Sakura Tsutsumi Koen Park near JR Ichikawa Station and they look like melitng in the blue sky.
---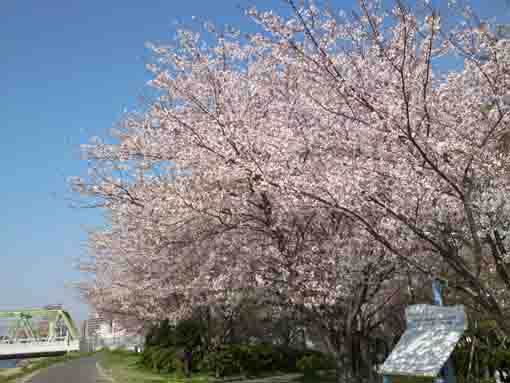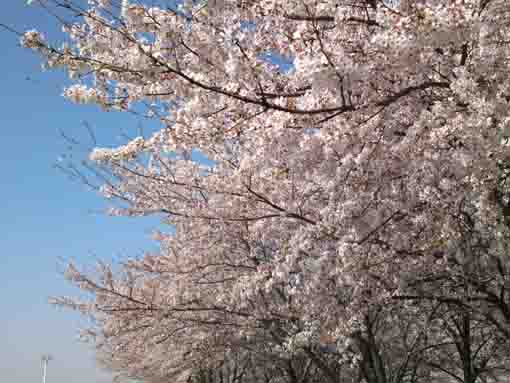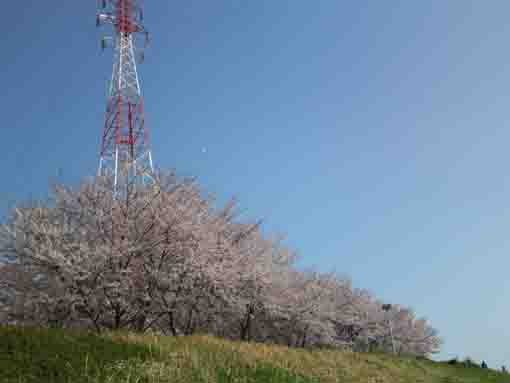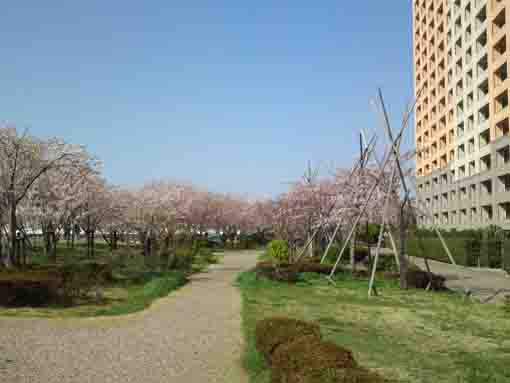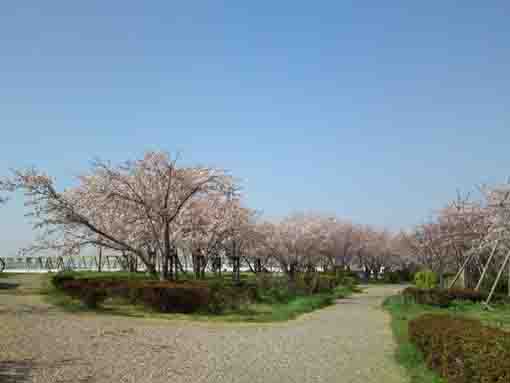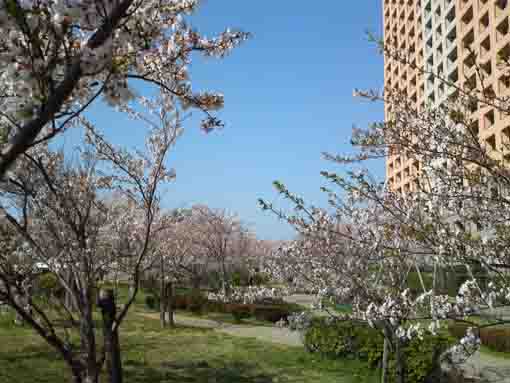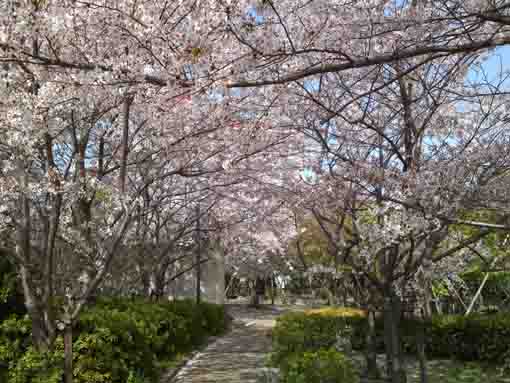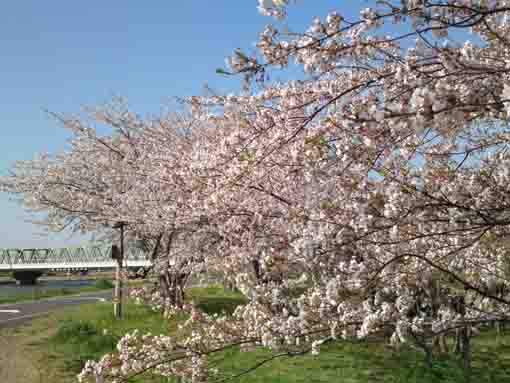 ---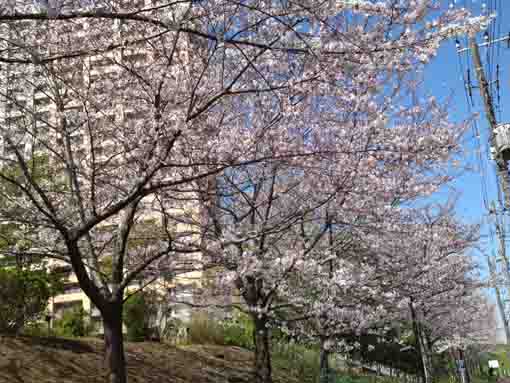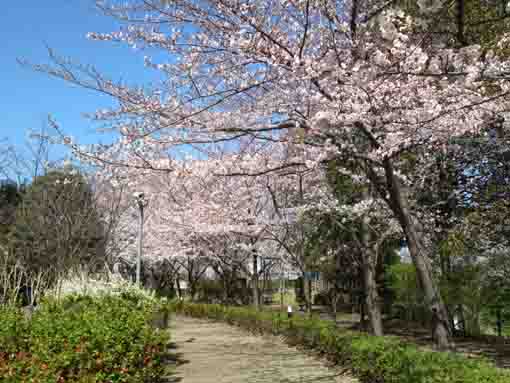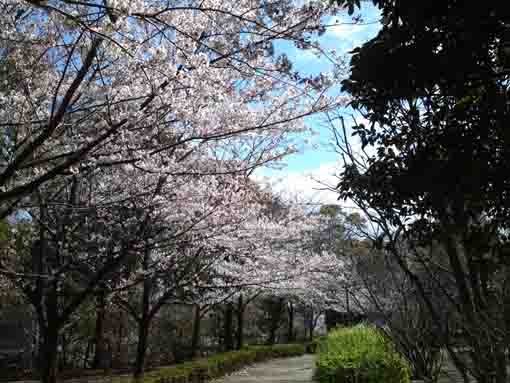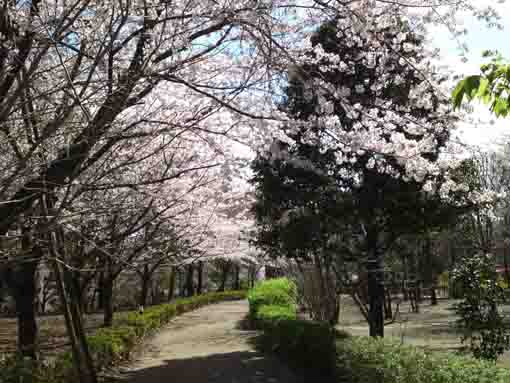 ---
Many Cherry Trees has been planted near the Lock Gate on the west side of the junction point of Kyu Edogawa (old Edogawa) and the drainage channel of Edogawa River and they bloom beautifully in spring.
---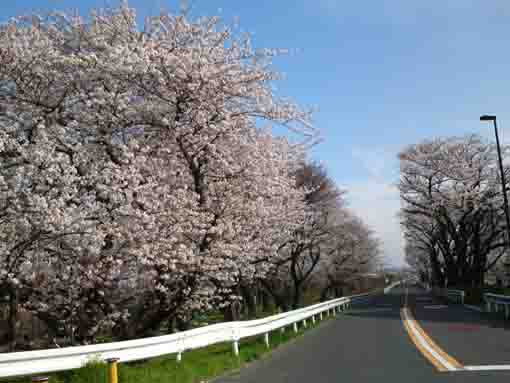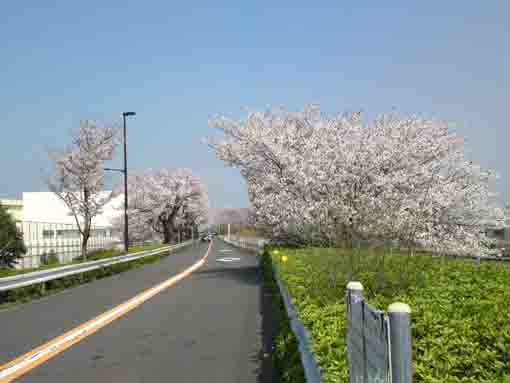 ---
Kawazu Sakura Blooming Along Edogawa River
Kawazu Sakura cherry trees are planted on the bank of Edogawa River near JR Ichikawa Station. In early March, visitors could see full blooming cherry blossoms with Tokyo Skytree and Mt. Fuji from the bank.
---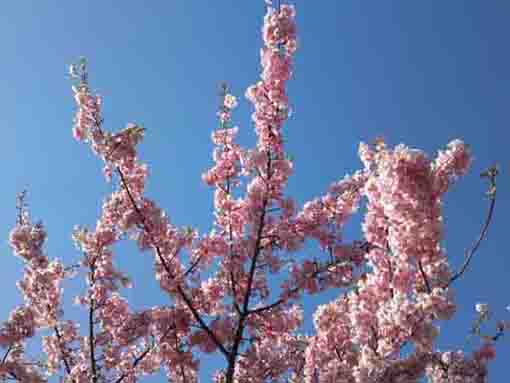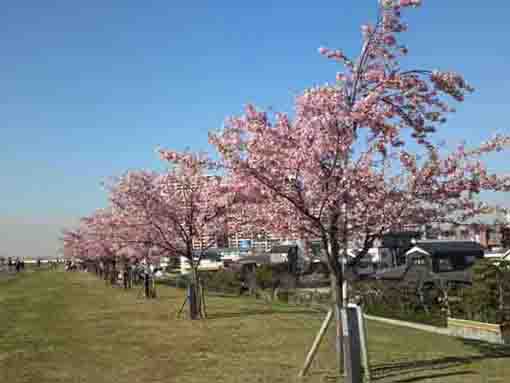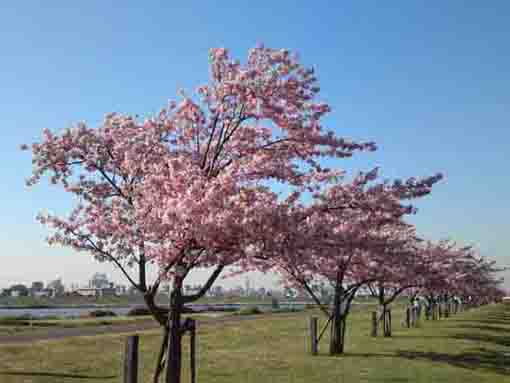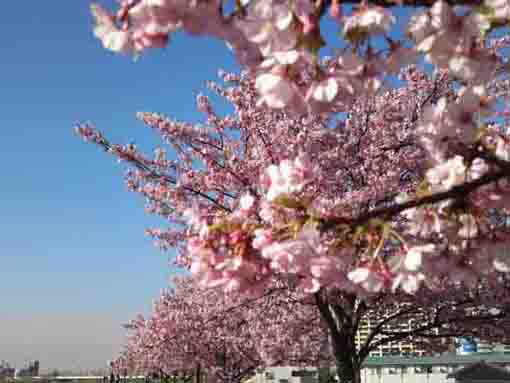 ---
Kawazu Sakura cherry trees are planted on the bank of Edogawa River very close to Myoden Station of Tokyo Metro Tozai Line. Visitors could enjoy full blooming cherry blossoms from late February to the early March.
---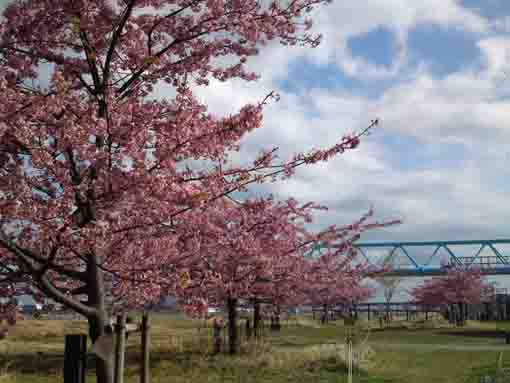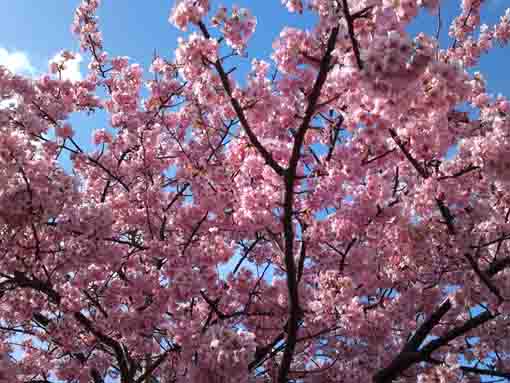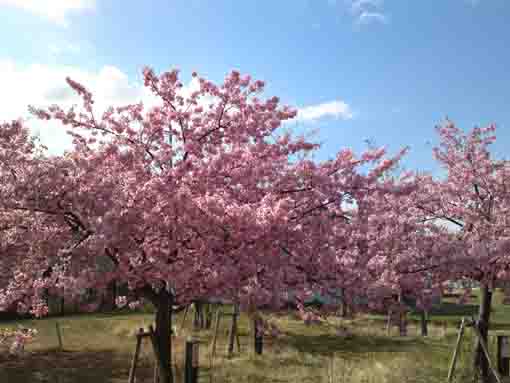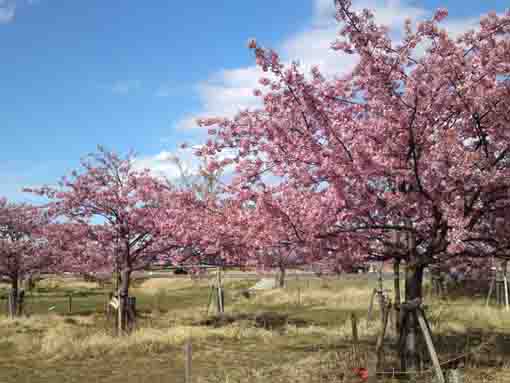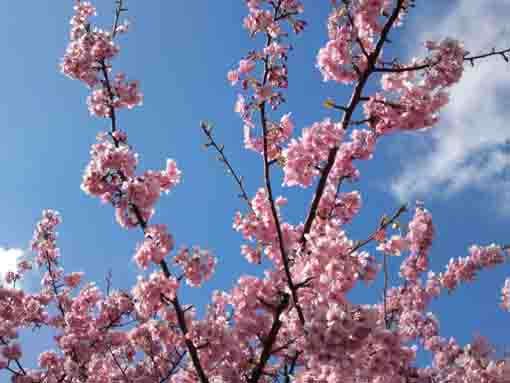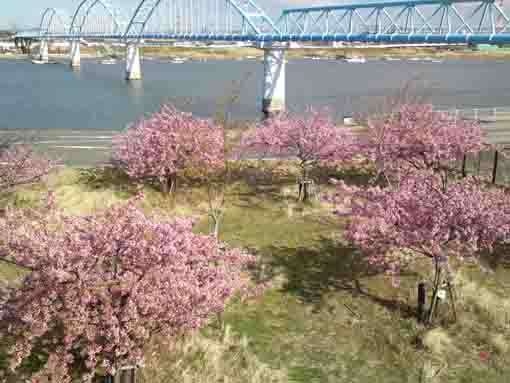 ---
Cluster Amaryllis Blooming on the Banks of Edogawa River
Red Spider Lilies could be seen on the banks of Edogawa River, they bloom on the banks from
Zenyoji Temple
to the
Ponyland
. It is a good idea to walk down the banks after the Autumnnal Equinox Day.
---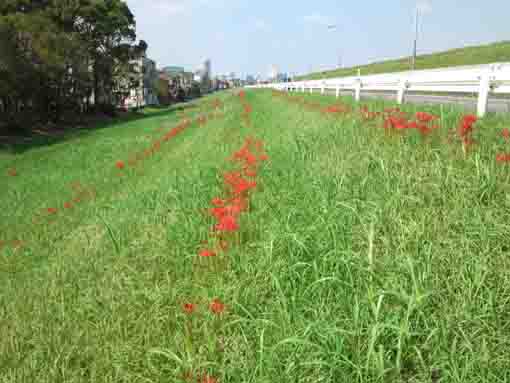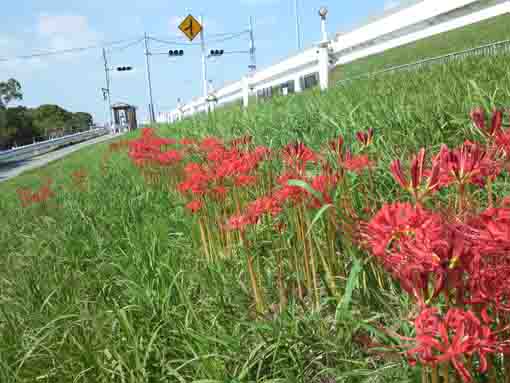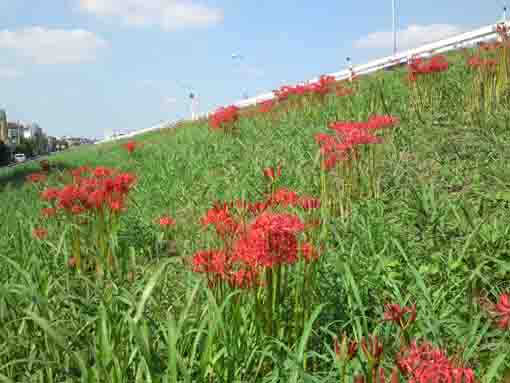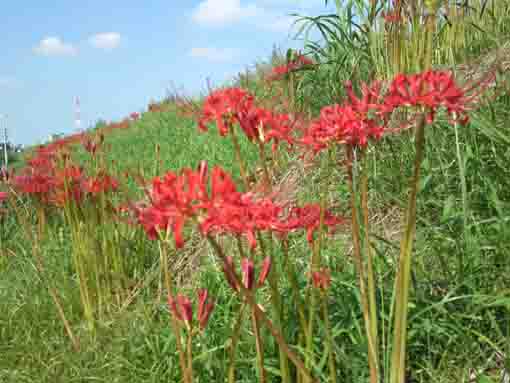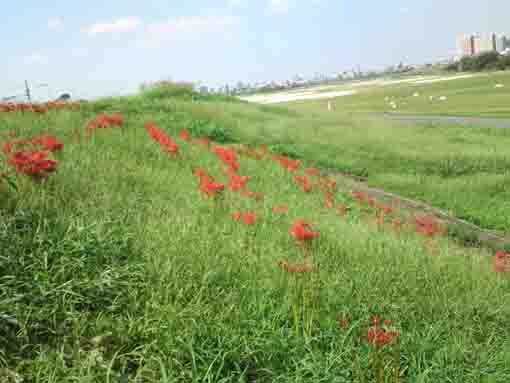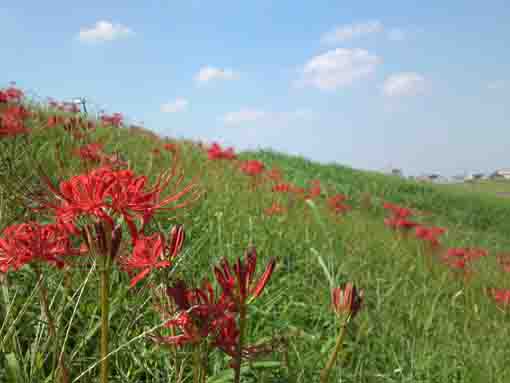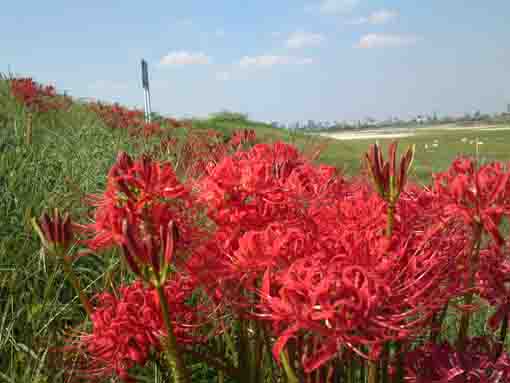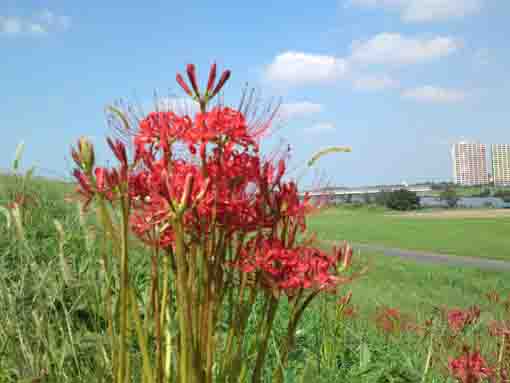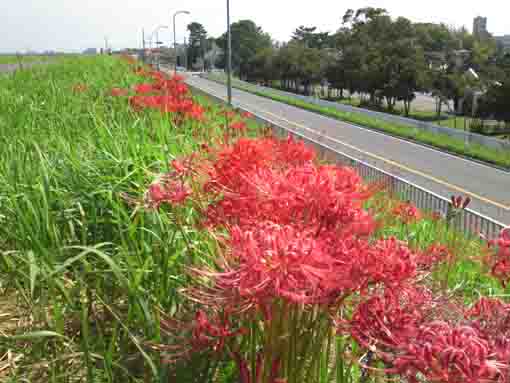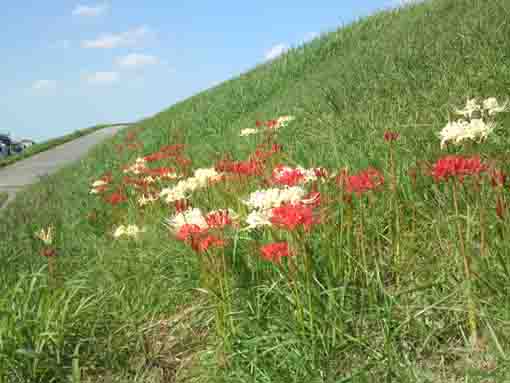 ---
---
---
---
Edogawaku Koiwa Iris Garden
Koiwa Iris Garden has great accessibilities from both Narita and Haneda International Airport.
From Narita International Airport, take Keisei-line and get off Konodai Sta, take minimally 45 minutes from Narita Airport.
From Haneda International Airport, take Keikyu-line bound to Narita, and get off Edogawa Sta.
Take 3 minute walk from Edogawa Sta.
On the flood plain of Edogawa River near 4 Kita-Koiwa, Edogawa-ku, Tokyo
Sakura Tsutsumi Koken Park and Kawazu Sakura Cherry Trees in Ichikawa Minami
Sakura Tsutsumi Koken Park and Kawazu Sakura Cherry Trees in Ichikawa Minami has great accessibilities from both Narita and Haneda International Airport.
From Narita International Airport, take Sobu Express Line bound to Tokyo or Yokosuka and get off at Ichikawa Sta. Or take Keisei-line bound to Ueno and get off Funabashi Sta,transfer the line to JR Sobu line and get off Ichikawa Sta.
From Haneda International Airport, take Keikyu-line bound to Narita, and get off Shinagawa Sta and transfer the line to Sobu Express line bound to Narita International Airport or Chiba, and get off Ichikawa Sta.
From Akihabara Station, take Sobu line bound to Nishi Funabashi, Tsudanuma or Chiba and get off Ichikawa Sta. It takes only 25 minutes.
Take 7 minute walk from Ichikawa Sta.
On the bank of Edogawa River near 4 Ichikwa Minami, Ichikawa-shi, Chiba
The Cherry Trees near the lock gate of Edogawa River
The Cherry Trees near the lock gate of Edogawa River has great accessibilities from both Narita and Haneda International Airport.
From Narita International Airport, take Sobu Express Line bound to Tokyo or Yokosuka and get off at Funabashi Sta, then transfer the line to Sobu line bound to Nakano or Mitaka ang get off at Motoyawata Sta. Or take Keisei-line bound to Ueno and get off Keisei Yawata Sta. Both from Motoyawata Sta and Keisei Yawata Sta, transfer the line to Toei Shinjuku line and get off at Shinozaki Sta.
From Haneda International Airport, take Keikyu-line bound to Narita, and get off Shinagawa Sta and transfer the line to Sobu Express line bound to Narita International Airport or Chiba, and transfer the line at Ichikawa Sta to Sob line bound to Nishi Funabashi, Tsudanuma or Chiba and get off at Motoyawata Sta. Or take Keikyu-line bound to Narita, and get off Keisei Yawata Sta. Both from Motoyawata Sta and Keisei Yawata Sta, transfer the line to Toei Shinjuku line and get off at Shinozaki Sta.
From Akihabara Station, take Sobu line bound to Nishi Funabashi, Tsudanuma or Chiba and get off Motoyawata Sta. Then transfer the line to Toei Shinjuku Line and get off at Shinozaki Sta.
Take 20 minute walk from Shinozaki Sta.
On the west bank of Edogawa River near 1 Higashi Shinozaki, Edogawaku, Tokyo
Kawazu Sakura Cherry Trees in Myoden
Kawazu Sakura Cherry Trees in Myoden has a great accessibility from both Narita and Haneda International Airport.
From Narita International Airport, take JR Sobu-express line, transfer the line at Nishi-funabashi to Tozai line of Tokyo Metro bound to Nakano or Mitaka, get off Myoden Sta. And also take Keisei-line, transfer the line at Funabashi to Sobu-Local line, and transfer the line at Nishi-funabashi to Tozai line of Tokyo Metro bound to Nakano or Mitaka, get off Myoden Sta. It takes minimally 60 minutes from Narita Airport.
From Haneda International Airport, take Keikyu-line bound to Narita, transfer the line at Nihonbashi to Tozai line of Tokyo Metro bound to Nishifunabashi, Tsudanuma or Katsutadai, get off Myoden Sta.
From Tokyo (Otemachi) Sta, take Tozai line of Tokyo Metro bound to Nishi-funabashi, Tsudanuma or Katsutadai, get off Myoden Sta.
From Akihabara Sta, take Sobu line bound to Chiba, Tsudanuma or Nishi Funabashi, transfer the line at Nishifunabashi to Tozai line of Tokyo Metro, get off Myoden Sta.
Take 5 minute walk from Myoden Sta.
On the bank of Edogawa River near 3 Myoden, Ichikwa-shi, Chiba
The Noted Spots In The Areas Along Edogawa River
---
---
---
---
---
---
---
---
---
---
---