Seeing Red Spider Lilies On the Banks of Edogawa River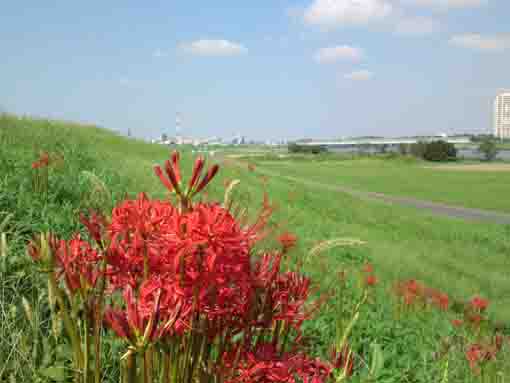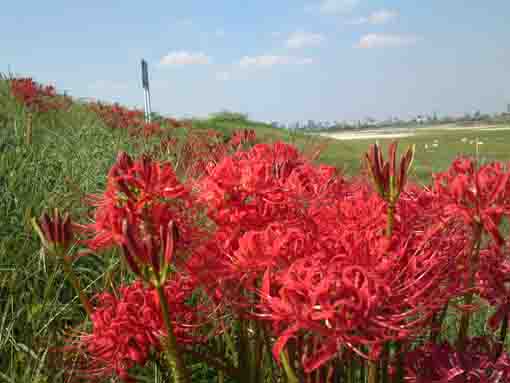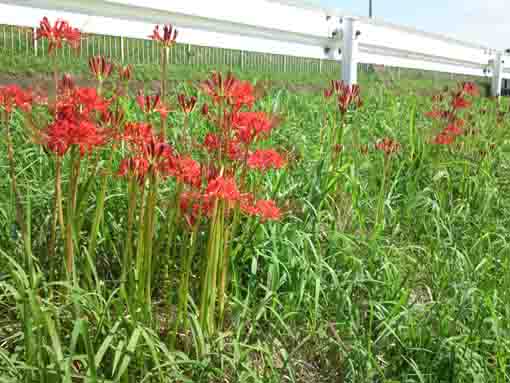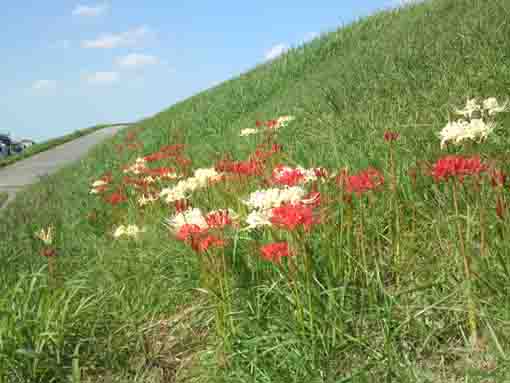 ---
People visiting Edogawa River could enjoy seasonal flowers blooming on the banks and the basins. What beautiful flowers Red Spider Lilies are! They are also called Cluster Amaryllis and Japanese calls Manjushage. It is amazingly beautiful that its red petals stretch to the blue sky like a fire work. People could see the red flowers blooming on the 2 kilometers long banks if they walk on. Why don't you visit the banks?
---
Cluster Amaryllis Blooming on the Banks of Edogawa River
Red Spider Lilies could be seen on the banks of Edogawa River, they bloom on the banks from
Zenyoji Temple
to the
Ponyland
. It is a good idea to walk down the banks after the Autumnnal Equinox Day.
---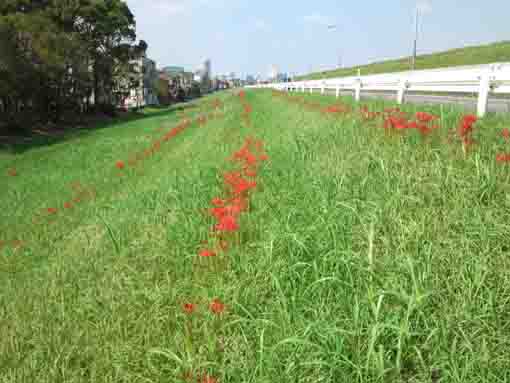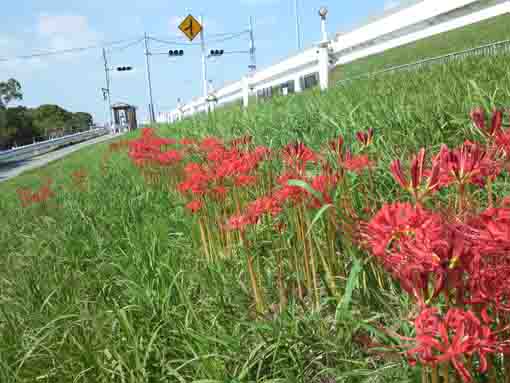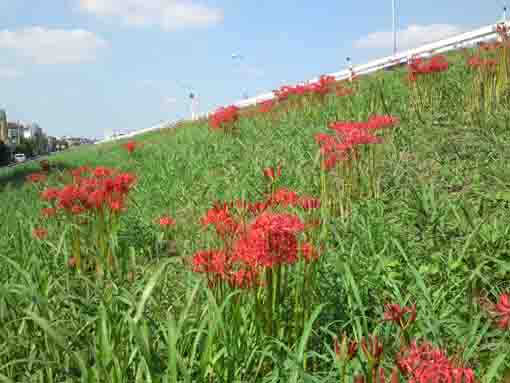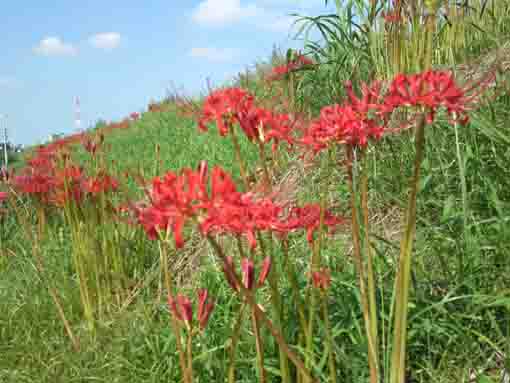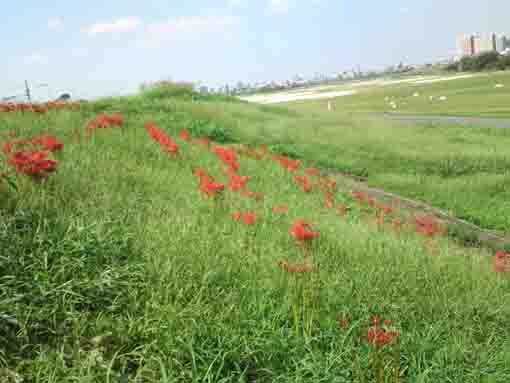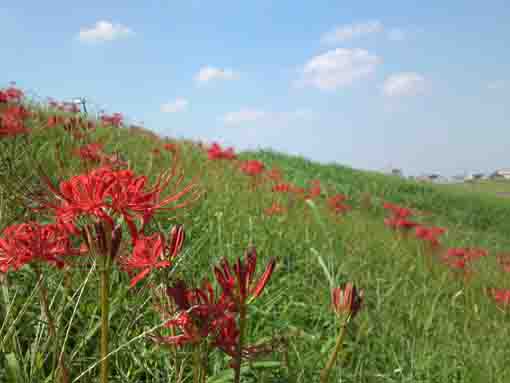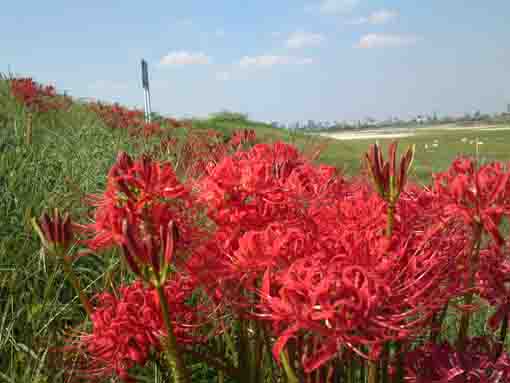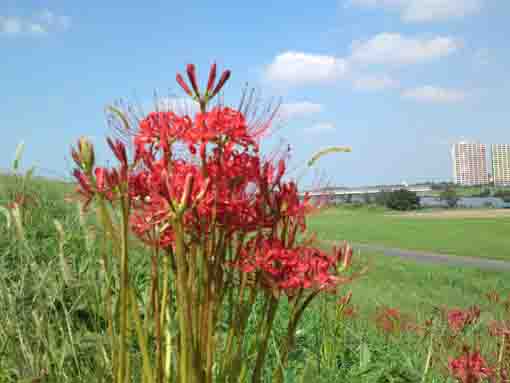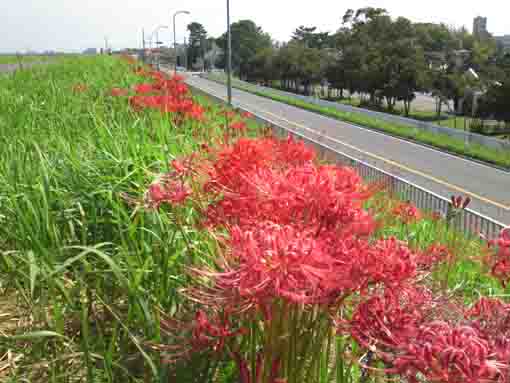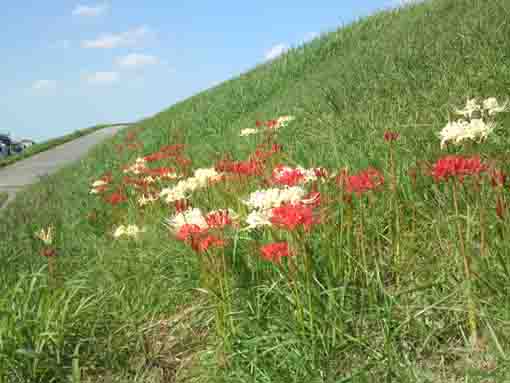 ---
The Noted Spots Red Spider Lilies Blooming on the Bank
Red Spider Lilies blooming on the west banks of Edogawa River from the bank beside Zenyoji to Ponyland.
Please check their adress below.
Seijusan Jizoin Zenyoji Temple
Zenyoji Temple has great accessibilities from both Narita and Haneda International Airport.
From Narita International Airport, take Keisei-line and get off Edogawa Sta, take minimally 50 minutes from Narita Airport. And also take JR Sobu-express line, get off Koiwa Sta.
From Haneda International Airport, take Keikyu-line bound to Narita, and get off Edogawa Sta.
Take 15 minute walk from both Edogawa Sta and 18 minute walk from Koiwa Sta.
2-24-2 Higashi Koiwa, Edogawaku, Tokyo
Edogawaku Shinozaki Ponyland
Edogawaku Shinozaki Ponyland has great accessibilities from both Narita and Haneda International Airport.
From Narita International Airport, take Sobu Express Line bound to Tokyo or Yokosuka and get off at Funabashi Sta, then transfer the line to Sobu line bound to Nakano or Mitaka ang get off at Motoyawata Sta. Or take Keisei-line bound to Ueno and get off Keisei Yawata Sta. Both from Motoyawata Sta and Keisei Yawata Sta, transfer the line to Toei Shinjuku line and get off at Shinozaki Sta.
From Haneda International Airport, take Keikyu-line bound to Narita, and get off Shinagawa Sta and transfer the line to Sobu Express line bound to Narita International Airport or Chiba, and transfer the line at Ichikawa Sta to Sob line bound to Nishi Funabashi, Tsudanuma or Chiba and get off at Motoyawata Sta. Or take Keikyu-line bound to Narita, and get off Keisei Yawata Sta. Both from Motoyawata Sta and Keisei Yawata Sta, transfer the line to Toei Shinjuku line and get off at Shinozaki Sta.
From Akihabara Station, take Sobu line bound to Nishi Funabashi, Tsudanuma or Chiba and get off Motoyawata Sta. Then transfer the line to Toei Shinjuku Line and get off at Shinozaki Sta.
Take 15 minute walk from Shinozaki Sta.
3-12-17 Shinozaki, Edogawaku, Tokyo
The Beautiful Blossoms along Edogawa River
---
---
---
The Noted Spots In The Areas Along Edogawa River
---
---
---
---
---
---
---
---
---
---
---
---