Edogawaku Shinozaki Ponyland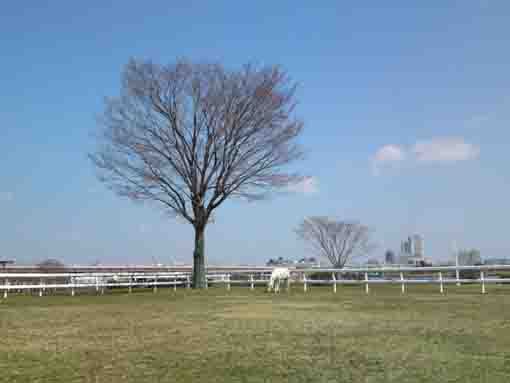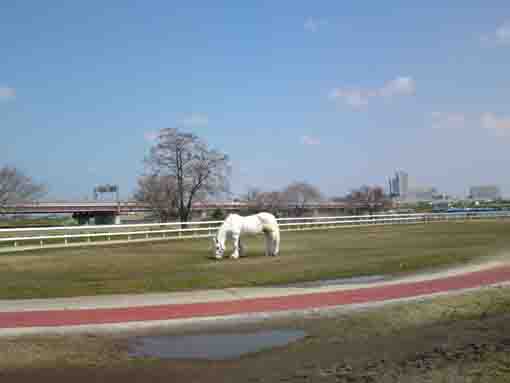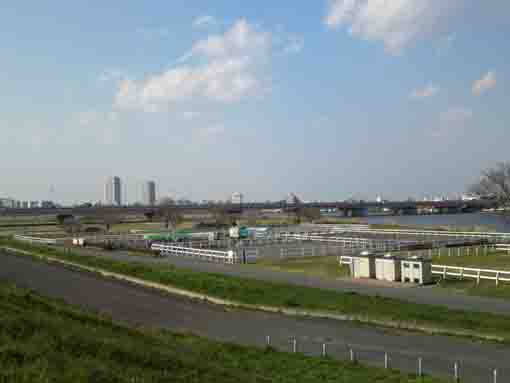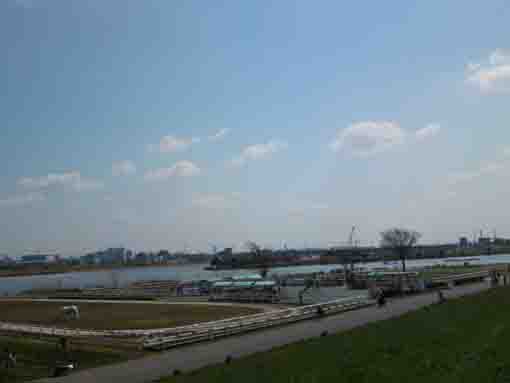 ---
Edogawaku Shinozaki Pony Land
where people could enjoy their time with ponies is opened at the flood plain along Edogawa River. Viewing from the bank of the river, you could find how wide the flood plain is and how rich its nature is. Visitors could enjoy riding on ponies and in carriages in the Pony Land. Under elementary school children could get on the ponies and everybody could ride in carriages. It feels like to go on trip while visitors see horses there peacefully. Especially in a fine day, you could forget everyday life while you see horses in the fences.
Edogawaku Shinozaki Pony land is a good spot to spend wonderful spare time. Why don't you visit the Pony Land?
引用、抜粋並びに参考
江戸川区ホームページ
公益財団法人えどがわ環境財団ホームページ
---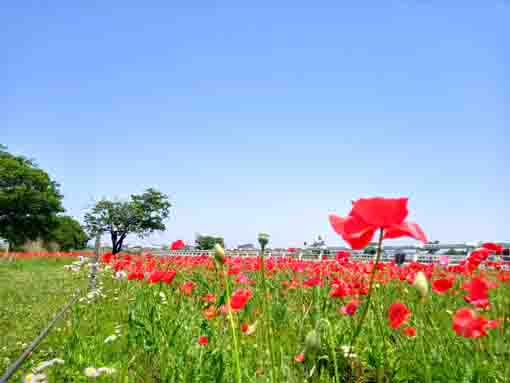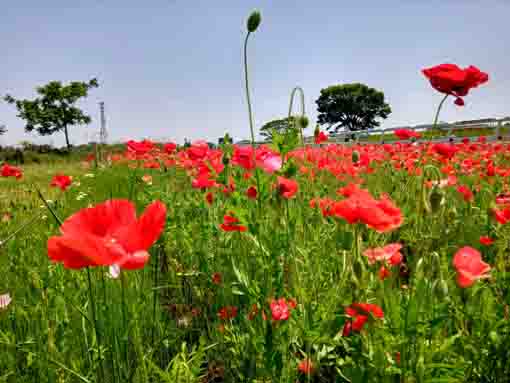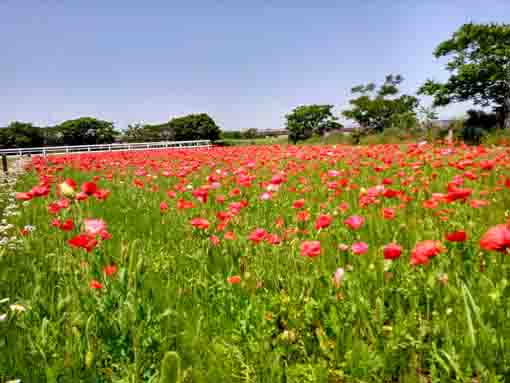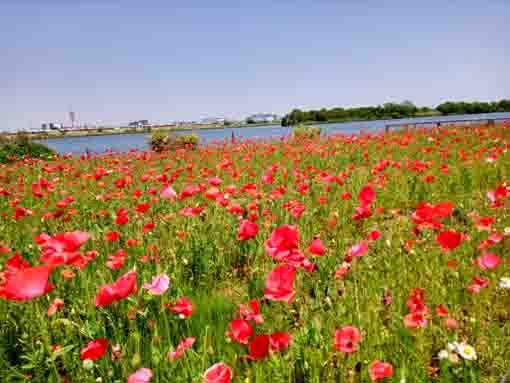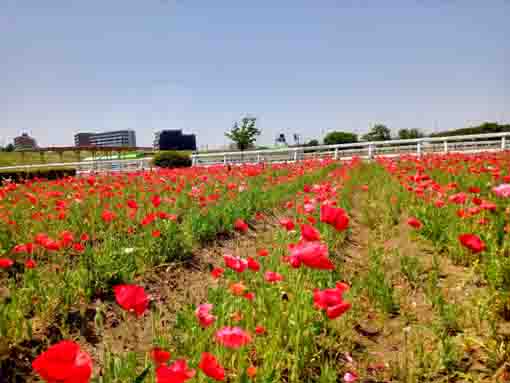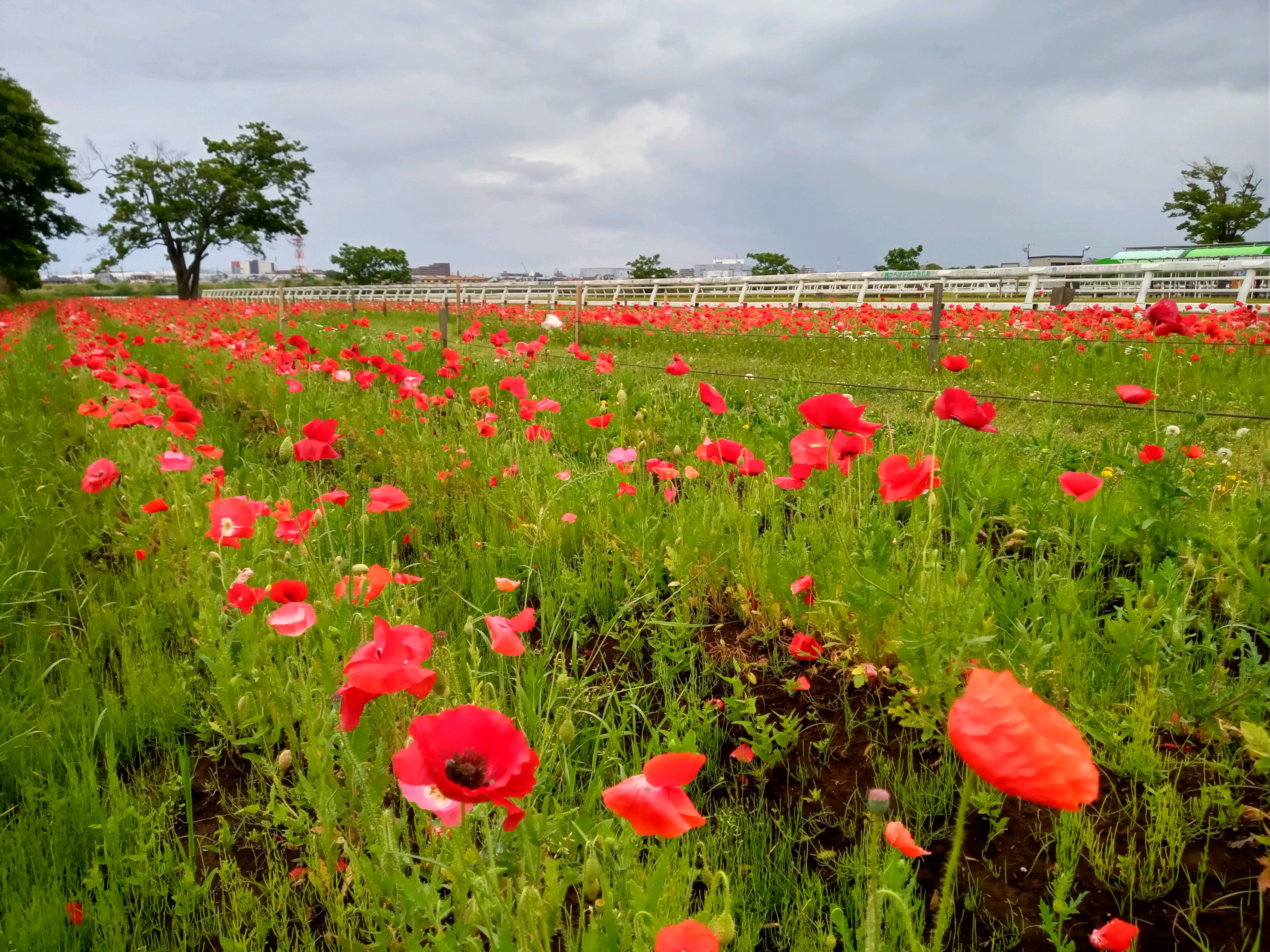 ---
There are millions of red poppies bloom around Shinozaki Pony Land.
---
Edogawaku Shinozaki Ponyland
Edogawaku Shinozaki Ponyland has great accessibilities from both Narita and Haneda International Airport.
From Narita International Airport, take Sobu Express Line bound to Tokyo or Yokosuka and get off at Funabashi Sta, then transfer the line to Sobu line bound to Nakano or Mitaka ang get off at Motoyawata Sta. Or take Keisei-line bound to Ueno and get off Keisei Yawata Sta. Both from Motoyawata Sta and Keisei Yawata Sta, transfer the line to Toei Shinjuku line and get off at Shinozaki Sta.
From Haneda International Airport, take Keikyu-line bound to Narita, and get off Shinagawa Sta and transfer the line to Sobu Express line bound to Narita International Airport or Chiba, and transfer the line at Ichikawa Sta to Sob line bound to Nishi Funabashi, Tsudanuma or Chiba and get off at Motoyawata Sta. Or take Keikyu-line bound to Narita, and get off Keisei Yawata Sta. Both from Motoyawata Sta and Keisei Yawata Sta, transfer the line to Toei Shinjuku line and get off at Shinozaki Sta.
From Akihabara Station, take Sobu line bound to Nishi Funabashi, Tsudanuma or Chiba and get off Motoyawata Sta. Then transfer the line to Toei Shinjuku Line and get off at Shinozaki Sta.
Take 15 minute walk from Shinozaki Sta.
3-12-17 Shinozaki, Edogawaku, Tokyo
The Noted Spots In The Areas Along Edogawa River
---
---
---
---
---
---
---
---
---
---
---
---