Yagiri no Watashi | The Ferryboat starts at Yagiri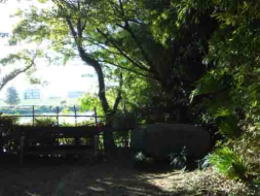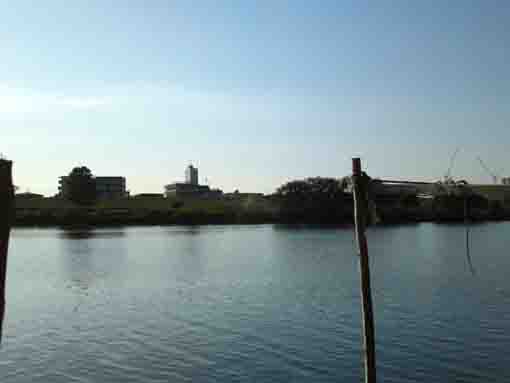 ---
Yagiri no Watashi is a ferryboat carrying people between Yagiri a famous spot related to a popular novel '
Nogiku no Haka
' written by
Sachio Ito
and Shibamata famous for Taishakuten or Daikyoji Temple for 400 years. The ferry at Yagiri was one of the ferry ports built by
Edo Bakufu
to support the everyday life of people living along
Edogawa River
,
the ferry at Imai
and Ichikawa were built at the same time, but they had not work becouse of the developments of transportation systems such as trains and cars. The boats from Yagiri no Watashi is bringing people to cross Edogawa River now.
In Edo period, the area along Edogawa River had been flourished by water transportation, thousands of products from the northern provinces passed through the river every day. Especially, the area around the ferries might be crowded with many travelers and merchants. In addition, a ferry could be a barrier to strictly check people passing through.
In 'Nogiku no Haka', the ferryboat from Yagiri no Watasi is appeared that Masao the hero of it gets on the boat there to go to Ichikawa. And the ferry has been appeared on some movies and a popular song in Japan. Yagiri no Watashi is chosen as one of the 500 attractive spots in Boso and one of the 100 wonderful sounds in spots.
Visitors could enjoy their trips on the ferryboat from Yagiri. Why don't you get on the ferryboat from Yagiri?
引用、抜粋並びに参考
葛飾区観光サイト "かつしかまるごとガイド"
松戸市観光協会公式ホームページ
市川市ホームページ
ウィッキペデイァ
---
The Ferry at Yagiri has great accessibilities from both Narita and Haneda International Airport.
From Narita International Airport, take Keisei Narita Sky Access line bound to Nippori Sta or Haneda International Airport and get off Shin Kamagaya Sta, transfer the line to Hokuso line bound to Nishi Magome or Haneda International Airport and get off Yakiri Sta.
From Haneda International Airport, take Keikyu-line bound to Inba Nihon Daigaku (Nihon University) and get off Yakiri Sta.
Take 23minute walk from Yakiri Sta.
The Ferry at Yagiri
Shimo Yagiri along Edogawa River in Matsudo-shi, Chiba-ken
The Noted Spots In The Areas Along Edogawa River
---
---
---
---
---
---
---
---