Seiryusan Honzoji Temple along Edogawa River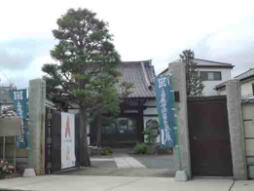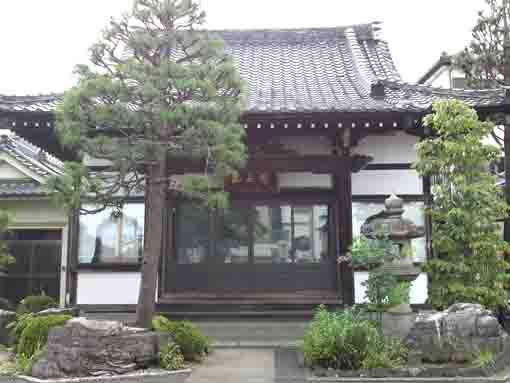 ---
Seiryusan Honzoji Temple
on the west of
Edogawa River
flowing on the boundary between
Tokyo
and
Chiba
is said to be built on the remains of the house of the officers having managed the barriers at Koiwa and Ichikawa in
Edo period
. Moreover, Honzoji Temple is connecting on Maeda Family in Kaga, Myokenji Temple in Kyoto and
Mamasan Guhoji Temple
.
A walk around the barriers and the ferries at Koiwa and Ichikawa on the both sides of Edogawa River is a very enjoyable course. Why don't you visit Seiryusan Honzoji Temple?
---
Seiryusan Honzoji Temple
Honzoji Temple
Honzoji Temple was built at Shin Teramachi
Asakusa
in 1622, it was a branch temple of Myokenji Temple in Kyoto so it was named 'Hozoji' after the venerable Nichizo, the founder of Myokyenji Temple. According to the history of Hozoji Temple edited in 1745, it was built by Juhukuin, the mother of Toshimitsu Maeda, the third lord of
Kaga Maeda Family
. In 1910, Honzoji merged with Seiryuji in Koiwa, a branch temple of
Mamasan Guhoji Temple
, then Seiryusan Honzoji Temple began in the present place.
Sairyuji Temple was built at the land where the officer of the barriers at Koiwa and Ichikawa, Nakane's House was. There exist Nakane Heizaimon Family's graves in this temple.
The Wooden Statues of the Venerable Nichiro and Nichizo registered as cultural assets by Edogawaku
The venerable Nichiro was one of the six great disciples of the Founder
Nichiren
, and he was the founder of Ikegami school of
Nichiren Shu
. He was born in Hiraga Shimousa (Matsudo city Chiba prefecture) in 1245. Nichiro stayed beside Nichiren during his exile to Sado. Of course, he preached Nichiren's ideas at
Kamakura
. Nichiro built many temples including Hokkedo Hall Ikegami Honmonji Temple. In 1320, he was died in his age of 76.
The venerable Nichizo was Nichiro's youngest borther born in Hiraga Shimousa in 1269. When he was 7 years old, he started serving at Nichiren at Mt. Minobu, the head temple of Nichiren Shu. After the death of Nichiren, he joined to his brother's school, and he preached Nichiren Shu in Kyoto, so it is said that he contributed to build the base of Nichiren Shu in Kyoto in Myokenji Temple. He was died in his age of 74.
These two statues of the venerable Nichiro and Nichizo was first preserved at Myokenji Temple in Kyoto, it was given by Myokenji to Honzoji in 1835. They were painted in 1642, and there are names and kao signs of Nichnyo and Nippo on them. They are excellent sculptures carved in
Muromachi period
, both are 35cm tall small statues, but they are much realistic, they show faces of these two great priests.
平成12年9月
江戸川区教育委員会
晴立山本蔵寺門前案内板より
引用・抜粋および参考
晴立山本蔵寺門前案内板
江戸川区ホームページ
市川関所跡案内板
寶林寺常燈明前案内板
市川市ホームページ
A Walk on the Remains of the Ferry at Koiwa and Ichikawa
---
---
---
Seiryusan Honzoji Temple and Jo Tomyo in it
Honzoji Temple has great accessibilities from both Narita and Haneda International Airport.
From Narita International Airport, take Keisei-line and get off Konodai Sta, take minimally 45 minutes from Narita Airport.
From Haneda International Airport, take Keikyu-line bound to Narita, and get off Edogawa Sta.
Take 3 minute walk from Edogawa Sta.
3-22-19 Kita-Koiwa, Edogawa-ku, Tokyo
The Noted Spots In The Areas Along Edogawa River
---
---
---
---
---
---
---
---
---
---
---
---