The Tea Room of Shikisei Oribe School of Tea Ceremony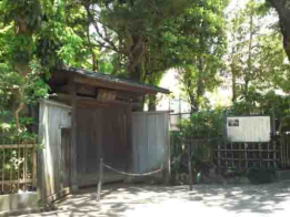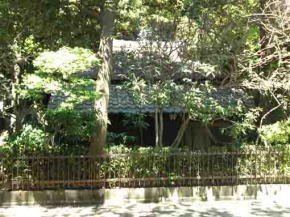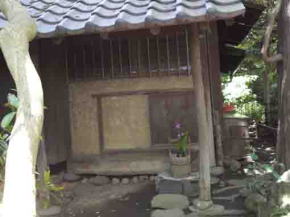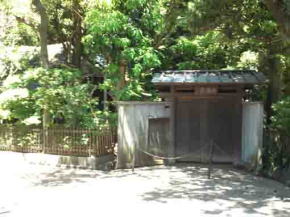 ---
Passing through the several cherry trees along the approach road to
Satomi Park
, there is a small wooden house covered with green woods, it is
the tea room
of
Shikisei Oribe Tea School
. There is a signboard describing the tea school, but there is no name of the tea room. Actually, a name plate is hanging on the gate, the letters are too artistical to read. The tea room gives some dramatic imaginations when you look it through the fences.
Shikisei Oribe School of Tea Ceremony
started by
Oribe Furuta
,
a sengoku daimyo
and a master of the tea ceremony was registered as an intangible cultural property by
Chiba Prefecture
in 1955.
Why don't you visit
the tea room of Shikitei Oribe School of Tea ceremony
?
---
Shikisei Oribe School of Tea Ceremony is the intangible cultural property of Chiba prefecture
The Shikisei Oribe School of
tea ceremony
had been founded by Furuta Oribe no Sho Shigenari (ca.1600).
Characteristic of the Shikisei Oribe School is that, it can be considered the 'public (open) tea' based on the serving of tea in the 'shoin' (drawing room) style tea arbor as opposed to the 'private (personal) tea' or the 'wabi-cha' served in the 'so-an' after Sen no Rikyu.
Furuta Oribe had elaborated his originality in his arbor and tea ceremony appliances, leaving behind the Oribe-yaki pottery and the Oribe-toro (Lanterns).
He also had
Hon'ami Koetsu
, Kobori Enshu and so on as his disciples.
(From the guidance on the signboard in front of the tea room belonging to Shikisei Oribe Tea School)
式正織部流茶道茶室前案内板より
Oribe Furuta 1544-1615
Oribe Furuta was a Sengoku Daimyo and the master of tea ceremony from Mino province (Gifu Prefecture) from
Azuchi Momoyama
to
Edo
in late
Sengoku period
. His first name is Shigenari, he was called Sasuke amoung his friend and relatives, Oribe was nickname since he was appointed as the Oribe no Jo. He was the founder of Oribe School of Tea Ceremony.
First, he worked at Toki or Saito clan in Mino province, next he worked at Nobunaga Oda, then
Hideyoshi Toyotomi
. When Hideyoshi became the Kanpaku Dajodaijin (the supreme minister and chancellor), Oribe was also appointed Oribe no Jo and he was given the feudal estate having 35,000 kokus (about 5,500 tons) of the annual rice crop in Nishi ga Oka in the south-west part of Kyoto. Oribe Furuta loved
Cha no Yu
(tea ceremony) and he studied at
Sen no Rikyu
. After the death of Rikyu, Oribe was praised as Tenka Ichi no Sosho (the supreme master of tea ceremony), then he began his tea school. He was counted as one of the seven disciples of Rikyu. After Hedeyoshi Toyotomi was passed, Oribe belonged to
Tokugawa Clan
, and he taught tea ceremony to Hidetada Tokugawa, the second shogun of
Edo Bakufu
. He distinguished war services at the battle of Sekigahara in 1600, However, he was suspected that he betrayed to Toyotomi clan at the battles of Osaka in Summer of 1615, as the result, he was ordered to commit hara-kiri. He was died at his age of 72. His tomb is at Koshoji Temple in Kamigyo-ku, Kyoto.
Oribe Furuta loved distorted pots and tea rooms with many windows, these kinds of artistic tastes were called 'Oribe Konomi (the favor of Oribe)' and became the major trends at that time. Oribe Yaki Potteries and Oribe Toros (lanterns) exist, and Hassoan in Nara National Museum and Ennan in the Yabuuchi in Kyoto are his style tea rooms existing now. 'Chajutsu Hyakajo (the 100 laws of serving tea)' is his masterpiece. Koetsu Honami, Hidetada Tokugawa, Enshu Kobori and many samurais were disciples of Oribe. Now Shikisei Oribe School of Tea Ceremony has been kept by Oribe Kikyokai and the tea room stands in Konodai, Ichikawa city, Chiba prefecture.
抜粋・引用および参考
式正織部流茶道茶室前案内板
市川市ホームページ
新制版 日本史辞典
大辞泉
クロニック戦国全史
美術人名辞典
ブリタニカ国際大百科事典
世界大百科事典 第2版
百科事典マイペディア
日本大百科全書(ニッポニカ)
ウィッキペデイァ
The Tea Room of Shikisei Oribe School
---
---
3-8 Konodai, Ichikawa-shi, Chiba-ken
The Tea Room of Shikisei Oribe School of Tea Ceremony has great accessibilities from both Narita and Haneda International Airport.
From Narita International Airport, take Keisei-line and get off Konodai Sta, take minimally 45 minutes from Narita Airport. And also take Keisei Narita Sky Access line bound to Nippori Sta or Haneda International Airport and get off Shin Kamagaya Sta, transfer the line to Hokuso line bound to Nishi Magome or Haneda International Airport and get off Yakiri Sta.
From Haneda International Airport, take Keikyu-line bound to Narita, and get off Konodai Sta. And also take Keikyu-line bound to Inba Nihon Daigaku (Nihon University) and get off Yakiri Sta.
Take 10 minute walk from Konodai and Yakiri Sta.
The cenic Spots near the Tea Room of Shikisei Oribe School
---
---
---
---
---
---
---
---