Yonakiishi | a stone telling sad story in Sengoku Period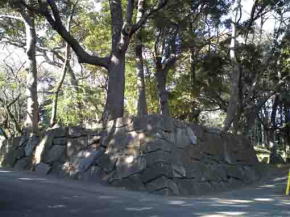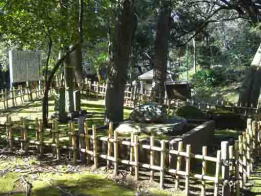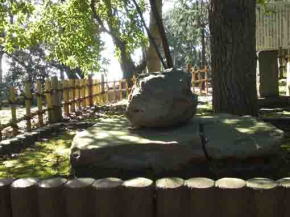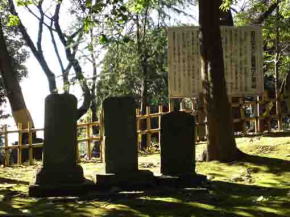 ---
On the north of the rose garden in
Satomi Park
, there is a large round stone on the stone wall apparently the castle in
Sengaku Period
. It is called
Yonakiishi (the stone cries at night)
. Satomi Park is a municipal park built on the remains of
Konodaijo Castle
built in Sengoku Period. About 500 years ago, the battles between Satomi Clan in
Awa
and
Hojo Clan
in
Sagami Province
happened in this area called Konodai. Finally, the Hojo won and the Satomi lost, and there are many legends has existed in the area along Edogawa River such as in
Edogawa-ku
and Hime Miya Shrine in Junsaiike Park and Awa Jinja Shrine near
Nakayama Hokekyoji Temple
in
Ichikawa city
. Yonakiishi is an important historical assets telling the stories of the second battle of Konodai in 1564.
Why don't you visit Yonakiishi in Satomi Park?
---
The Legend of Yonakiishi
According to some old stories, there were thousands of the war dead at the battles in Konodai in 1564, and
Hirotsugu Satomi
, the son of Yoshihiro Satomi, the head of Satomi Family, was dead, then the youngest daughter of Hirotsugu came to the battle fields in Konodai from Awa province to hold a memorial service for her father. At that time, she was 12 or 13 years old girl, she was passed away with pity and fear when she was shocked looking at the ghastly sight at the battlefields.
After her death, neighbors had heard sobbing from a stone every day at night. Therefore, they called the stone '
Yonakiishi
(the stone cries at night). After a sumurai visited and held a memorial service for the pity princess, the sobbing never heard anymore.
Now according to the records of the second battles of Konodai in 1564, Hirotsugu Satomi was only 15 years old boy and it was his first campaign.
This story might be created since there had been the memorial stone tablet for Hirotsugu Satomi on the next of Akedo Old Mound in Satomi Park.
平成4年3月
市川市教育委員会
夜泣き石前案内板より
Anyway, in the page '
The Mysterious Spots
', some spots having some mysterious and wonderful stories are introduced. Please see the page.
抜粋・引用および参考
夜泣き石前案内板
里見広次並びに里見軍将士亡霊の碑脇案内板
市川市ホームページ
Yonakiishi in Satomi Park
---
---
Yonakiishi in Satomi Park has great accessibilities from both Narita and Haneda International Airport.
From Narita International Airport, take Keisei-line and get off Konodai Sta, take minimally 45 minutes from Narita Airport. And also take Keisei Narita Sky Access line bound to Nippori Sta or Haneda International Airport and get off Shin Kamagaya Sta, transfer the line to Hokuso line bound to Nishi Magome or Haneda International Airport and get off Yakiri Sta.
From Haneda International Airport, take Keikyu-line bound to Narita, and get off Konodai Sta. And also take Keikyu-line bound to Inba Nihon Daigaku (Nihon University) and get off Yakiri Sta.
Take 10 minute walk from Konodai and Yakiri Sta.
3-9 Konodai, Ichikawa-shi, Chiba-ken
The Noted Scenic Spots in and around Satomi Park
---
---
---
---
---
---
---
---