Kabuto Jinja Shrine| Kabuto no Miya Shrine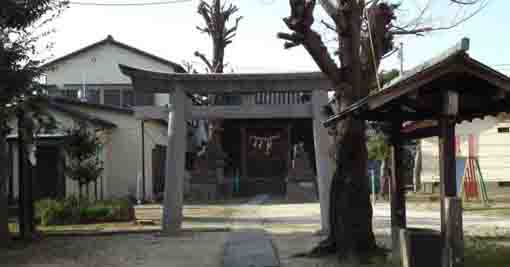 ---
About 10 minutes walks along Gyotoku Kaido Street from JR Motoyawata Station, there is a some torii gates standing in a small shrine, it is called Kabuto Jinja Shrine. The main divine god dedicated in this shrine is
Homudawake no Mikoto
whose another name is the 15th Emperor Oujin. According to the history of the Kabuto Jinja Shrine, it dedicates a Kabuto helmet of the Emperor Oujin, but there are some other legends that it dedicates a Kabuto helmet of
the Empress Jingu
,
Masakado Taira
or
Yoshiie Minamoto
.
Edo Meisho Zue
(a guide book describing
Edo
in
Edo period
) tells that it dedicates a Kabuto helmet of a general who had fought in the Battle at Konodai. Edo Meisho Zue calls this shrine 'Kabuto no Miya' that was managed by staffs at Gyotoku Hachimangu Shrine at that time. Before Edogawa Flood Control Channel was built, Owada where Kabuto Jinja Shrine stands and the Tokagi, the next village of it joined to
Gyotoku
, so Gyotoku Hachimangu Shrine managed it. Moreover, Katsushikaki called it 'Kabuto Hachiman'. Now
Katsushika Hachimangu Shrine
manages Kabuto Jinja Shrine. Anyway, it has been believed deeply by samurais.
Why don't you visit Kabuto Jinja Shrine?
The History of Kabuto Jinja Shrine
The History of Kabuto Jinaj Shrine
Kabuto Jinja Shrine would be built to dedicate the Emperor Oujin or his Kabuto helmet.
This shrine is very old, so it was built here in Owada in August 8th of 988 as the reign of the 66th Emperor Ichijo. Kabuto Jinja Shrine is a guardian god of Owada village and it is a branch shrine of Katsushika Hachimangu Shrine and is named 'Shime Shita' might mean that Kabuto Jinja Shrine is under control of Katsushika Hachomangu Shrine.
Many samurai worriers had believed in this shirne since ancient ages, then the sumurai worriers had to get off their horses to visit Kabuto Jinja Shrine while they passed the way in front of it, if not, they had to fell off their horses.
Many village people believed deeply and donated much.
In July 24th of 1920, Tenjinsha Shrine and Sanosha Shrine were dedicated in the site of Kabuto Jinja Shrine.
Good Days in November 2001
Supporters of Kabuto Jinja Shrine
抜粋・引用および参考
「甲大神社の由来」同社案内板より
市川市ホームページ
江戸名所図会6 ちくま学芸文庫
房総叢書 紀元二千六百年記念 第8卷葛飾紀
房総叢書 紀元二千六百年記念 第6卷葛飾誌略
Kabuto Jinja Shrine
2-5-4 Owada Ichikawa-shi Chiba-ken
Kabuto Jinja Shrine has great accessibilities from both Narita and Haneda International Airport.
From Narita International Airport, take Keisei-line and get off Keisei Yawata Sta, take minimally 45 minutes from Narita Airport. And also take JR Sobu-express line, transfer the line at Funabashi to Keisei-line, get off Keisei Yawata Sta.
From Haneda International Airport, take Keikyu-line bound to Narita, and get off Keisei Yawata Sta.
Take 15 minute walk from Keisei Yawata Sta and take 10 minute walk from Motoyawata Sta.
Landmarks near Kabuto Daijinja Shrine
---
---
---
---
---
---