A Walk on Katsushika Hachimangu Shrine and Yawata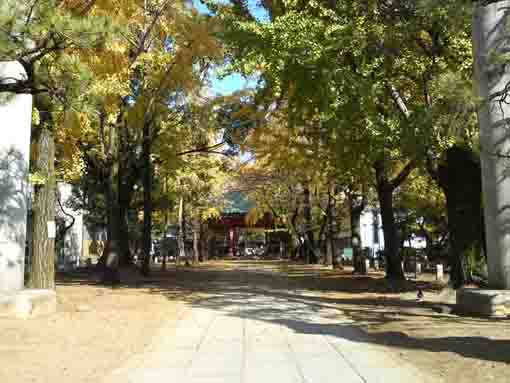 ---
Yawata area in
Ichikwa city
is developed as the gate town of
Katsushika Hchimangu Shrine
. Yawata is fine accessibilities from both Narita and Haneda International Airport and it is very close to Tokyo Station, so Yawata is on the middle of them. In Yawata, there are many historical and cultural sites, the national natural monument 'Senbon Icho (the gingko tree with thousands trunks)' in Katsushika Hchimangu Shrine, Yawata no Yabushirazu (the inextricable maze at Yawata), Shirahata Jinja Shrine, Shirahata Tenjin Shrine and some sites related to Masakado Taira, Yoritomo Minamoto,
Dokan Ota
,
Mitokomon
, Kaishu Katsu, Rohan Koda, Sachio Ito,
Kafu Nagai
, Yoko Mizuno and so on are in Yawata. Anyway Yawata is on the central part in Ichikwa city, there are Yamada Denki, Matsumotokiyoshi, Mega Donki and many shops and restaurants in the area around,
Colton Plaza
, the shopping mall, is also close. In addition, there are many black pine trees along the streets in the residential area around the House of Yoko Mizuki, Scenario Writer, between Katsushika Hachimangu Shrine and
Mamagawa River
famous for the beautiful hundreds of cherry trees.
A walk in Yawata area is very exciting to enjoy the leafy nature, studying the long history and shopping.
Why don't you visit Katsushika Hachimangu Shrine and Yawata?
---
A Walk on Katsushika Hachimangu Shrine and Yawata
---
---
---
---
---
---