Daini Tsubaki Jido Yuen Park in Harue Edogawaku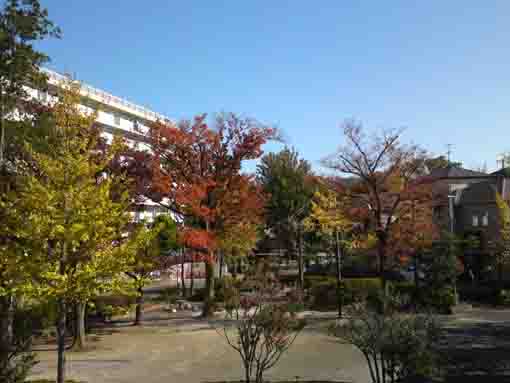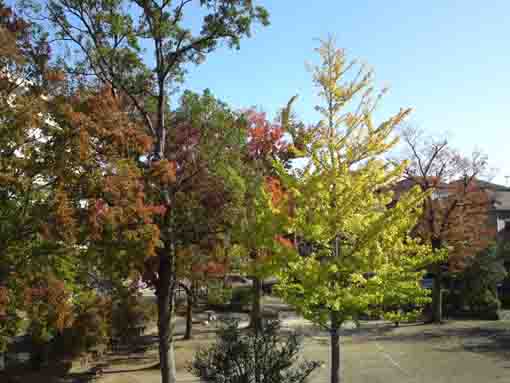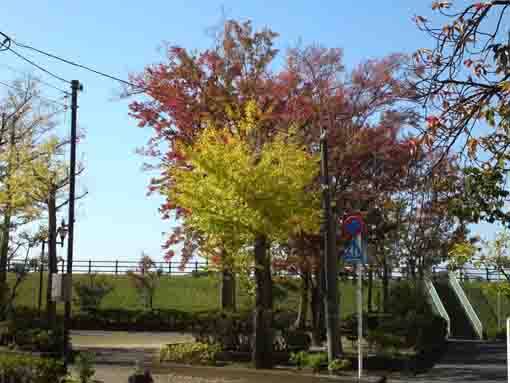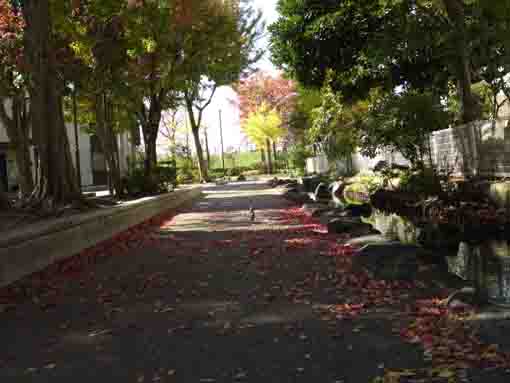 ---
Fall in Daini Tsubaki Jido Yuen Park is special. It is a kid's park in residential areas in
Edogawaku
in
Tokyo
. It has a fountain in southwest corner of it and a small river begins running to northeast. Zelkova and gingko trees grow big and they are seen from the west bank of
Shinnakagawa River
, and in fall, they are beautiful that many people stop to see them during walking or jogging on the east bank. Especially, the zelkovas in the park are great, the leaves became crimson red, they paint on the town under the blue sky excitingly. The gingkoes spread their golden leaves as high as they seem like reaching at the blue sky. The red zelkovas' leaves, yellow gingkos' and green grass on the banks show how rich the nature is. Why don't you visit Daini Tsubaki Jidou Yuen Park?
---
Fall in Daini Tsubaki Jido Yuen Park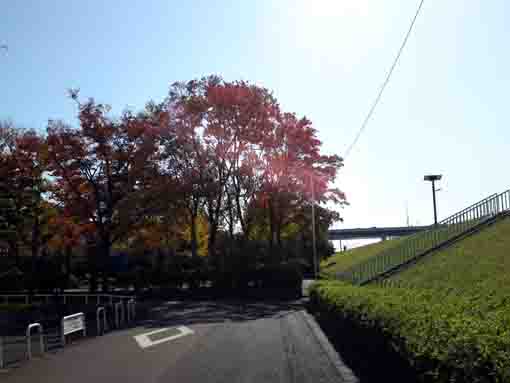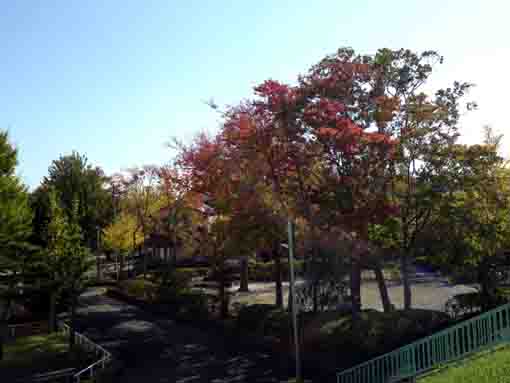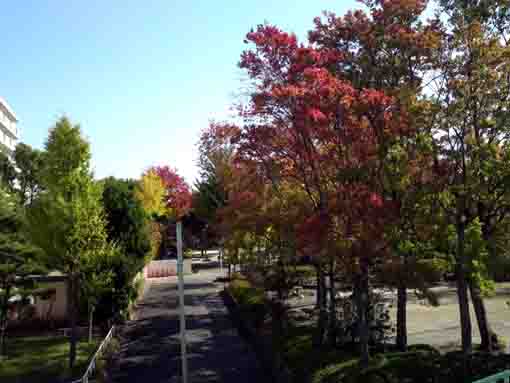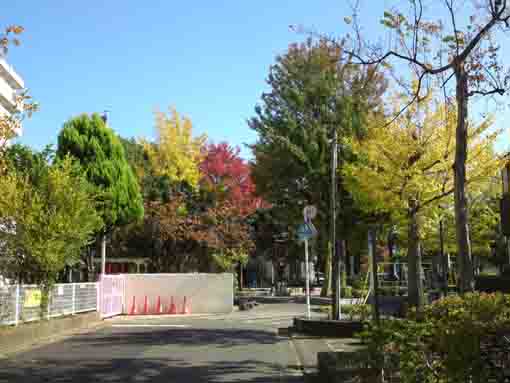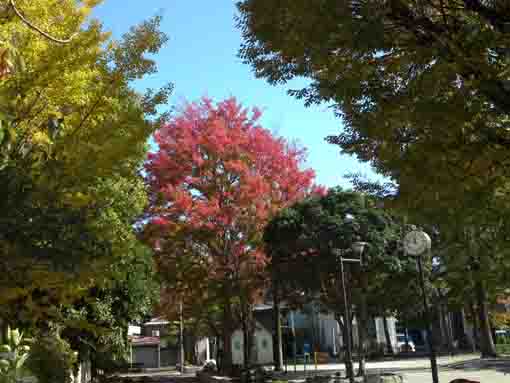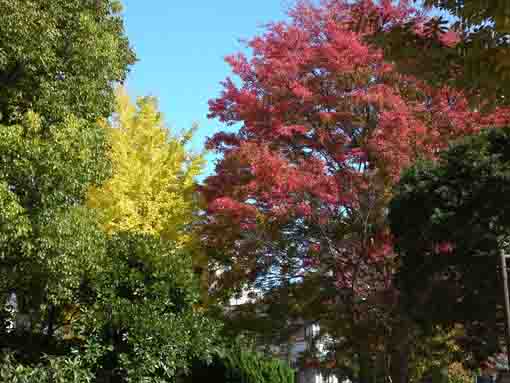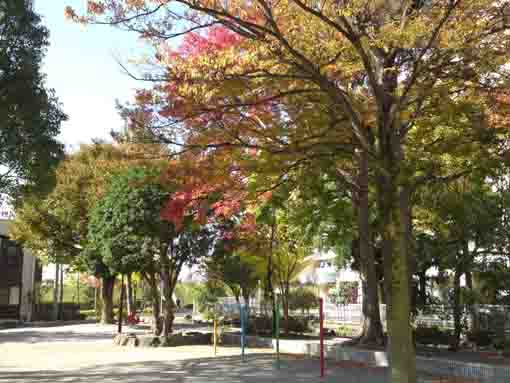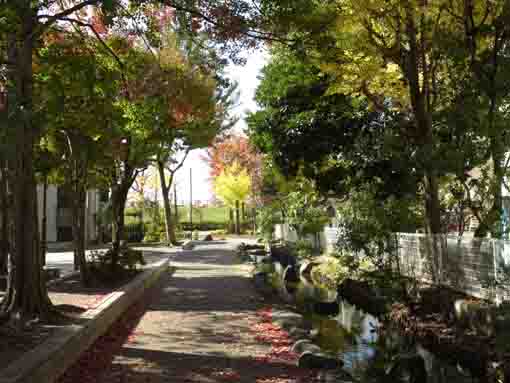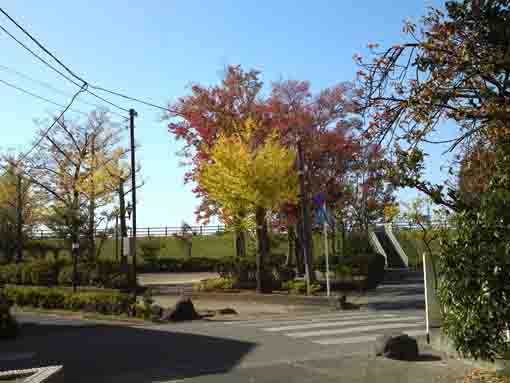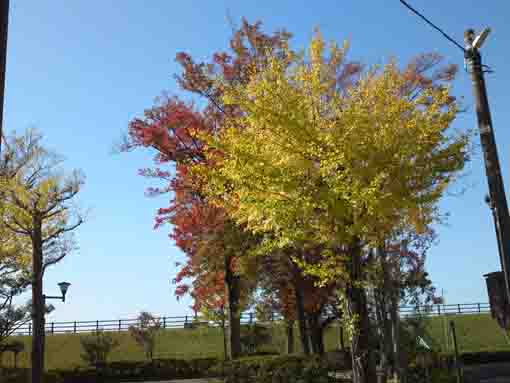 ---
Zelkova and gingko trees in Daini Tsubaki Jidou Yuen Park are special. Views from the bank of Shinnakagawa River are surprisingly beautiful. The scattered leaves on a path along a small river in the park is wonderful as it looks like a picture.
---
Daini Tsubaki Jido Yuen Park
---
---
Daini Tsubaki Jido Yuen Park (the second Tusbaki Kids Park) has great accessibilities from both Narita and Haneda International Airport.
From Narita International Airport, take Sobu Express Line bound to Tokyo or Yokosuka and get off at Funabashi Sta, then transfer the line to Sobu line bound to Nakano or Mitaka ang get off at Motoyawata Sta. Or take Keisei-line bound to Ueno and get off Keisei Yawata Sta. Both from Motoyawata Sta and Keisei Yawata Sta, transfer the line to Toei Shinjuku line and get off at Mizue Sta.
From Haneda International Airport, take Keikyu-line bound to Narita, and get off Shinagawa Sta and transfer the line to Sobu Express line bound to Narita International Airport or Chiba, and transfer the line at Ichikawa Sta to Sob line bound to Nishi Funabashi, Tsudanuma or Chiba and get off at Motoyawata Sta. Or take Keikyu-line bound to Narita, and get off Keisei Yawata Sta. Both from Motoyawata Sta and Keisei Yawata Sta, transfer the line to Toei Shinjuku line and get off at Mizue Sta.
From Iwamotocho Station at Akihabara, take Toei Shijuku line bound to Motoyawata and get off Mizue Sta.
Take 19 minute walk from Mizue Sta.
2-4-3 Harue, Edogawaku, Tokyo
The Noted Spots for Viweing Maple Leaves
---
---
---
---
---
---
---
---
---