Shinnakagawa River | The Beautiful River in the Urban Area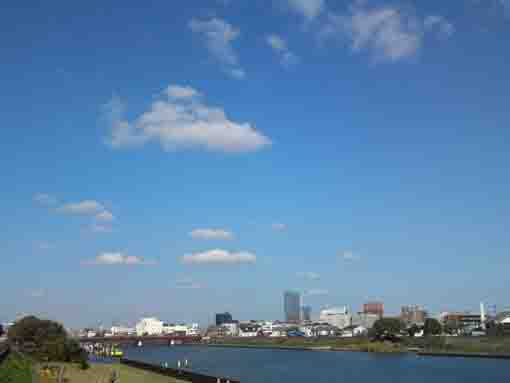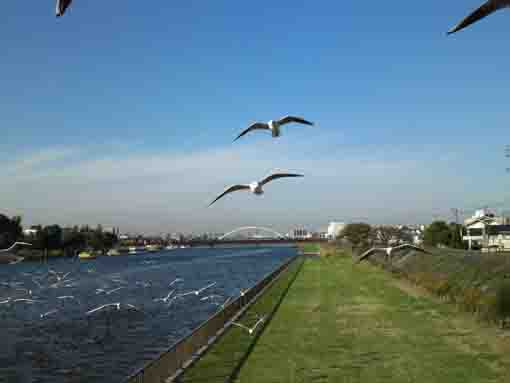 ---
Shinnakagawa
is a branch river of Nakagawa flowing from
Tonegawa
in Hanyu in
Saitama prefecture
to Tokyo Bay. The river begins from Nakagawa at Takasago in
Katsushikaku
and it flows to south in the central part of
Edogawaku
between Arakawa and
Edogawa river
and goes into Edogawa River in the south of Mizuhobashi Bridge and finally it goes to the bay. Since the areas along Nakagawa River suffered floods frequently, to avoid this disaster, Shinnakagawa was built to bring water of Nagagawa to Edogawa River. So it was a canal completed in March 1963 and it became a river in March 1965 and it was named Shinnakagawa.
Anyway,
Kafu Nagai
who was a famous writer early 1900's and walked on Ichikawashi and Edogawaku for many years did not write any information of Shinnakagawa River in his diary Danchotei Nichijo. (He visited Nimaibashi on the east side of Koiwa Ohashi bridge in May 31st 1948.)
Now many people enjoy walking and jogging on the promenades on the banks and basins of Shinnakagawa River. Though Shinnakagawa flows in the residential areas in Tokyo, people enjoy seeing nature along it. Why don't you visit it?
引用、抜粋並びに参考
東京都建設局ホームページ
国土交通省関東地方整備局江戸川河川事務所ホームページ
小岩大橋西詰案内板
瑞江大橋西詰案内板
新中川土手歩道脇案内板
新版 断腸亭日乗 第六巻 岩波書店
---
The Wonderful Shinnakagawa Views
The Views of Flying Wild Birds Over Shinnakagawa
Many wild birds come and fly over the river.
---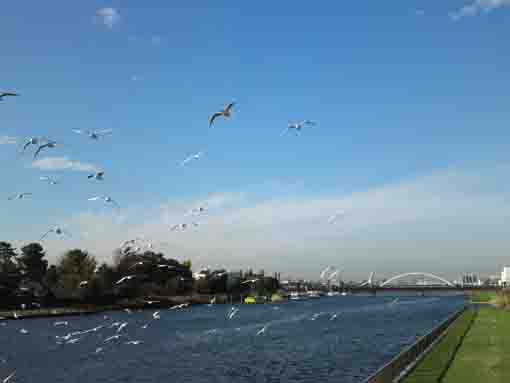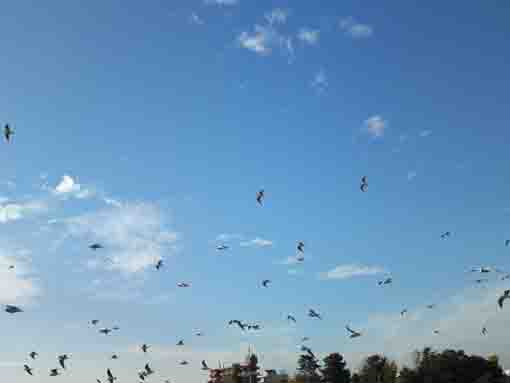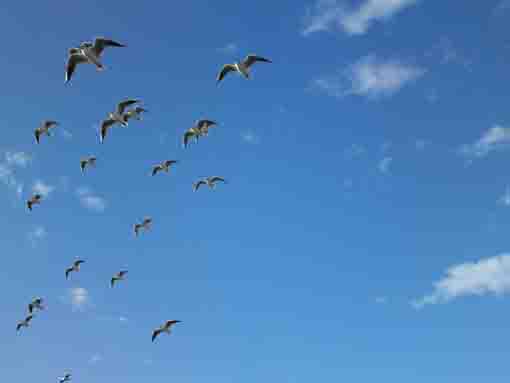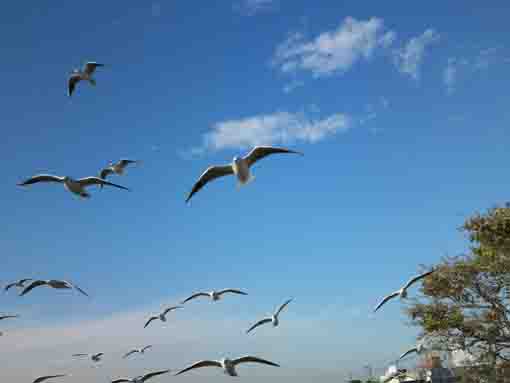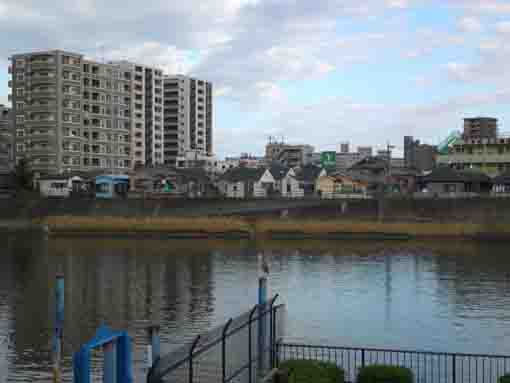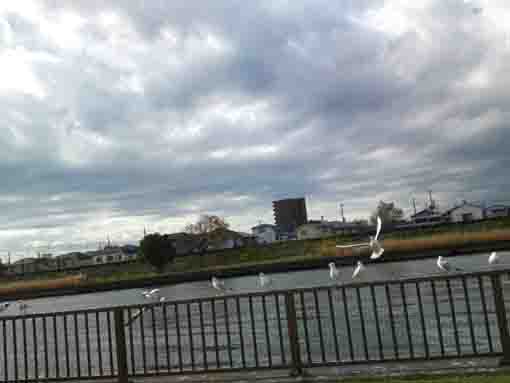 ---
Cosmoses in fall and Poppies in spring bloom along the river.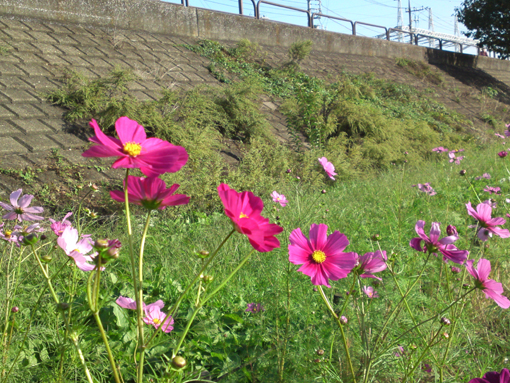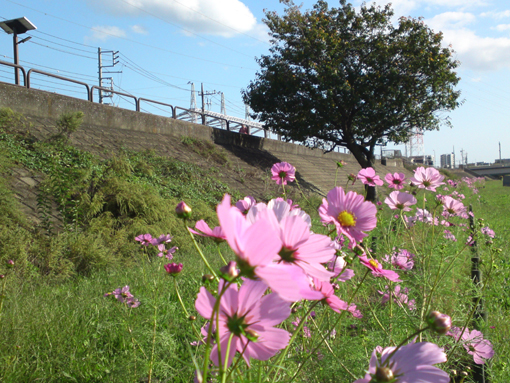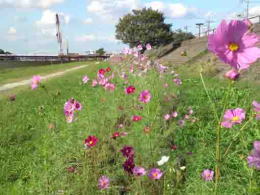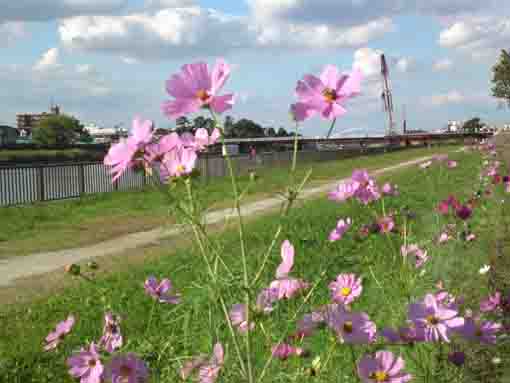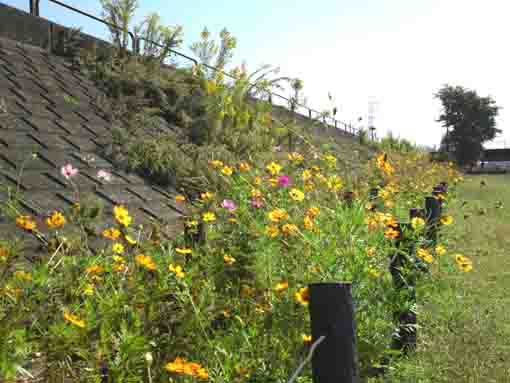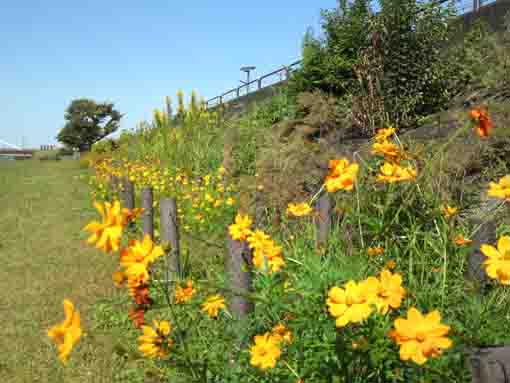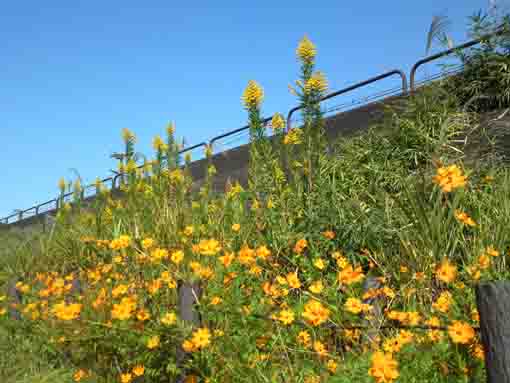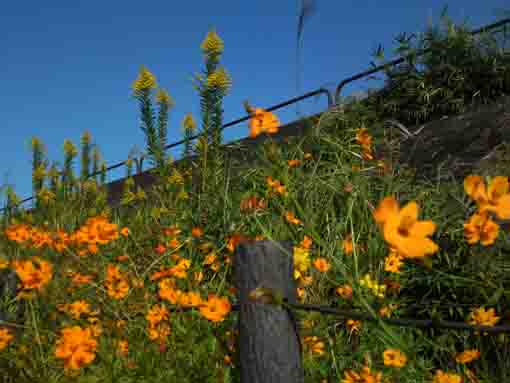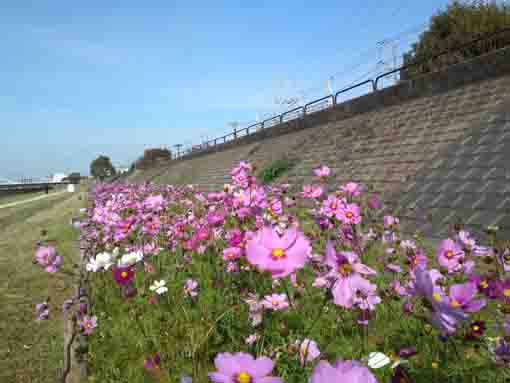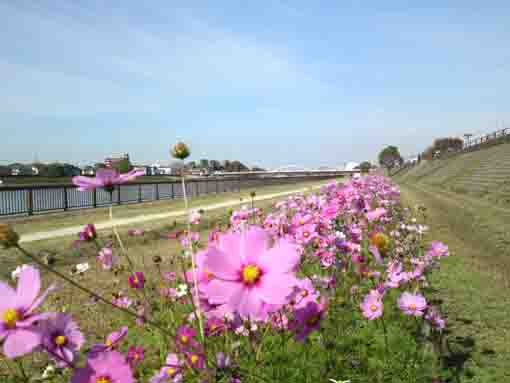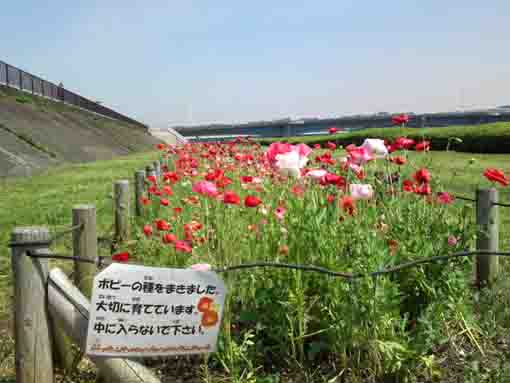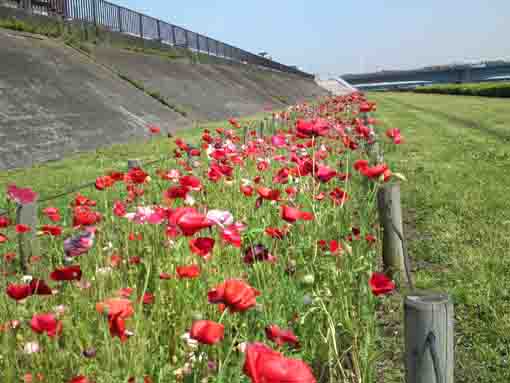 ---
It is very wonderful when azaleas are blooming along the river.
---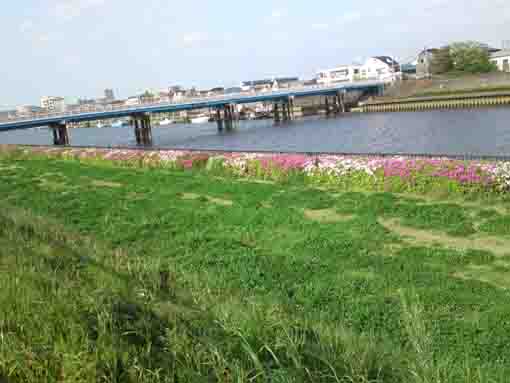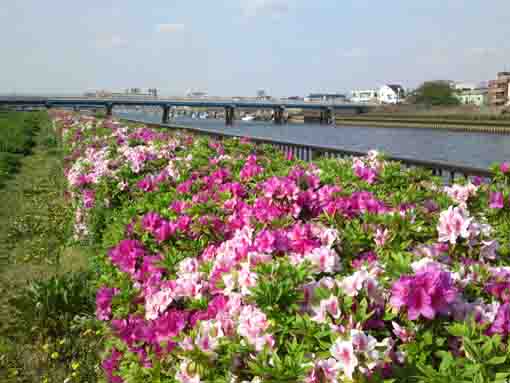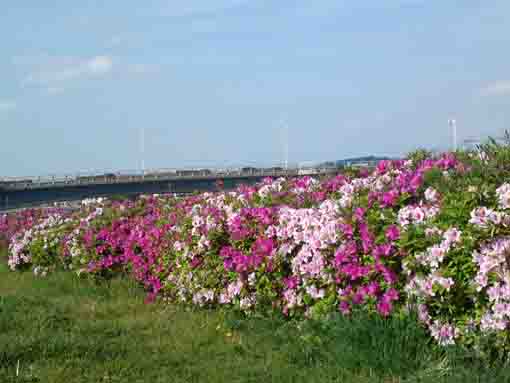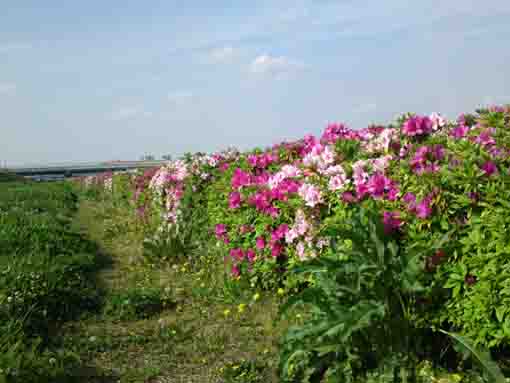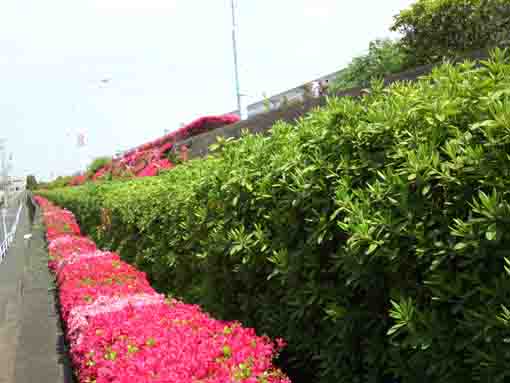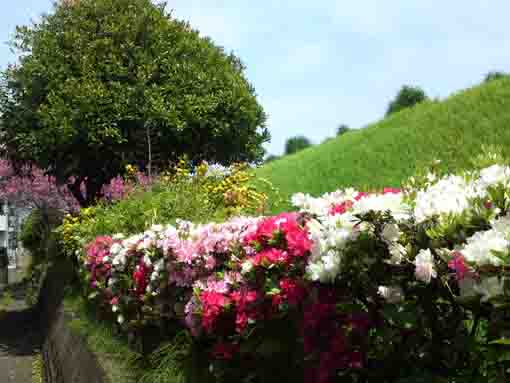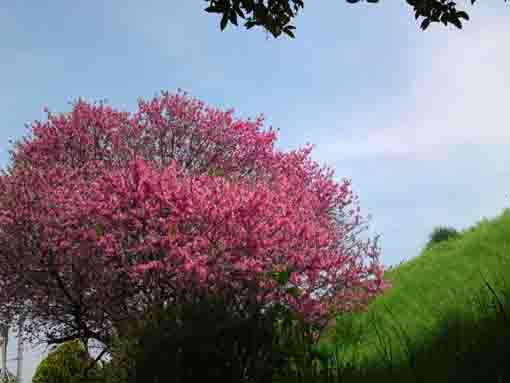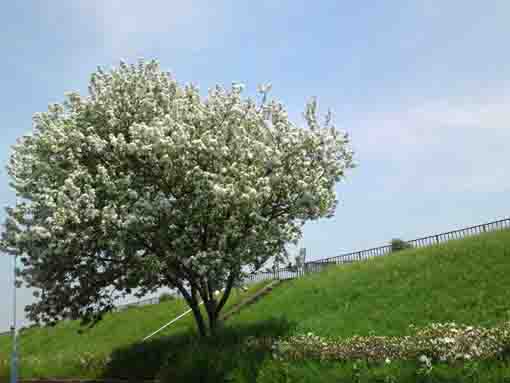 ---
The Views of the Bridges Across Shinnakagawa
There are 26 bridges across 7.9 kilometers of Shinnakagawa.
---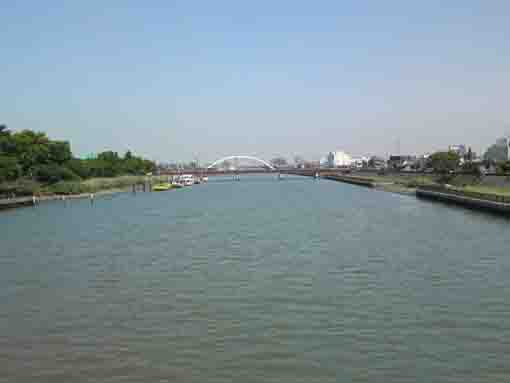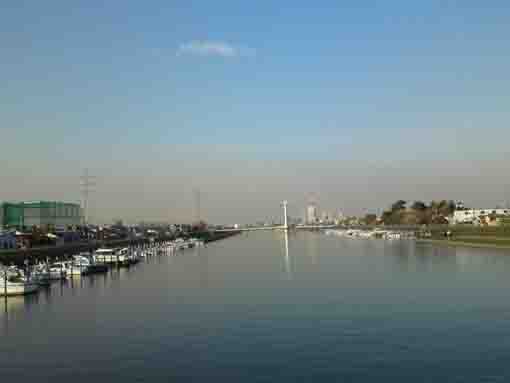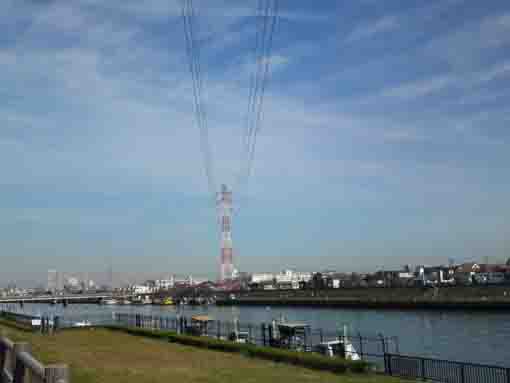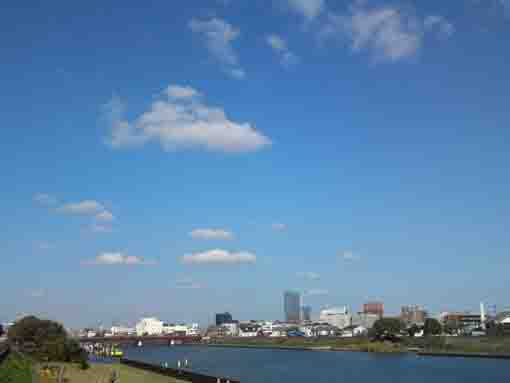 ---
Shinnakagawa River (promenades on the banks in Edogawaku)
---
---
---
Shinnakagawa River has great accessibilities from both Narita and Haneda International Airport.
From Narita International Airport, take Keisei-line and get off Funabashi Sta, and transfer the line to JR Sobu Line bound to Nakano or Mitaka then get off Koiwa Sta, take minimally 50 minutes from Narita Airport. And also take JR Sobu-express line, get off Koiwa Sta.
From Narita International Airport, take Sobu Express Line bound to Tokyo or Yokosuka and get off at Funabashi Sta, then transfer the line to Sobu line bound to Nakano or Mitaka ang get off at Motoyawata Sta. Or take Keisei-line bound to Ueno and get off Keisei Yawata Sta. Both from Motoyawata Sta and Keisei Yawata Sta, transfer the line to Toei Shinjuku line and get off at Ichinoe Sta.
From Haneda International Airport, take Keikyu-line bound to Narita, and get off Asakusabashi Sta, and transfer the line to JR Sobu Line bound to Chiba or Tsudanuma and get off Koiwa Sta.
From Haneda International Airport, take Keikyu-line bound to Narita, and get off Shinagawa Sta and transfer the line to Sobu Express line bound to Narita International Airport or Chiba, and transfer the line at Ichikawa Sta to Sob line bound to Nishi Funabashi, Tsudanuma or Chiba and get off at Motoyawata Sta. Or take Keikyu-line bound to Narita, and get off Keisei Yawata Sta. Both from Motoyawata Sta and Keisei Yawata Sta, transfer the line to Toei Shinjuku line and get off at Ichinoe Sta.
From Iwamotocho Station at Akihabara, take Toei Shijuku line bound to Motoyawata and get off Ichinoe Sta.
Take 10 minute walk from Koiwa Sta and 5 minute walk from Koiwa Sta.
In the central part of Edogawaku Tokyo
Landmarks along Shinnakagawa River
---
---
---
---
---
---