Akibasan Shinseiji Temple in Gyotoku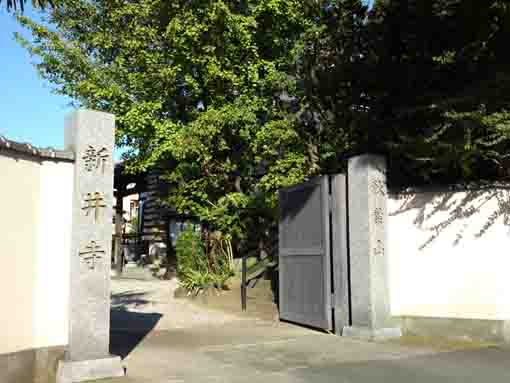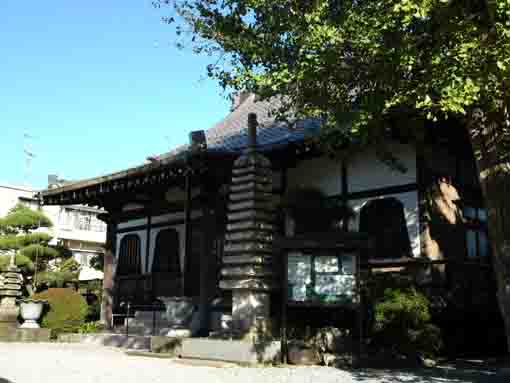 ---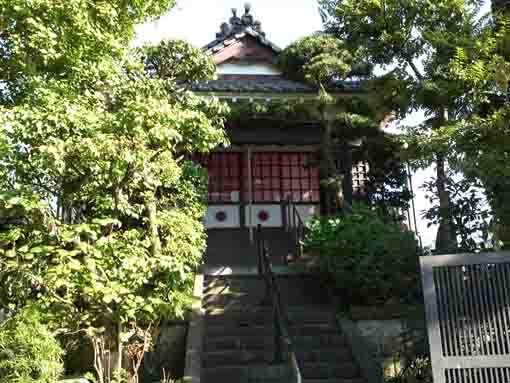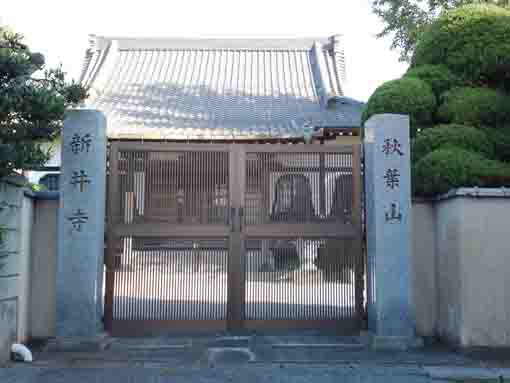 ---
Akibasan Shinseiji Temple is the origin of the area name 'Arai' in
Gyotoku
. Arai means the new well, so Nozan Ogei, the founder of Shinseiji Temple dag a fine new well for people to live safe in Gyotoku. And Shakyozuka, a stone monument where written sutras ballied under stands in and Akiba Sanjakubo Daigongen, the god of prevening fires, is dedicated in Shinden Hall in Shinseiji Temple. The temple has many tall trees even in residential area in Gyotoku. Besides, it holds Shakyoe (meetings to copy sutras by hand), Zazene (Zen medication meetings) and tanka parties to study in it. Moreover, Akibasan Shinseiji Temple is the 27th temple of
the 33 Pilgrimage in Gyotoku and Urayasu
.
Why don't you visit Akibasan Shinseiji Temple?
---
Akibasan Shinseiji Temple
The History of Akibasan Shinseiji Temple belonging to Soto Shu
Akibasan Shinseiji Temple that is only a temple belonging to
Soto Shu Sect
in Buddhism in Gyotoku and
Urayasu
area was built in 1616. The head temple is of course Eiheiji Temple in Fukui Prefecture and Sojiji Temple in
Kangawa prefecture
, they are the Grand Head Temples of Sodo Shu. The main image is the statue of Shakamuni Butsu and they chant Shakamuni Butsu.
Akibasan Shinseiji Temple is a branch temple of Hojoji Temple in
Funabashi city
and Nozan Ogei, the second chief priest of the temple, founded Shinseiji Temple.
In addition, there is Shinden Hall to dedicate Akiba Sanjakubo Daigongen, the god of preventing fires, in Akibasan Shinsaiji Temple so it is the head temple of Akibasan in Kanto region. Every November 18th, Akiba no Himaturi (the grand festival to pray for preventing fires) is traditionally held in it and supporters, believers and many people around visit and pray.
Moreover, Akibasan Shinseiji Temple has a stone monument of hand-copied sutras (Shakyozuka) that the 4th chief priest of it wrote them on clamshells and built the monument, then finally he gave him Kajo (cremated himself) to save people in Gytoku from disasters.
Now the 29th chief priest has kept tradition of Akibasan Shinseiji Temple since it founded and has held funeral and memorial services of supporters by the teachings of Buddha and the founders. And Shakyoe (meetings to copy sutras by hand), Zazene (Zen medication meetings) and tanka parties to study are held in Akibasan Shinseiji Temple to propagate adapted to the times and societies.
平成21(2009)年
秋葉山新井寺門前案内板より
抜粋・引用および参考
秋葉山新井寺門前案内板
秋葉山新井寺ホームページ
房総叢書 紀元二千六百年記念 第6卷葛飾誌略
改訂新版 市川のむかし話
市川市ホームページ
The Temples of the 33 Pilgrimage in Gyotoku & Urayasu
The list of the temples of the 33 Pilgrimages in Gyotoku and Urayasu
01 Tokuganji : 5-22 Hongyotoku Ichikawa-shi
02 Fukusenji :2-7 Futamata Ichikawa-shi
03 Choshoji : 8-5 Hongyotoku Ichikawa-shi
04 Jishoin : 1-10 Hongyotoku Ichikawa-shi
05 Daitokuji : 5-13 Shimonijuku Ichikawa-shi
06 Jorinji (abandoned) : around Kawara Ichikawa-shi
07 Shogenji : 3-6 Kawara Ichikawa-shi
08 Yofukuin : 5-16 Kawara Ichikawa-shi
09 Ryugonji (Sorinji) : 3-10-2 Tokagi Ichikawa-shi
10 Fukuoji (Sorinji) : 3-10-2 Tokagi Ichikawa-shi
11 Ryogokuji : 2-16-4 Koya Ichikawa-shi
12 Anyoji : 2-16-35 Koya Ichikawa-shi
13 Hosenji : 7-22 Hongyotoku Ichikawa-shi
14 Hozenji : 1-25 Honshio Ichikawa-shi
15 Jokanji : 23-24 Hongyotoku Ichikawa-shi
16 Shingyoji (Kyoshinji) : 38-18 Hongyotoku Ichikawa-shi
17 Kyozenji (Kyoshinji) : 38-18 Hongyotoku Ichikawa-shi
18 Hoshoji (abandoned) : now brought into 19 Tokuzoji
19 Tokuzoji : 8-10 Sekigashima Ichikawa-shi
20 Seiganji : 4-8 Oshikiri Ichikawa-shi
21 Korinji : 12-20 Oshikiri Ichikawa-shi
22 Hodenji : 7-1 Minato Ichikawa-shi
23 Enmyoin : 11-21 Minato Ichikawa-shi
24 Zenshoji : 18-20 Minato Ichikawa-shi
25 Genshinji : 1-16-26 Katori Ichikawa-shi
26 Ryozenji : 2-12-18 Ainokawa Ichikawa-shi
27 Shinseiji : 1-9-1 Arai Ichiakawa-shi
28 Enmeiji : 1-9-2 Arai Ichikawa-shi
29 Zenpukuji : 26-27 Todaijima Urayasu-shi
30 Kezoin : 3-10-3 Nekozane Urayasu-shi
31 Togakuji : 2-4-27 Horie Urayasu-shi
32 Hojoin : 4-14-1 Horie Urayasu-shi
33 Dairenji : 4-14-2 Horie Urayasu-shi
extra Fujiwara Kannondo Hall 2-234 Fujiwara-cho Funabashi-shi
* The location of the sixth temple is unknown, and the 16th and 17th are integrated, and the 18th is brought into the 19th temple.
* Please ask some specific information in each temple.