Ichinoe Nanushi Yashiki is a traditional residence in Japan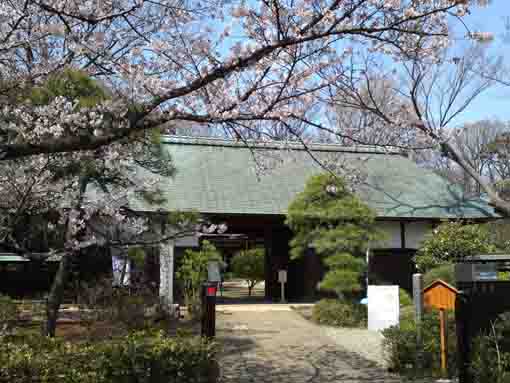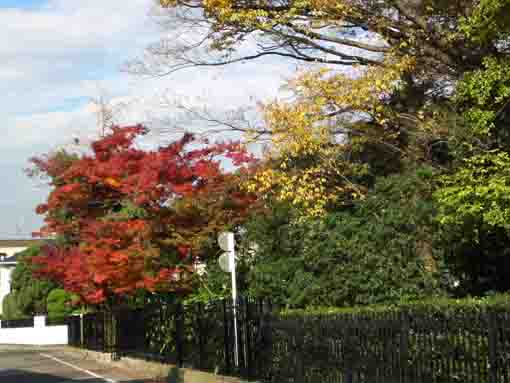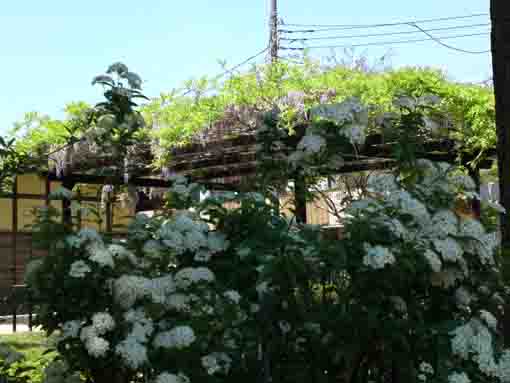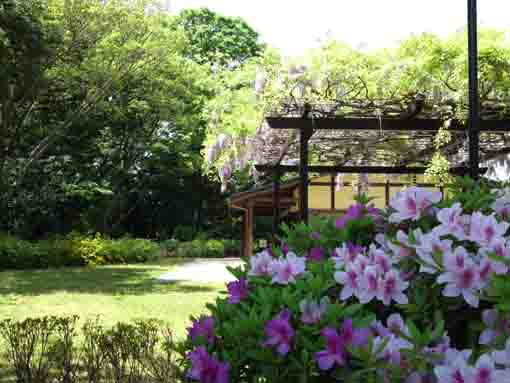 ---
Ichinoe Nanushi Yashiki
is a village head men's residence in Ichinoe. This residence owned Tajima Family whose ancestor contributed cultivating rice fields in Ichinoe in the early
Edo period
. The descendants of the Tajima had lived in it in recent years. Walking along the streets in the residential areas in Haruecho
Edogawaku
, suddenly a wood like a green island appears, and there is a large thatched roof in it, it is Ichinoe Nanushi Yashiki, a historic site registered by Tokyo. This historic site looks wonderful like a satoyama or a countryside. In spring, cherry blossoms beside the magnificent Nagayamon gate bloom calmly. In fall, many trees in the garden colored beautifully. And there is a fireplace on the floor in it, visitors could feel something nostalgic or experience old Japanese life. It is a very good place for the visitors either to walk along the garden in it or see the garden from a room in it. Why don't you visit Ichinoe Nanushi Yashiki?
---
The Residence of the Ichinoe Village Head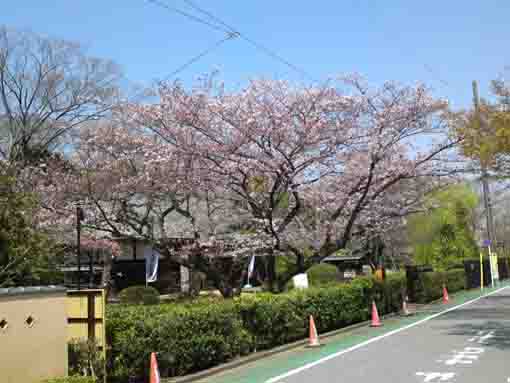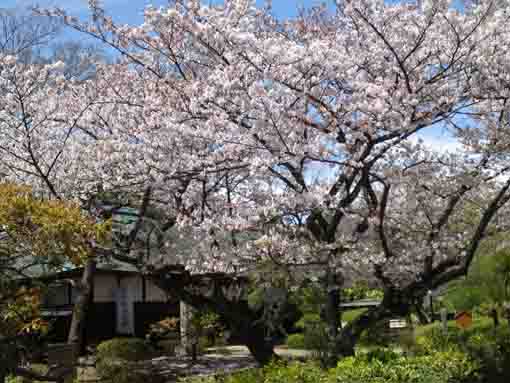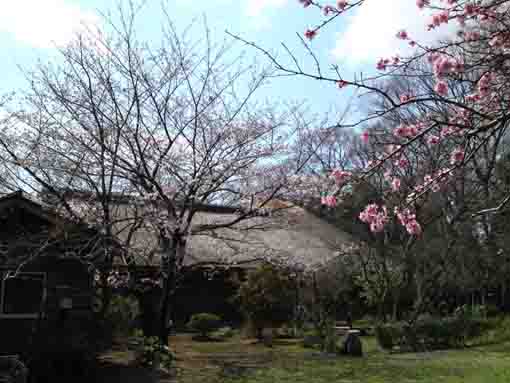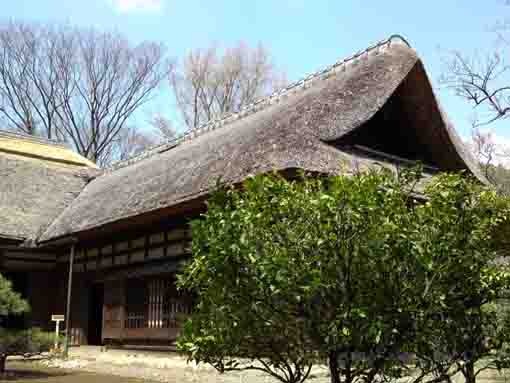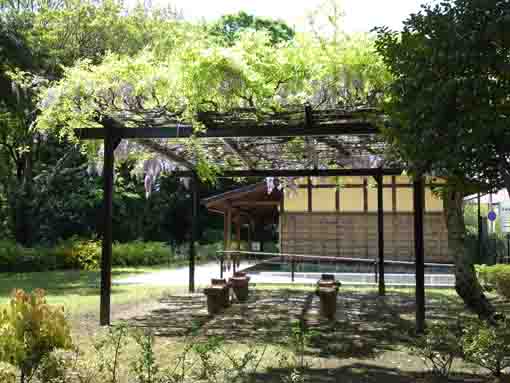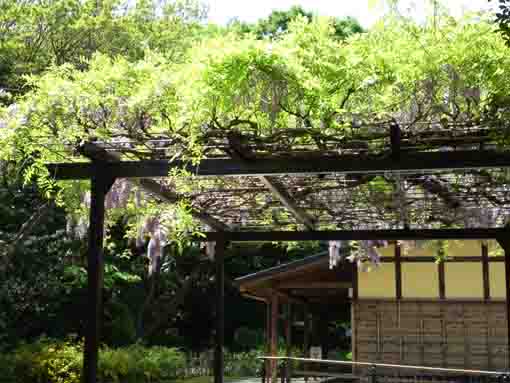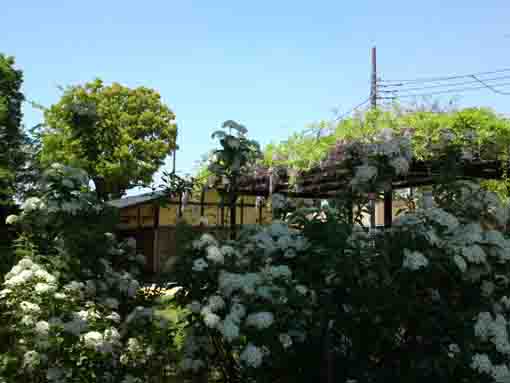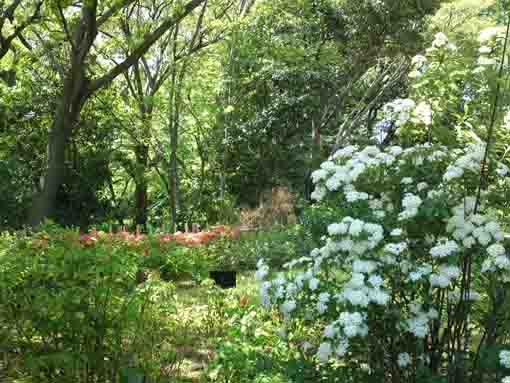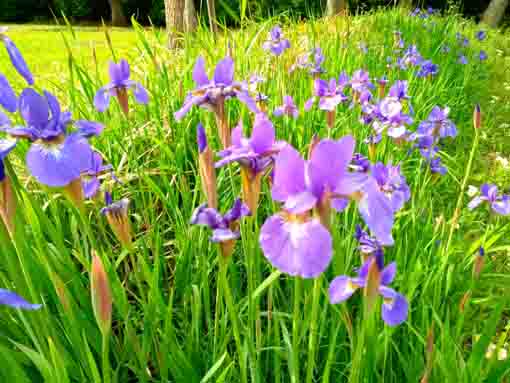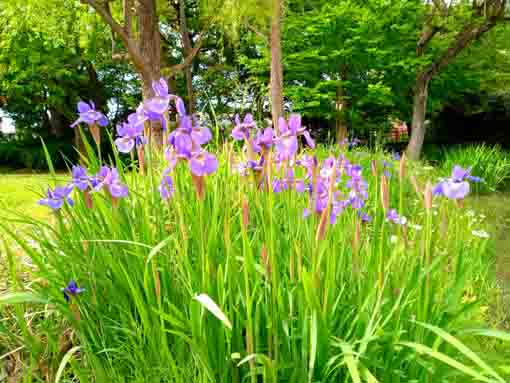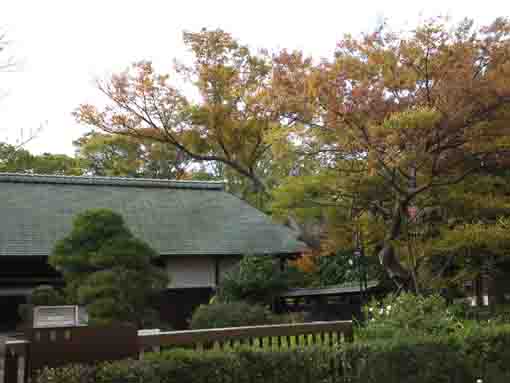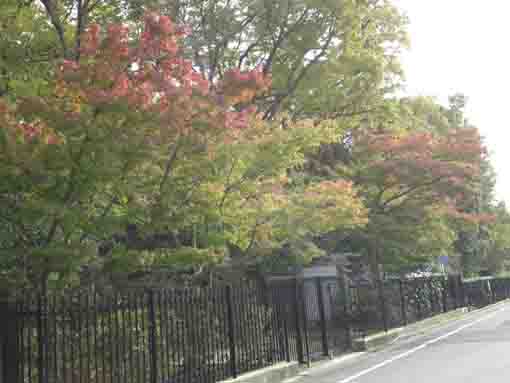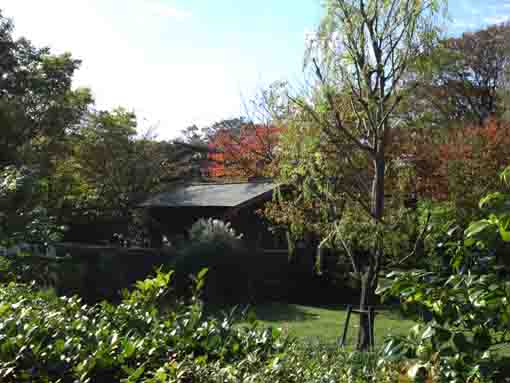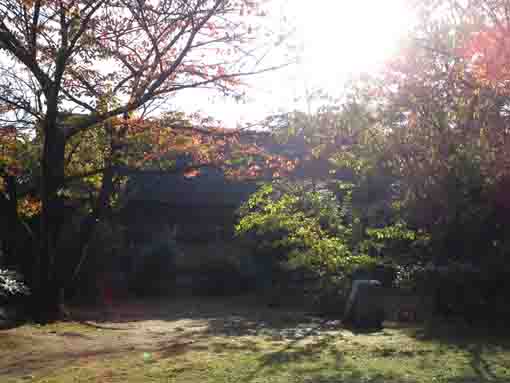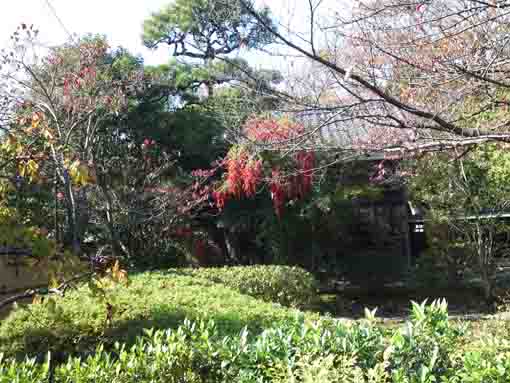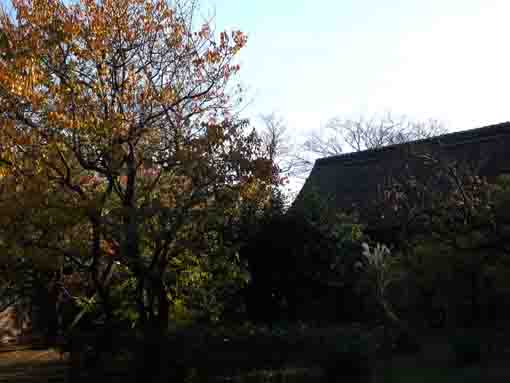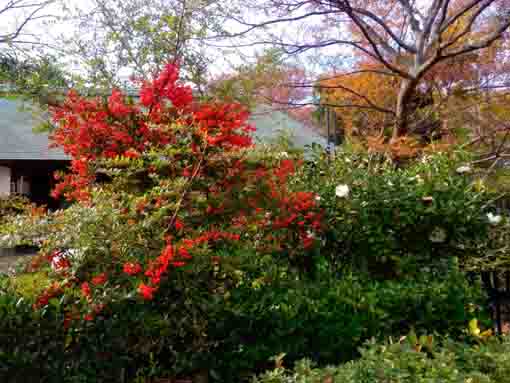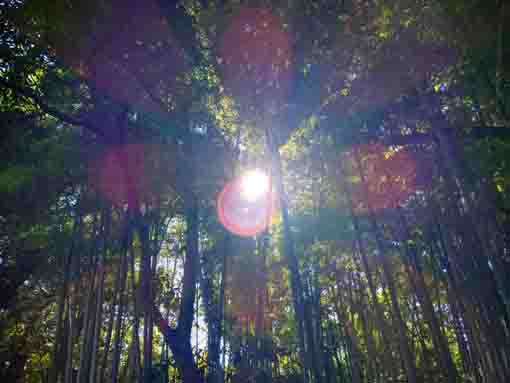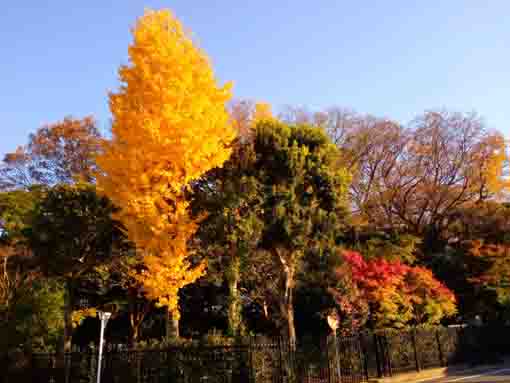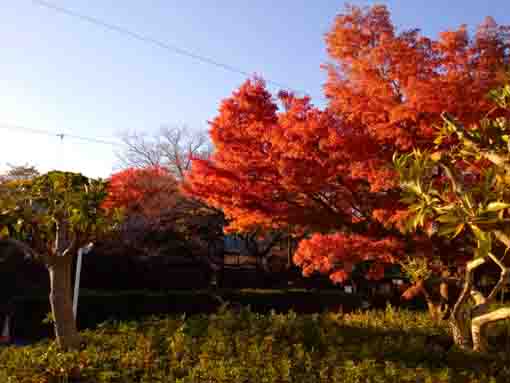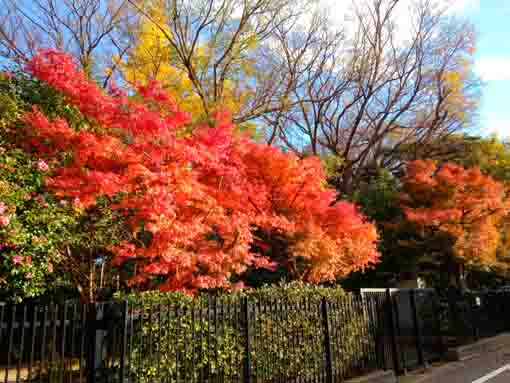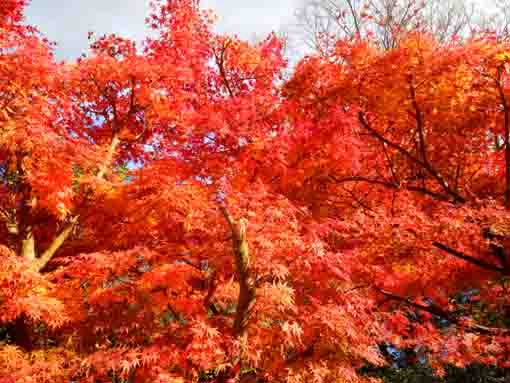 ---
Ichinoe Nanushi Yashiki (the residence of Ichinoe Village head)
Registered as a historic site by Tokyo in 1954
Registered as a historic site by Edogawaku in 1981
Registered as an important scenic building in March 2011.
Ichinoe Nanushi Yashiki is a residence that Tajima Family who contributed cultivating rice fields in Ichinoe in the early Edo period had lived. Having completed the cultivation in Genroku Era (1688-1704) in Edo period, the Tajima successively became the village head men of Ichinoe. There is woods and moats in the north and west side of its garden, and it has a main house with a thatched roof and a nagayamon gate built in tenement style. These facilities built to protect the residence.
After registered as a historic site by Tokyo, the main house was repaired, and after registered as cultural assets by Edogawaku, the repairing has been continuing. Since 2011, Edogawaku owns the residence, it manages it with the park next to it in 2016.
Please cooperate us to keep the important historic site.
平成28年(2016)6月 東京都教育委員会
江戸川区教育委員会
一之江名主屋敷長屋門前案内板より
Yashikirin (the woods around the residence)
These woods are windbreak forests and they produce many branches and leaves as to be fuel and manure.
The woods were recreated to keep light in the woods with deciduous trees to revive the traditional style of the woods in 1999. The woods also protect a shrine of a guardian deity dedicated in the northwestern corner of it, the approach road was rebuilt in accordance to the folklore.
The Protected Woods by Edogawaku
There are several protected woods registered by Edogawaku and they are carefully looked after.
The List of the Protected Woods
The 3 Zelkova Trees (the registered number from 291 to 293)
The 1 Gingko Tree (the registered number 294)
The 1 Chinese Hackberry (the registered number 295)
江戸川区教育委員会
一之江名主屋敷庭園内案内板より
引用・抜粋並び参考
一之江名主屋敷長屋門前案内板
一之江名主屋敷庭園内案内板
江戸川区ホームページ
---
Ichinoe Nanushi Yashiki (the residence of the village head in Ichinoe)
---
---
Ichinoe Nanushi Yashiki has great accessibilities from both Narita and Haneda International Airport.
From Narita International Airport, take Sobu Express Line bound to Tokyo or Yokosuka and get off at Funabashi Sta, then transfer the line to Sobu line bound to Nakano or Mitaka ang get off at Motoyawata Sta. Or take Keisei-line bound to Ueno and get off Keisei Yawata Sta. Both from Motoyawata Sta and Keisei Yawata Sta, transfer the line to Toei Shinjuku line and get off at Mizue Sta.
From Haneda International Airport, take Keikyu-line bound to Narita, and get off Shinagawa Sta and transfer the line to Sobu Express line bound to Narita International Airport or Chiba, and transfer the line at Ichikawa Sta to Sob line bound to Nishi Funabashi, Tsudanuma or Chiba and get off at Motoyawata Sta. Or take Keikyu-line bound to Narita, and get off Keisei Yawata Sta. Both from Motoyawata Sta and Keisei Yawata Sta, transfer the line to Toei Shinjuku line and get off at Mizue Sta.
From Iwamotocho Station at Akihabara, take Toei Shijuku line bound to Motoyawata and get off Mizue Sta.
Take 16 minute walk from Mizue Sta.
2-21-20 Harue, Edogawaku, Tokyo
The Noted Spots around Funabori, Ichinoe and Kasai
---
---
---
---
---
---
---
---
---