Honkosan Joryuji Temple tells the History of Ichinoe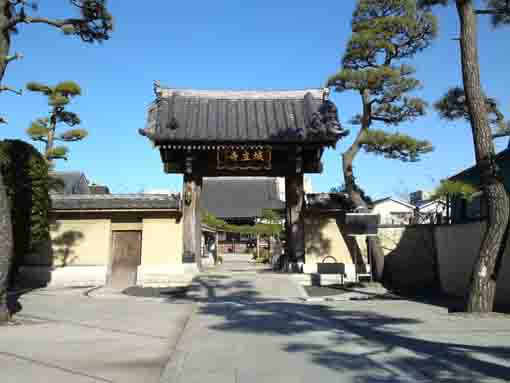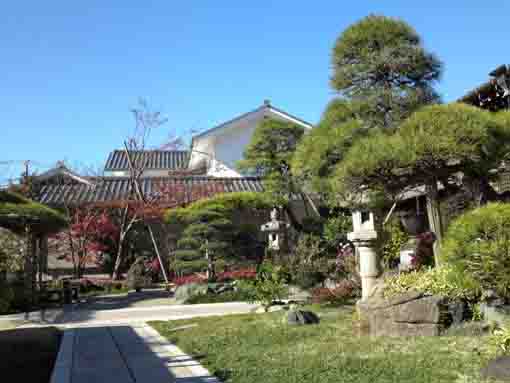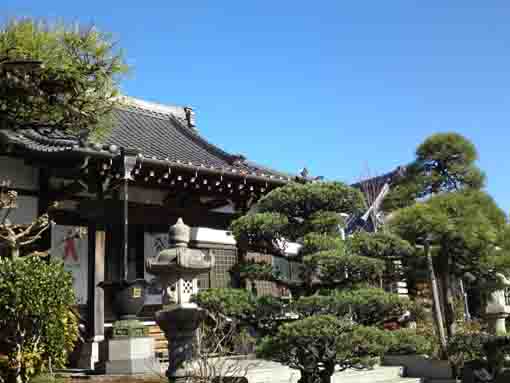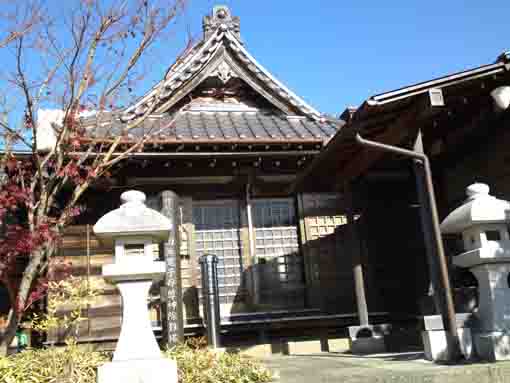 ---
Honkosan Joryuji Temple
was built by
Zusho Tajima
who had cultivated Ichinoe in
Edo period
, and it is very beautiful temple with many green pine trees that tells the history of this area. In addition, it is good for visitors to know the history deeply when they visit
Ichinoe Nanushi Yashiki Residence
at the same time since Tajima Family had lived it. Moreover, it is said that the statue of
Kishimojin
dedicated in Kishimojindo Hall in Joryuji temple was carved by Denkyo Daishi.
Why don't you visit Honkosan Joryuji Temple?
---
Honkosan Joryuji Temple
Honkosan Joryuji Temple
Joryuji Temple was built in 1628 by Zusho Tajima who had cultivated this area, it was named Honkosan Joryuji Temple belonging to
Nichiren Sect
. It is a branch temple of Hondoji Temple in Hiraga,
Matsudo-shi
,
Chiba-ken
. Moreover, there is a hall dedicating the statue of Kishimojin in the temple.
Zusho Tajima was a settler who cultivated Ichinoe and he was the ancestor of Tajima Family having lived in Ichinoe Nanushi Yashiki. According to the orally handed down family history, Zusho was a retainer of
Toyotomi Clan
and his name was Morishige Zusho Hotta at that time. After the battle at Sekigahara in 1600, he lost the battle and escaped from the battlefield. At last, he reached at Osugi in Nishi Ichinoe Village and he stayed at Shobei Tajima's house. He changed his neme Hidetake Zusho Tajima and he worked hard cultivating the land in Ichinoe. Therefore, he became the pioneer of Ichinoe. Zusho became a Buddhist named Shozenin Nichikei and he built Joryuji Temple. In December 25th of1662, he passed away. His grave is in the central part of the graveyard behind the statue of the seated Shaka Nyorai, the grave stone looks like putting on a cone-shaped hat was scribed his Buddhist name 'Myo Ho Sho Zen In Nichikei' on.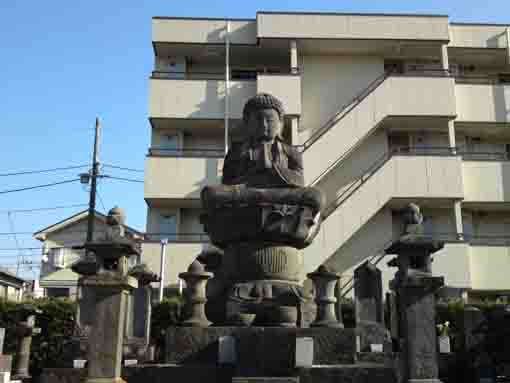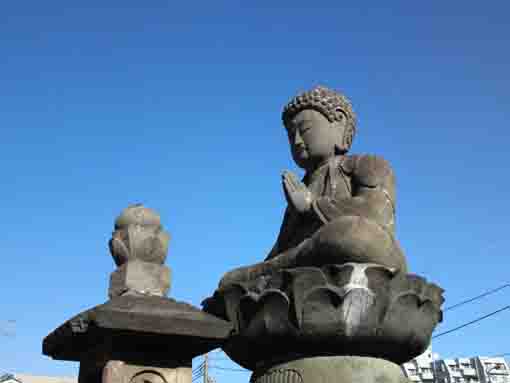 ---
It was produced by a carpenter Sanzaemon in 1673. It was 3 meters tall stone statue include the height of its pedestal. It was carved on a stone. According to phrases carved on the pedestal, it was donated by Shigenobu Hachibeinojo Tajima for his ansestors and people in the world gaining the divine favor of Buddha. It is a sculpture of fine workmanship and it looks expressive.
昭和63年3月
江戸川区教育委員会
本高山城立寺門前案内板より
引用、抜粋並びに参考
本高山城立寺門前案内板
本高山城立寺鬼子母神堂前案内板
江戸川区ホームページ
ウィッキペデイァ
---
---
Honkosan Joryuji Temple
---
---
Honkosan Joryuji Temple has great accessibilities from both Narita and Haneda International Airport.
From Narita International Airport, take Sobu Express Line bound to Tokyo or Yokosuka and get off at Funabashi Sta, then transfer the line to Sobu line bound to Nakano or Mitaka ang get off at Motoyawata Sta. Or take Keisei-line bound to Ueno and get off Keisei Yawata Sta. Both from Motoyawata Sta and Keisei Yawata Sta, transfer the line to Toei Shinjuku line and get off at Mizue Sta.
From Haneda International Airport, take Keikyu-line bound to Narita, and get off Shinagawa Sta and transfer the line to Sobu Express line bound to Narita International Airport or Chiba, and transfer the line at Ichikawa Sta to Sob line bound to Nishi Funabashi, Tsudanuma or Chiba and get off at Motoyawata Sta. Or take Keikyu-line bound to Narita, and get off Keisei Yawata Sta. Both from Motoyawata Sta and Keisei Yawata Sta, transfer the line to Toei Shinjuku line and get off at Mizue Sta.
From Iwamotocho Station at Akihabara, take Toei Shijuku line bound to Motoyawata and get off Mizue Sta.
Take 13 minute walk from Mizue Sta.
2-39-28 Harue, Edogawaku, Tokyo
The Noted Spots around Funabori, Ichinoe and Kasai
---
---
---
---
---
---
---
---
---