Kaishosan Fumonin Rengeji Temple in Ninoe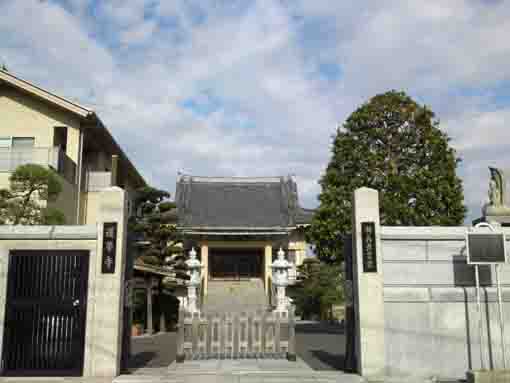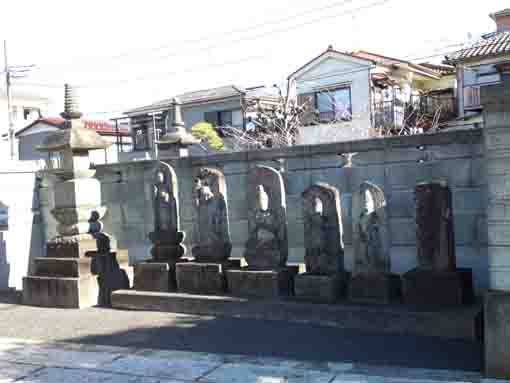 ---
Kaishosan Fumonin Rengeji Temple
standing beside
Furukawa Water Park
in
Edogawaku
is an old temple belonging to
Shigi Shingonshu
. Its principle image is the statue of Sho Kanzeon Bosatsu carved by
Gyoki
.
Gyoki
was a great Buddhism priest living in Nara Period who worked for building the Great Buddha in Nara and Kokubunji Temples throughout Japan. When he come to Kokubun in
Ichikawa City
to build
Shimousa Kokubunji Temple
and
Kokubunniji Nun
, he visited Ninoe where Rengeji Temple is standing now. There are several temples connecting to Gyoki in this area where had been called 'Katsushikagun Shimousa'. And this tells that Furukwa River had been a waterway to carry people and products since
Nara period
. Moreover, the statue of Fudomyouo has been famous for having miracle power that removes child's sensitiveness.
Why don't you visit Kaishosan Fumonin Rengeji Temple?
---
Kaishosan Fumonin Rengeji Temple
Kaishosan Fumonin Rengeji Temple
Rengeji Temple belonging to
Shingi Shingonshu
was named Kaishozan Fumonin and its principle image is Sho Kanzeon Bosatsu that is said to be carved by
Gyoki
.
According to the record of Rengeji Temple, there was a Kannondo Hall here and villagers near the hall had believed it. After he traveled through Japan with a statue of Fudomyouo on his back, Eigen Hoin settled in the hall in 1483, and the villagers supported him to build a hall and they called it Rengeji Temple. This is the beginning of this temple.
The buildings in Rengeji Temple had been destroyed by several disasters such as the tsunami in 1917 and the earthquakes in 1855 and 1923. The main hall was completed in 1972.
■ Fudomyouo Relieving Child's Sensitiveness
The statue of Fudomyouo is dedicated in the main hall. This sculpture has been believed by many people for several decades that Fudomyouo had any miracle power to relieve child's sensitiveness.
March 2003
Edogawaku Board of Edocation
海照山普門院蓮華寺門前案内板より
引用、抜粋並びに参考
海照山普門院蓮華寺門前案内板
江戸川区ホームページ
市川市ホームページ
ウィッキペデイァ
---
Landmarks near Kaishosan Fumonin Rengeji Temple
---
---
---
---
Kaishosan Fumonin Rengeji Temple
Kaishosan Fumonin Rengeji Temple has great accessibilities from both Narita and Haneda International Airport.
From Narita International Airport, take Sobu Express Line bound to Tokyo or Yokosuka and get off at Funabashi Sta, then transfer the line to Sobu line bound to Nakano or Mitaka ang get off at Motoyawata Sta. Or take Keisei-line bound to Ueno and get off Keisei Yawata Sta. Both from Motoyawata Sta and Keisei Yawata Sta, transfer the line to Toei Shinjuku line and get off at Ichinoe Sta.
From Haneda International Airport, take Keikyu-line bound to Narita, and get off Shinagawa Sta and transfer the line to Sobu Express line bound to Narita International Airport or Chiba, and transfer the line at Ichikawa Sta to Sob line bound to Nishi Funabashi, Tsudanuma or Chiba and get off at Motoyawata Sta. Or take Keikyu-line bound to Narita, and get off Keisei Yawata Sta. Both from Motoyawata Sta and Keisei Yawata Sta, transfer the line to Toei Shinjuku line and get off at Ichinoe Sta.
From Iwamotocho Station at Akihabara, take Toei Shijuku line bound to Motoyawata and get off Ichinoe Sta.
Take 11 minute walk from Ichinoe Sta.
6-5-11 Edogawa, Edogawaku, Tokyo
The Noted Spots around Funabori, Ichinoe and Kasai
---
---
---
---
---
---
---
---
---