Iousan Fudoin Myouonji Temple in Ichinoe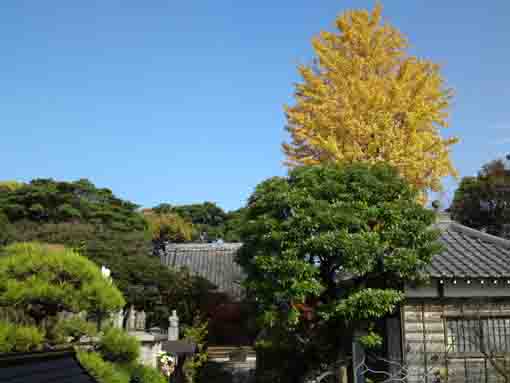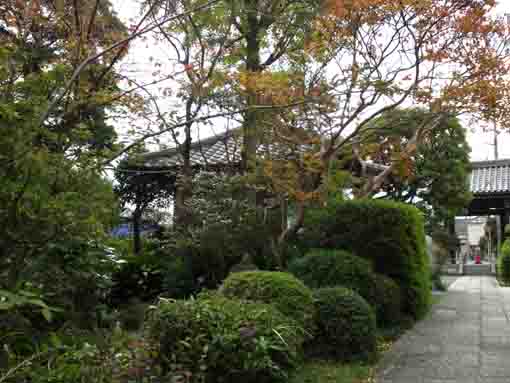 ---
Iousan Fudoin Myouonji Temple
in Ichinoe introduced in
Edo Meisho Zue
(a guide book described many landmarks in
Edo
in
Edo period
) standing in the residential area near Ichinoe Sakaigawa Shinsui Koen Park is one of the oldest temples in
Edogawaku
. The statue of Yakushi Nyorai dedicated in this temple has a legend called 'The One-eyed Crucian Carps' has told its miracle power to cure eye diseases. The pond that the carps had swum was buried, but the Yakushi Nyorai is being dedicated in Yakushido hall now and people visit and pray for it to cure their diseases. There are some seasonal flowers planted in the small garden in it, bletillas blooming like a purple carpet on the garden in early summer are especially beautiful. Moreover, Iousan Fudoin Myouonji Temple tells the history of this area. Why don't you visit Myouonji Temple?
---
Iousan Fudoin Myouonji Temple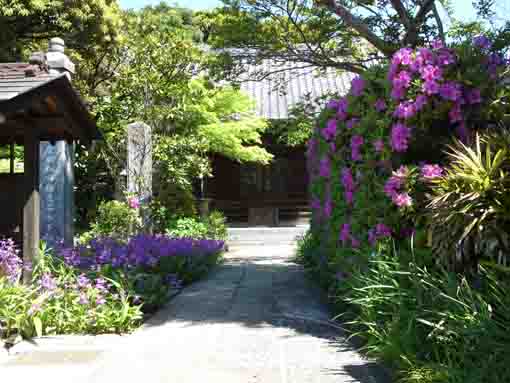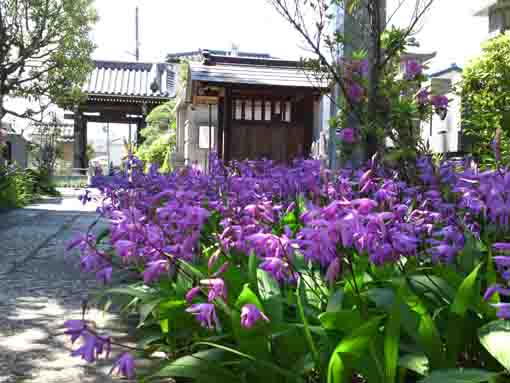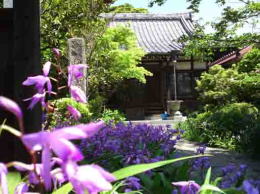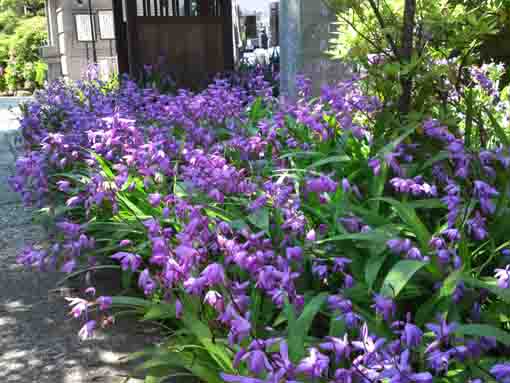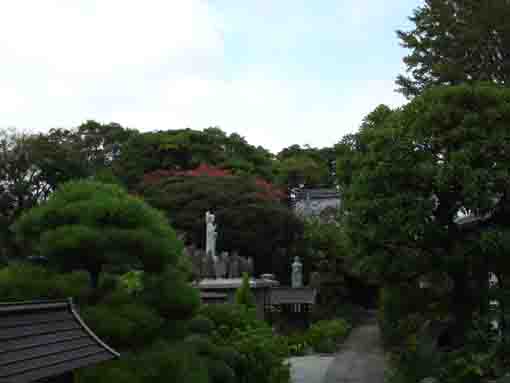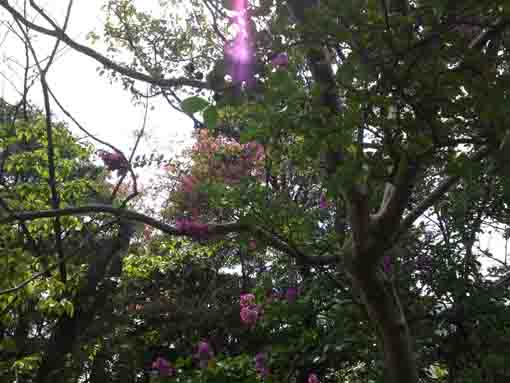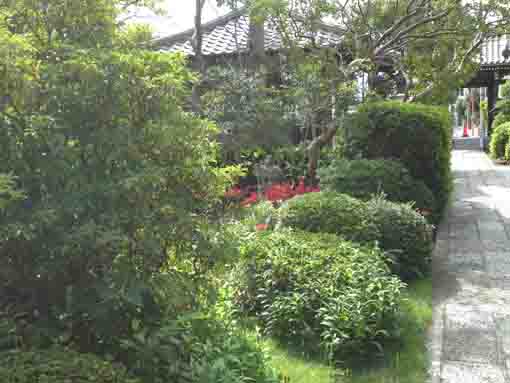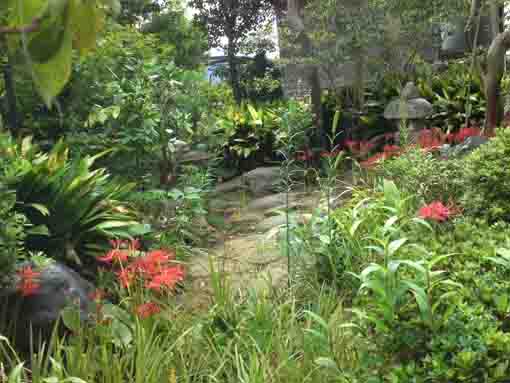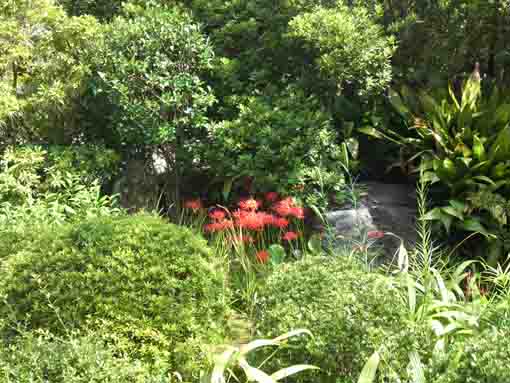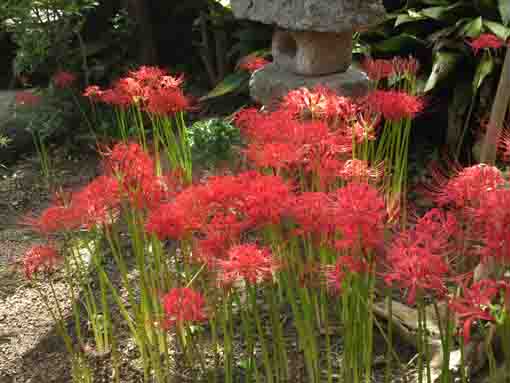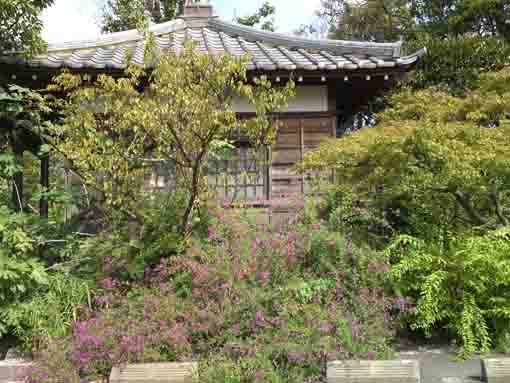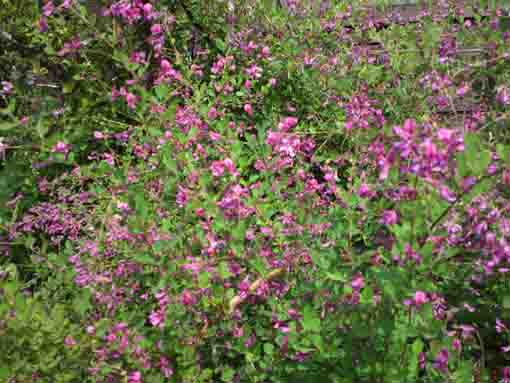 ---
Iousan Myouonji is decorated with flower and blossoms in every season. Blettila and azalea blossoms paint violet on the site in early summer, old red crape myrtle blossoms bloom in summer, and red spider lilies and bush clovers colored it in the beginning of fall. Of course, ume and sakura bloom in spring.
---
Iousan Fudoin Myouonji Temple
Myouonji Temple
Myouonji Temple was named Iousan Fudoin that blongs to
Shingon Shu
Buzanha
in Buddhism. It is said that the venerable Shuei built it in 1190, and it was described in Edo Meisho Zue (a guide book described some spots in Edo in Edo period) so Myouonji Temple is one of the oldest temples in Edogawaku. Later, the venerable Shuyo (? - 1575) and Daiku Hoin (? - 1780) rebuilt the temple in each. The principle image of Myouonji Temple is the wooden statue of Juichimen Kannon Ryuzou (a standing Kannon having eleven faces) carved in
Momoyama period
. And the statue of Yakushi Nyorai carved by Kashuga Busshi is also dedicated in it. Moreover, several stone tablets inscribed in
Nanbokucho
period has been discovered in the site.
The Wooden Statues of Three Buddhas as the cultural assets registered by Edogawaku in March 2006
The three statues are standing on the side of the main hall of Iousan Fudoin Myouonji Temple. Amida Nyorai is standing the middle of them and it was a skillfull work carved in the early ages in
Kamakura Period
. And Kannon and Seishi Bosatsus standing the both sides are created it to add in Nanbokucho period.
Once upon a time, a blind girl lived in Ichinoe village. The girl wanted to see the world, so she offered prayers at the statue of Yakushi Nyorai to cure so she went on fast and prayed for it for 21 days. At the last day of the fast, her prayer was answered. She found that she could see. She released many crucian carps into the pond in front of the Yakushi Nyorai as her rewards. However, the carps became one-eyed.
March 2008平成20年3月
Edogawaku Board of Education
医王山不動院妙音寺門前案内板より
引用、抜粋並びに参考
医王山不動院妙音寺門前案内板
江戸川区ホームページ
---
The Landmarks near Iousan Fudoin Myouonji Temple
---
Iousan Fudoin Myouonji Temple
---
---
Iousan Fudoin Myouonji Temple has great accessibilities from both Narita and Haneda International Airport.
From Narita International Airport, take Sobu Express Line bound to Tokyo or Yokosuka and get off at Funabashi Sta, then transfer the line to Sobu line bound to Nakano or Mitaka ang get off at Motoyawata Sta. Or take Keisei-line bound to Ueno and get off Keisei Yawata Sta. Both from Motoyawata Sta and Keisei Yawata Sta, transfer the line to Toei Shinjuku line and get off at Ichinoe Sta.
From Haneda International Airport, take Keikyu-line bound to Narita, and get off Shinagawa Sta and transfer the line to Sobu Express line bound to Narita International Airport or Chiba, and transfer the line at Ichikawa Sta to Sob line bound to Nishi Funabashi, Tsudanuma or Chiba and get off at Motoyawata Sta. Or take Keikyu-line bound to Narita, and get off Keisei Yawata Sta. Both from Motoyawata Sta and Keisei Yawata Sta, transfer the line to Toei Shinjuku line and get off at Ichinoe Sta.
From Iwamotocho Station at Akihabara, take Toei Shijuku line bound to Motoyawata and get off Ichinoe Sta.
Take 11 minute walk from Ichinoe Sta.
5-8-20 Ichinoe, Edogawaku, Tokyo
The Noted Spots around Funabori, Ichinoe and Kasai
---
---
---
---
---
---
---
---