Shotoku Taishido Hall in Hirata Ichikawa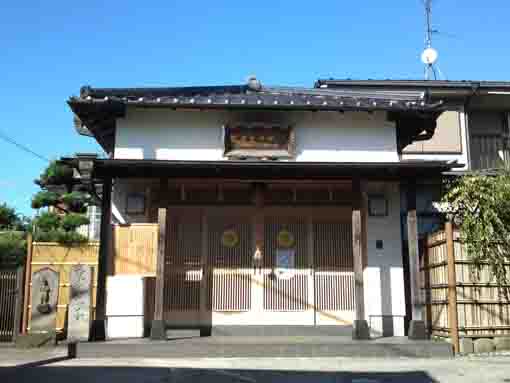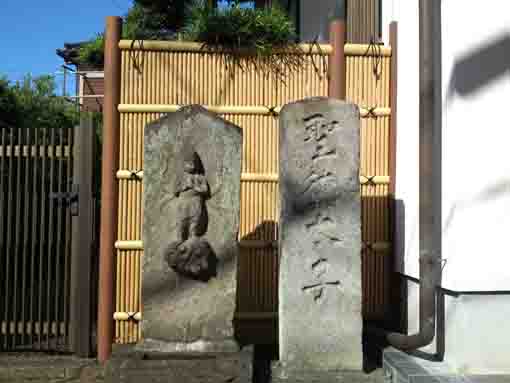 ---
Shotoku Taishido Hall in Hirata is an annex hall of Younji Temple standing on the right of the approach road of
Nakayama Hokekyoji Temple
. The history of this hall might be very long, there has been little specific records of it, but it could be here in early
Edo period
. According to Katsushika Shi Ryaku (a local guide book describing Katsushika Area in Edo period), the statue of Yakushi Nyorai dedicated in
Choshoji Temple in Gyotoku
that is said to be carved by
Shotoku Taishi
(the Crown Prince Shotoku) had been in Hirata originally, but Matsubara Awaji no Kami, the lord of the area believed in this sculpture and he built Eishoji Temple in Owada next to Hirata to dedicate it. Later, the temple was lost, and it was moved to Choshoji in 1661. (Now, the book also say that Eishoji was built by Matsudaira Sanuki no Kami in Tenbun Era from 1532 to 1554.) There are no temples in Hirata area, this Shotoku Taishido is a small hall that tells the history that people living in this area has believed in Shotoku Taishi for a long time ago. Why don't you visit it?
---
Hirata Shotoku Taishido
The History of Hirata Shotoku Taishido (the annex of Younji Temple)
Shotoku Taishido in Hirata was actually on an old map printed in 1806 so it had been here before. There are some letters on the memorial tablet of Shotoku Taishi is dedicated in this hall.
Right: The 14 members in Hirata belonging to the group of Koshin
Left: By Shirobei in September 13th of 1658
It shows this stone sculpture of Shotoku Taishi is the oldest one in Chiba prifecture. And the Koshinto standing on the left has been there since then. So they tells the group of Koshin had formed before. This hall was rebuilt to preserve this precious sculpture by special support by many people in 1993.
---
'KO' is a group of people who have the same belief and live in the close area to work together to their life better, so there are many 'ko' in Japan.
Taishiko is dedicating Shotoku Taishi (the prince Shotoku) as the pioneer of the building Temples, therefore, the builders and architects believe him as the god to help them to polish their skills and to avoid some accidents in their works. Moreover, the Ko is the meeting, so they use it to promote their friendship. In 1993, Hirata Shotoku Taishiko was founded again by the people who had supported to rebuilt Hirata Shotoku Taishido Hall. The ko is held in January, February, May and September and the grand festival is held in October every year. And the ko members all wish to people's life to be better and Hirata area to promote.
In February 2017
Younji Temple in Nakayama belonging to Nichirenshu
平田聖徳太子堂前案内板より
---
Shotoku Taishi (574 - 622)
Shotoku Taishi is one of the most famous and popular heroes in the history of Japan. He was a politician in Asuka Period. He was a son of the 31st Emperor Yomei, he is also called Umayado no Oji (the prince Umayado), Toyotomimi no Oji (the prince Toyotomimi) and Jogu Taishi (the Crown Prince Jogu). In 563, he became a regent of the 33rd Empress Suiko, his aunt, and he worked with Umako Soga, the powerful lord, to established the first constitution of Japan including 17 articles (Japanese call Ju Nanajo Kenpo) and the 12 official ranks. He played active parts in foreign affairs with China and edited the National History Book (now lost). He supported Buddhism and he built Shitennoji, Horyuji and Chuguji Temple. He wrote a sutra 'Sankyogisho' by himself. And in his constitution, he said 'harmony among people is the most important', most Japanese know and believe it.
引用、抜粋並び参考文献
平田聖徳太子堂前案内板
紀元二千六百年記念. 第6卷 地誌其一 葛飾誌略
新制版 日本史辞典 研数出版
日本世界 人名辞典 日東書院
---
Shotoku Taishido (the Prince Shotoku) in Hirata
---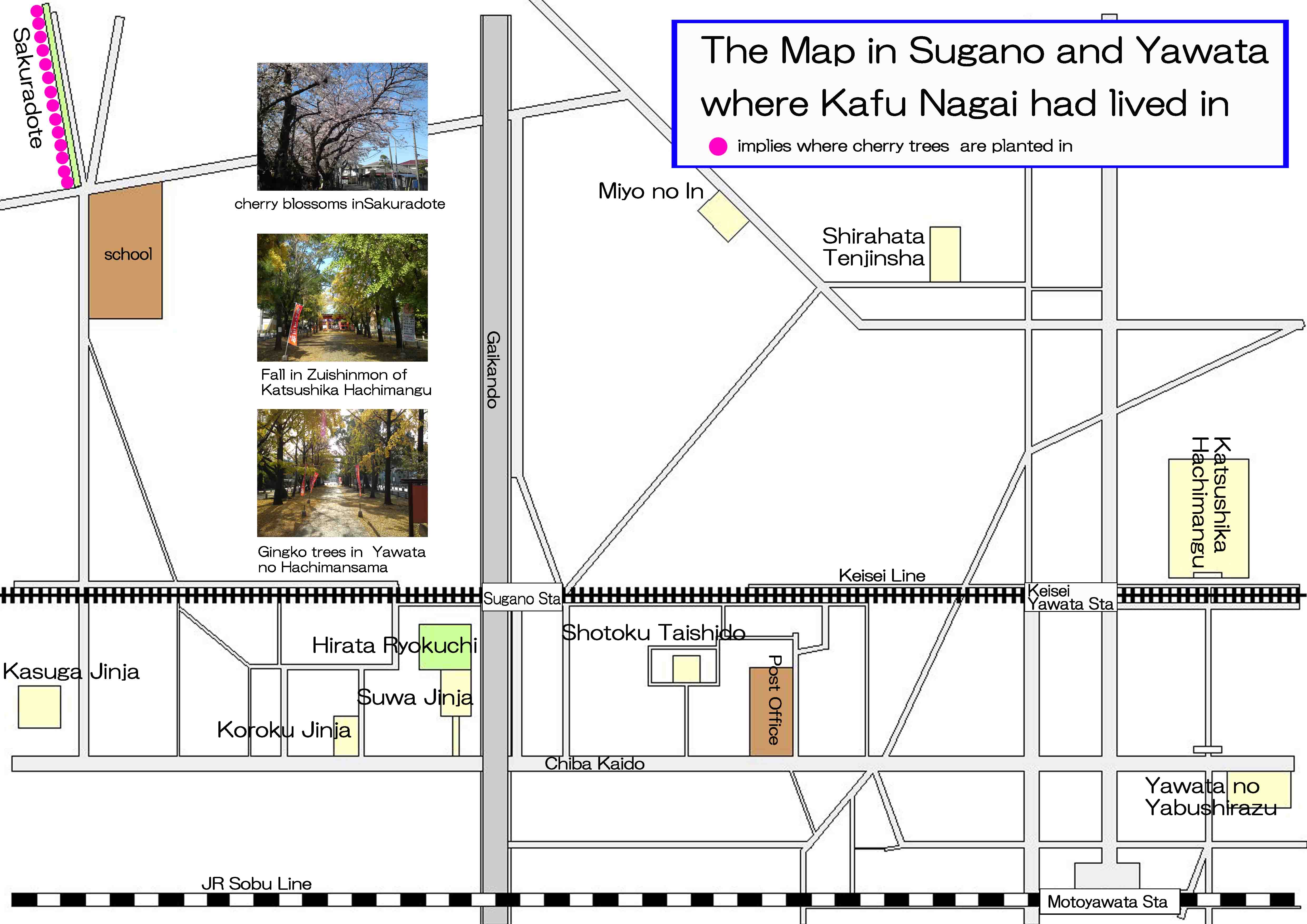 ---
Shotoku Taishido Hall has great accessibilities from both Narita and Haneda International Airport.
From Narita International Airport, take Keisei-line and get off Keisei Yawata or Sugano Sta, take minimally 45 minutes from Narita Airport. And also take JR Sobu-express line, transfer the line at Funabashi to Sobu line bound to Nakano or Mitaka, get off at Moto Yawata Sta.
From Haneda International Airport, take Keikyu-line bound to Narita, and get off Sugano or Keisei Yawata Sta.
Take 11 minutes walks from Moto Yawata Sta, take 10 minutes walk from Keisei Yawata Sta or take 6 minutes walk from Sugano Sta.
2-5-16 Hirata Ichikawa-shi Chiba-ken
Landmarks and Spots in Hirata and Shinden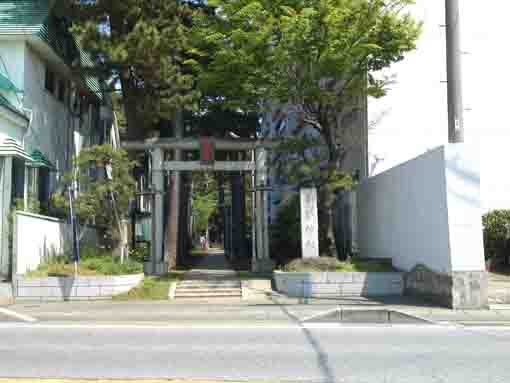 It appears on Kafu Nagai's Diary and shows the ancient landscapes of Ichikawa City.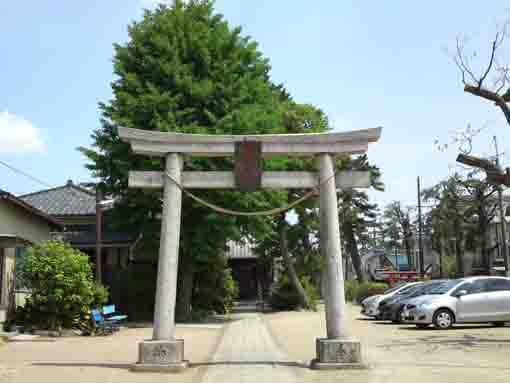 Kafu Nagai described the shrine.
---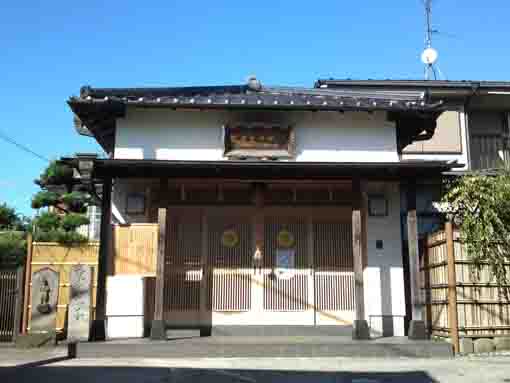 Shotoku Taishido Hall in Hirata
It tells the local history and belief of Shotoku Taishi in Hirata.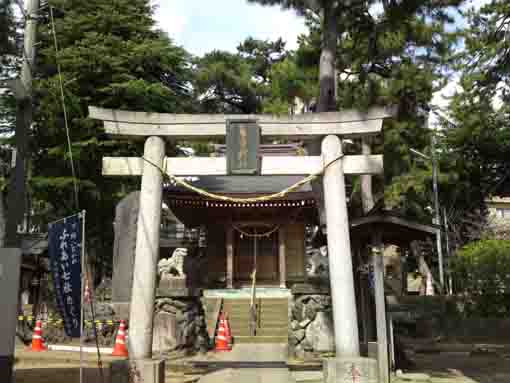 It has many cherry, black pine and Neagari no Matsu trees.
---