Daikokusan Jofukuji Temple in Kamiisshiki Edogawaku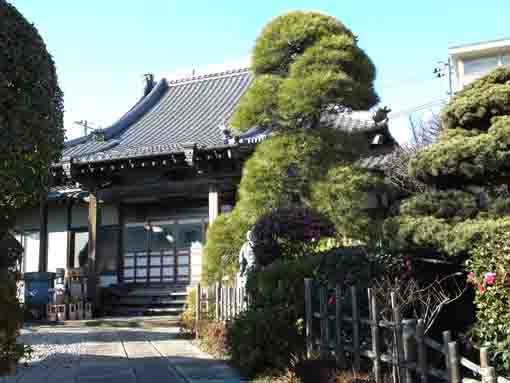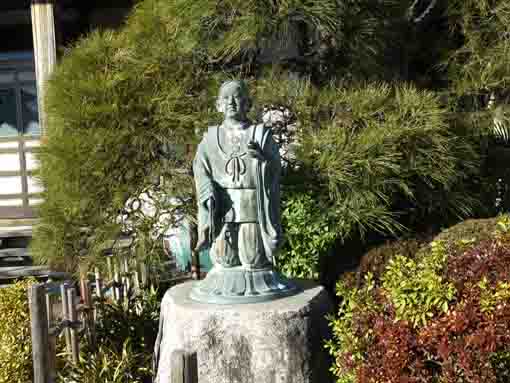 ---
Daikokusan Jofukuji Temple
standing in a quiet residential area near the west bank of
Shinnakagawa River
in Kamiisshiki
Edogawaku
belongs to
Nichirenshu
. Daikokusan was named after a picture of
Daikokuten
in it that is said to be written by the Founder
Nichiren
. There is a statue of Nichiren in his boyhood in front of the main hall, it looks like welcoming visitors gently. Why don't you visit Daikokusan Jofukuji Temple?
---
Jofukuji Temple
Jofukuji Temple
Jofukuji belongs to Nichirenshu in Buddhism and is named Daikokusan. It was a blanch temple of
Nakayama Hokekyoji Temple
.
This temple was built in 1626 by Kakujuin Nichiryo that he dedicated a picture of Daikokuten to propagate the thoughts of Nichiren to support people's happiness.
This picture is said that the Founder Nichiren had drawn and given it to his supporter a boatman Sasuke in 1264.
The principle image is a large mandula (the woodenstatues of a tower, Shakamunibutsu, Taho Nyorai, and 4 Bosatsus, Jogyo,Muhengyo, Jogyo and Anryugyo Bosatsu), and the statue of the Founder Nichiren, a wooden Juichimen Kannon (a eleven faced kannon),
Jurasetsunyo
and Sanjubanshin are dedicated.
This temple had had much damage by the earthquake in 1855 and the typhoon in 1856, then the main hall had been temporary for a long time. In 1930, the 26th chief priest, the venerable Taizenin Nichijo built the main hall and rebuilt other buildings in it.
■ The Memorial Tower for visiting thousands of temples built in 1768
■ The Memorial Tower for visiting 3232 temples in 1804, the temples all belong to Nichirenshu including Minobusan Kuonji Temple.
March 2003
Edogawaku Board of Education
大黒山常福寺門前案内板より
引用・抜粋ならび参考文献
大黒山常福寺門前案内板
新編武蔵風土記稿
Daikokusan Jofukuji Temple
---
Daikokusan Jofukuji Temple has great accessibilities from both Narita and Haneda International Airport.
From Narita International Airport, take Sobu Express Line bound to Tokyo or Yokosuka and get off at Ichikawa Sta. Or take Keisei-line bound to Ueno and get off Funabashi Sta,transfer the line to JR Sobu line and get off Koiwa Sta.
From Haneda International Airport, take Keikyu-line bound to Narita, and get off Shinagawa Sta and transfer the line to Sobu Express line bound to Narita International Airport or Chiba, and get off Shinkoiwa Sta and transfer the line to Sobu line to bound to Nishifunabashi, Chiba or Tsudanuma and get off at Koiwa Sta.
From Akihabara Station, take Sobu line bound to Nishi Funabashi, Tsudanuma or Chiba and get off Koiwa Sta. It takes only 22 minutes.
Take 12 minute walk from Koiwa Sta.
3-21-12 Kamiisshiki, Edogawaku, Tokyo
---
The statues of the Founder Nichiren in Nakayama Shimousa
---
---
---
---
---
---
---