Kokyusan Renkoin Kannouji Temple in Ichinoe Edogawa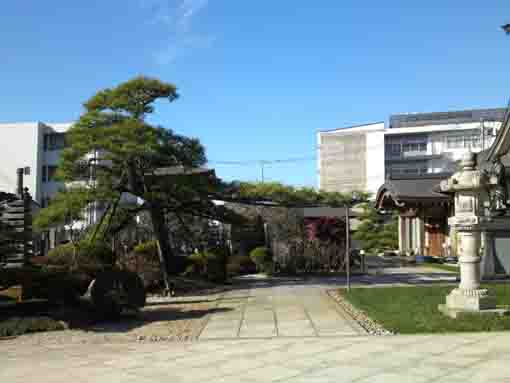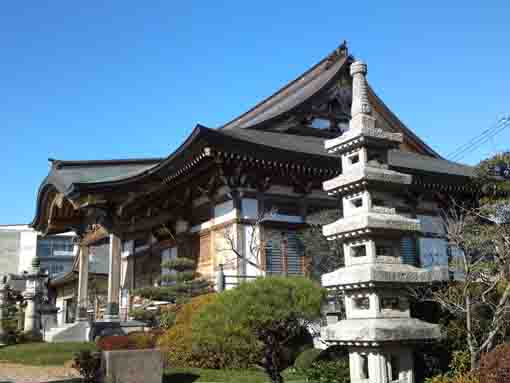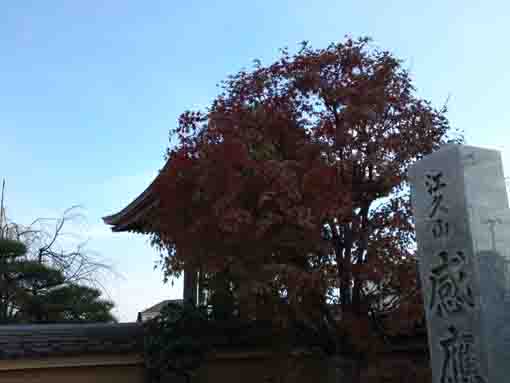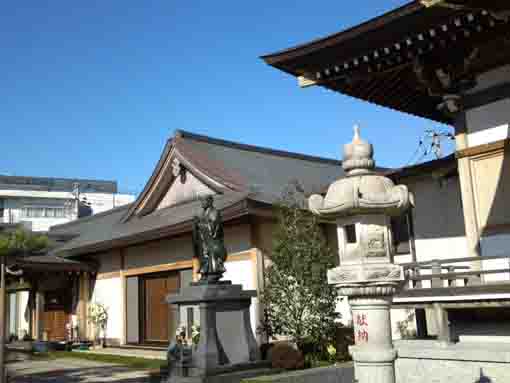 ---
Kokyusan Kannouji Temple
in Ichinoe belonging to
Nichirenshu
was built in early
Kamakura Period
. The bell hanging on the bell tower was cast by a Masatsugu Ota who cast the bells in Sensoji in
Asakusa
and Gotokuji in Setagayaku, too. According to Shinpen Musashi Fudokiko (a geographic guide book describing
Musashi province
in
Edo period
), this temple was a blanch temple of
Nakayama Hokekyoji Temple
, and the statue of the founder
Nichiren
dedicated in the main hall was carved by the venerable Nisshin. The garden in it is well arranged. Why don't you visit Kokyusan Kannouji Temple?
---
Kannouji Temple
Kannouji Temple
Kannouji Temple belongs to Nichirenshu and it is also called Renkoin. It was built in 1205 by Kunen, at his time, the beginning of this temple belonged to Shingonshu, but it was changed to Nichirenshu in 1288 by the venerable Sanmi Nisshin after discussions about Buddhism. There were two blanch temples, Renmeibo and Zerinbo. The principle image of this temple is the wooden statues of a tower, Shakamunibutsu, Taho Nyorai, and 4 Bosatsus, Jogyo, Muhengyo, Jogyo and Anryugyo Bosatsu.
■The Bell in Kannouji Temple
The cultural asset of a craft registered by Edogawaku in February 1982
It was cast in 1698 by Masatsugu Fujiwara, the master of craft men in Edo period. It was known as a beautiful bell at that time. This bell is a beautiful product in Genroku era.
■Fudekozuka (monuments for brushes to writing) for Kenshoin Nichize
The cultural asset of historical records registered by Edogawaku in February 1989
Nichize opened writing school in.Zerinbo, one of the blanch temples of Kannouji. On the side of his grave stone, there are some Chinese letters 'Fudeko chu (the writing school)' and on the opposite side, 'Yume no yo ya, niju yo nen wo tuki no tsuyu (in the world in my dream, 20 years are like dews of the moon)'.
December 2002
Edogawaku Board of Education
江久山感応寺門前案内板より
引用・抜粋ならび参考文献
江久山感応寺門前案内板
江久山感応寺ホームページ
新編武蔵風土記稿
江戸川区ホームページ
台東区ホームページ
世田谷区ホームページ
Kokyusan Kannouji Temple
---
---
Kokyusan Kannouji Temple has great accessibilities from both Narita and Haneda International Airport.
From Narita International Airport, take Sobu Express Line bound to Tokyo or Yokosuka and get off at Funabashi Sta, then transfer the line to Sobu line bound to Nakano or Mitaka ang get off at Motoyawata Sta. Or take Keisei-line bound to Ueno and get off Keisei Yawata Sta. Both from Motoyawata Sta and Keisei Yawata Sta, transfer the line to Toei Shinjuku line and get off at Ichinoe Sta.
From Haneda International Airport, take Keikyu-line bound to Narita, and get off Shinagawa Sta and transfer the line to Sobu Express line bound to Narita International Airport or Chiba, and transfer the line at Ichikawa Sta to Sob line bound to Nishi Funabashi, Tsudanuma or Chiba and get off at Motoyawata Sta. Or take Keikyu-line bound to Narita, and get off Keisei Yawata Sta. Both from Motoyawata Sta and Keisei Yawata Sta, transfer the line to Toei Shinjuku line and get off at Ichinoe Sta.
From Iwamotocho Station at Akihabara, take Toei Shijuku line bound to Motoyawata and get off Ichinoe Sta.
Take 10 minute walk from Ichinoe Sta.
7-23-11 Ichinoe, Edogawaku, Tokyo
---
The statues of the Founder Nichiren in Nakayama Shimousa
---
---
---
---
---
---
---
/