Teramachi and Takumibori in Gyotoku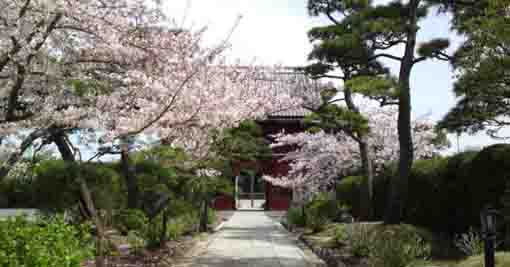 ---
There is a saying 'There are 100 temples in 1000 houses' in Gyotoku area,
Teramachi
Street is the symbol of Gyotoku, there are some temples along it. The street called
Teramachidori Street
stretches out from east to west on the way between Gongenmichi Road,
Ieyasu Tokugawa
built to go hunting, and Naritamichi Road. Along the street, Tokuganji Temple having some legends of the strongest samurai worrier
Musashi Miyamoto
, Jounji having some legends, Hozenji having a stone tablet scribing a
haiku poem
of
Basho Matsuo
, Choshozenji Temple with beautiful flowers and green garden, Myouoji Temple with statues of seven deities of good luck and Myochoji Temple with a 200 years old crape myrtle stand.
Now There is an underdrain called Takumibori Canal or Jotenbori Canal crosses Teramachi Street at right angles. It is an irrigation canal that was built to bring much fresh water to Gyotoku and
Urayasu
stably, it is about 12 km long from Michinobe in
Kamagaya city
through Yawata to Urayasu.
Joten Kano
settled in Kakemama in Gyotoku in 1590 and
Takumi Tanaka
worked together to build the irrigation canal in 1620. So the canal is called 'Takumibori' or 'Jotenbori' after them. Complete building the canal, over 10,000 kokus (1,500 tons) of rice could grow in Gyotoku and Urayasu area. Recently, these areas are urbanized, the farm lands are disappeared around the canal so the original functions as the irrigation canal ended, it became the underdrain to bring rainwater to the sea.
Teramachi Street is much alike to the saying 'There are 100 temples in 1000 houses' and it is also a good course for a walk to find the history of Gyotoku.
---
The Noted Spots along Gyotoku Teramachi and Takumibori
---
---
---