A Walk on the Road Musashi Miyamoto and Iori Ran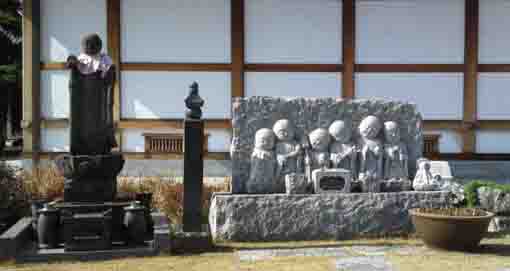 ---
Fujiwara in
Funabashi city
where Fujiwara Kannondo Hall that is the extra temple of the 33 pilgrimage in Gyotoku and Urayasu stands at was the place where the greatest samurai worrier
Musashi Miyamoto
and his son Iori first met at.
According to legends,
Musashi Miyamoto
first met
Iori
on the way to Edo at Fujiwara after his travel around Ouu region (Tohoku). When Musashi was passing through Kioroshikaido Highway (Kashimakaido), he met a lonely boy Iori who had left his father slightly before. Then Musashi cultivated the land at Fujiwara with Iori as his train.
This land at Fujiwara was held by Tokuganji Temple in Gyotoku. Tokuganji carefully preserves some letters written by and a picture of Dharma painted by Musashi. And also the Stone Jizo for the Consolation of him.
Nobody knows whether these stories of their meeting and cultivating the land was real or not, it might be the fact that Musashi Miyamoto visited Tokuganji Temple. Both Mushashi and Iori might run the way from Fujiwara Kannondo Hall to Tokuganji Temple several times.
What sight Musashi and Iori had seen on the way? It is a very exciting and wonderful road to go for a walk.
Now it takes only 1 hour from Tokuganji Temple to Fujiwara Kannondo Hall by trains. However, Musashi and Iori walked the way at that time, so you could see what they had seen along it if you go it on foot. First you go down Kioroshikaido, then go on Chibakaido to the east, and go down Coltondori Street to the south, then you cross Gyotokubashi Bridge. You could take on a bus from Chiba Museum of Science and Industry, then take it off at Myoden Sanchome (Tokuganji Temple).
Why don't you walk on the road
Musashi and Iori
ran?
The Noted Places on the Road Musahsi and Iori Ran
---
---
---
---
---
---
---