The Prefectural Map Of Japan
The picture below shows you the locations of prefectures in Japan, they are very important to view this site, and of course it is very useful when you study and visit Japan.
Japan is divided into 47 prefectures, so there are 47 local governments in Japan. And Japanese peaple call them 47 To-Dou-Fu-Ken, it means that they have one To, one Do, two Fus and 43 Kens in Japan. To is Tokyo-To, Do is Hokkai-do, Fus are Kyoto-Fu and Osaka-Fu and other 43 prefectures are Kens.
Moreover Japan is divided intow 10 regions; Hokkaido, Tohoku, Kanto, Koshin-Hokuriku, Tokai, Kinki, Chugoku, Shikoku, Kyushu, so the 47 prefectures basically put together neighbours in each region.
Please check their locations of each prefectures by the maps below, the each number on map is equal to the numbers before each prefectural names. Please check them up.
Hokkai-do
1. Hokkai-do
Tohoku
2. Aomori-ken 3. Iwate-ken 4. Akita-ken 5. Miyagi-ken 6.Yamagata-ken 7. Fukushima-ken
Kanto
9, Ibaraki-ken 10. Tochigi-ken 11. Gunma-ken
12. Chiba-ken
13. Saitama-ken
14. Tokyo-to
15. Kanagawa-ken
Koushin-Hokuriku
16. Yamanashi-ken 17. Nagano-ken 8 Niigata-ken 19. Toyama-ken 22. Ishikawa-ken 23. Fukui-ken
Tokai
18. Shizuoka-ken
21. Aichi-ken 20. Gifu-ken
25. Mie-ken
Kinki
24. Shiga-ken 26. Kyoto-fu 27. Nara-ken 28. Osaka-fu 29. Wakayama-ken 30. Hyogo-ken
Chugoku
31. Totori-ken 31. Okayama-ken 35. Shimane-ken 36. Hiroshima-ken 39. Yamaguchi-ken
Shikoku
33. Kagawa-ken 34. Tokushima-ken 37. Ehime-ken 38. Kochi-ken
Kyushu
40. Oita-ken 41. Fukuoka-ken 42. Saga-ken 43. Nagasaki-ken 44. Miyazaki-ken 45. Kumamoto-ken 46. Kagashima-ken 47. Okinawa-ken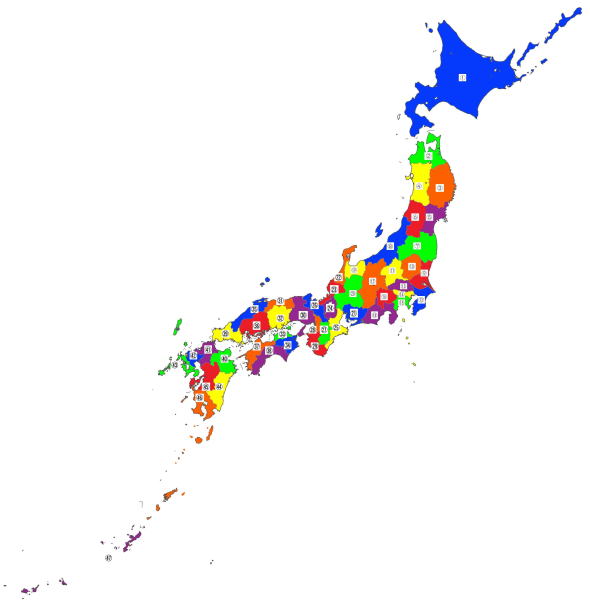 The prefectural names are arranged in alphabetical order below. Maybe you can find easily.

A: 2. Aomori-ken 21. Aichi-ken 4. Akita-ken
C: 12. Chiba-ken
E: 37. Ehime-ken
F: 23. Fukui-ken 41. Fukuoka-ken 7. Fukushima-ken
G: 20. Gifu-ken 11. Gunma-ken
H: 36. Hiroshima-ken 1. Hokkai-do 30. Hyogo-ken
I : 9. Ibaraki-ken 22. Ishikawa-ken 3. Iwate-ken
K: 33. Kagawa-ken 46. Kagoshima-ken 15. Kanagawa-ken 38. Kochi-ken 45. Kumamoto-ken
  26. Kyoto-fu
M: 25. Mie-ken 5. Miyagi-ken 44. Miyazaki-ken
N: 17. Nagano-ken 43. Nagasaki-ken 27. Nara-ken 8. Niigata-ken
O: 40. Oita-ken 32. Okayama-ken 47. Okinawa-ken 28. Osaka-fu
S: 42. Saga-ken 24. Shiga-ken 35. Shimane-ken 18. Shizuoka-ken 13. Saitama-ken
T: 10. Tochigi-ken 34. Tokushima-ken !4. Tokyo-to 31. Tottori-ken 18. Toyama-ken
W: 29. Wakayama-ken
Y : 6. Yamagata-ken 39:Yamaguchi-ken 16. Yamanashi-ken