Fujisan : Most Japanese love Mt. Fuji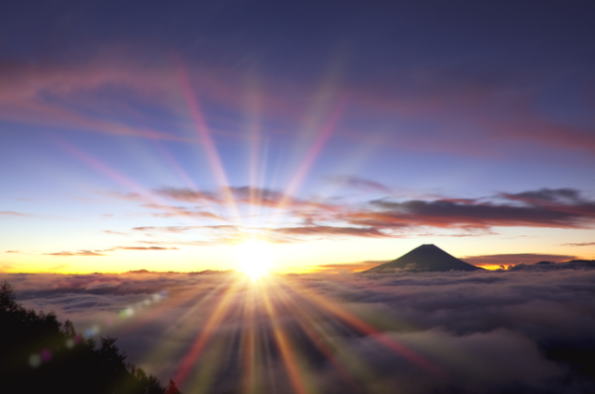 ---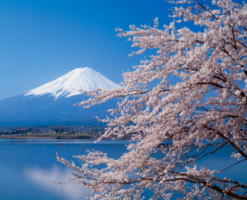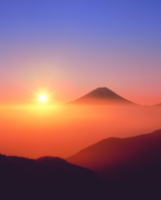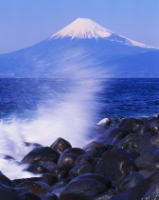 ---
Fujisan is the highest mountain in Japan, and most Japanese people love it, then there are many local Fujisans called
Kyodo Fuji or Gotochi Fuji
in every prefecture, and also many cities and towns have their districts named 'fujimi (viewing Mt. Fuji)' in them.
All Japanese love Mt. Fuji because Mt. Fuji (Fujisan) is the highest mountain in Japan and it looks beautiful. Japanese feel holy spirits on it, so it is the symbol for all Japanese. Fujisan is the god itself for ancient Japanese, it has been the same now. There is a
fujizuka
(a small artificial mountain built in a shrine with piled stones by supporters to pray for raining) in every shrine near Tokyo, and
Sengen Shinko (The bliefs in Sengen Shrine)
implies the belief in Mt. Fuji.
Japanese really love to see Mt. Fuji. Many artists, poets and writers have remained Mt. Fuji in their works. Hokusai Katsushika specially remained many pictures of Mt. Fuji. You can understand it very easily. When you get on Shinkansen Bullet Train from Tokyo to Osaka, you could find many Japanese who take pictures of Mt. Fuji through the windows.
Japanese love Mt. Fuji.
Mt. Fuji is selected one of three holy mountains and one of 100 beautiful mountains in Japan. Mt. Fuji was registered as the main attraction of the Fuji-Hakone-Izu National Park in 1936, one of the most scenic spot in Japan in 1952, the historic site in 2011, the World Cultural Heritage in 2013.
Gotochi Fuji or Kyodo Fuji means 'Local Fuji' that a locally symbolic mountain is called Fuji in every local area. Japanese really love Mt. Fuji.
The List of famous Gotochi Fuji or Kyodo Fuji
Ezo Fuji (Mt. Yotei in Hokkaido)
Shiretoko Fuji (Mt. Rausudake in Hokkaido)
Tsugaru Fuji (Mt. Iwaki in Aomori-ken)
Iwate Fuji / Nanbu Kata Fuji (Mt. Iwate in Iwate-ken)
Dewa Fuji / Akita Fuji / Shonai Fuji (Mt. Chokai in Akita and Yamagata-ken)
Aizu Fuji (Mt. Bandai in Fukushima-ken)
Echigo Fuji (Mt. Myoko in Niigata-ken)
Houki Fuji (Mt. Daisen in Tottori-ken)
Iwami Fuji (Mt. Sanbei in Shimane-ken)
Satsuma Fuji (Mt. Kaimondake in Kagoshima-ken)
参考
公益社団法人やまなし観光推進機構ホームページ
ふじやまNAVIホームページ
富士河口湖 総合観光情報サイトホームページ
富士山世界文化遺産協議会ホームページより
ブリタニカ国際大百科事典
ウィッキペディア